Student-athletes logged more than 3,000 hours of community engagement this fall.
Student-athletes from every UT athletic program participated in engagement hours and 22 student-athletes were Vols HELP mentors at Pond Gap Elementary School.
Along with engagement hours, the Student-Athlete Advisory Committee (SAAC) voted on more than 30 NCAA legislative proposals. Forty-five hours of leadership development training were logged.
"The athletic department has been awesome facilitating events for us," SAAC co-chair and senior swimmer studying kinesiology Brianna Leverenz told UTSports. "We do a lot of mentoring in the community along with a holiday meal for local shelters. It's really awesome to be able to see the impact we're making. It really broadens our horizons."
Fifty athletes attended the Dining with Excellence Etiquette Dinner to learn how to properly eat in a professional setting and also network with potential employers.
More than 130 professional development appointments occurred with career development staff and athletes.
Student-athletes also participated in a Red Zone Event promoting sexual assault prevention, a financial education workshop, networking at Neyland Stadium with UT alumni, Voloween, a community holiday meal and two culinary classes, according to UTSports.
"It is really a privilege to do what I do," Leverenz said. "We get a chance to get plugged in and help our community."
Track & field senior studying sociology Layla White, track & field senior studying psychology Lenysse Dyer and soccer senior studying philosophy Meghan Flynn received the Service Medallion for completing at least 100 hours of community service while at UT.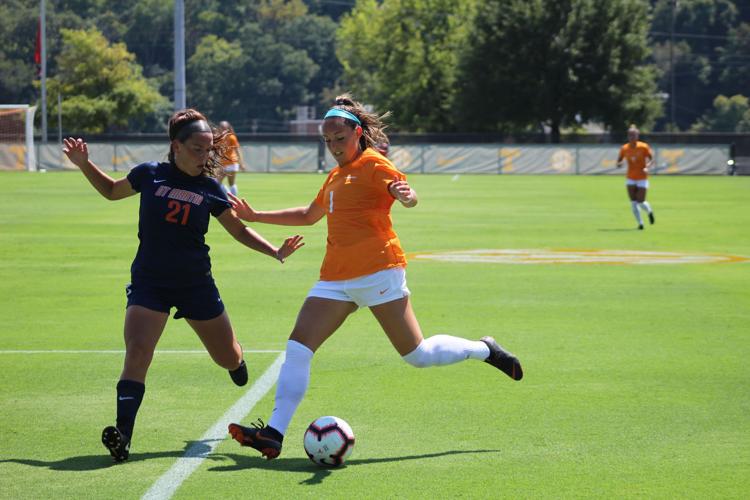 "I am really appreciative, because I don't really expect to get much (in return) when I do community service, but it's nice to get a medallion," White told UTSports. "I have done events with UT athletics, and I have done some outside of UT athletics."
White's volunteer work has included the Love Kitchen, UT's Voloween, Boo at the Zoo and Pedal for Alzheimer's.
Dyer focuses on giving back to the community through Leadership Knoxville scholars.
"It is definitely a really good experience knowing that one of the pillars we pride ourselves on is community service and giving back," Dyer said. "You don't really expect to get recognized for community service, because it is something you want to do. Through athletics, we have been able to do a lot of annual things like the Holiday Dinner, which is always a good experience. Voloween has been fun because you see more of the staff's friendly side."
Flynn has also volunteered in numerous ways during her tenure at UT.
"I think it is really nice, and it just symbolizes all the opportunities that the athletic department has given us to give back to the community," Flynn said. "I feel like a lot of people in the Thornton Center work hard to provide us with all these service opportunities. I am honored, but I am just happy that all of us were able to contribute. There are so many opportunities in the Knoxville community, and I hope that we keep on being great at being involved."