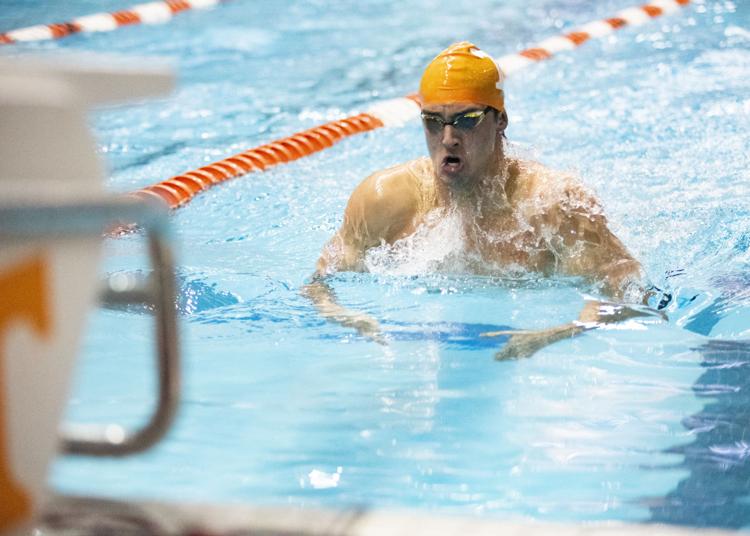 For the first time in program history, the Tennessee Vols and Lady Vols both swept the Florida Gators during their meet on Saturday at the Allan Jones Aquatic Center.
The senior day meet saw the fourth-ranked Lady Vols (7-0) and the twelfth-ranked Volunteers (6-1) attempt to bolster their records as they faced off against their SEC foe. The Lady Vols had only beaten the Gators four times in program history entering Saturday's meet.
This also marks just the third time the Lady Vols have finished a season undefeated, the first time since the 1972-73 season. The win is an impressive one for the Lady Vols, as Florida entered Saturday's matchup No. 8 in the country. Tennessee controlled the meet from start to finish collecting a 170.5-129.5 win.
The men's 7-1 finish is the teams best finish since the 2001-02 season as the Vols topped the Gators for the first time since 2008.
Combined, Tennessee's swim team set six new records this Saturday. Meghan Small set a meet record in the 200 IM with a time of 1:57.22, and the Lady Vols' 400 relay posted a new record of 3:18.04 by Bailey Grinter, Tjasa Pintar and Stanzi Moseley. Erika Brown set records in the 100 free (48.51) and the 100 fly (51.91). Amanda Nunan also set a record in her event; she went 9:37.08 in the 1,000.
Erika Brown stood out again on Saturday as she notched three wins for the second week in a row. She also contributed in the 400m free relay win with her split of 48.19. Brown sat out the 50m free, but Bailey Grinter stepped up and brought home the win with a time of 22.62.
For the men, Kayky Mota notched wins in both the 100m fly and 200m fly with times of 47.07 in the 100 and 1:47.31 in the 200. Alec Connolly also won two events as he finished first in the 50m and 100m free with times of 19.77 and 43.87 respectively.
The Vols also picked up wins in the 100m breast, 100m back and the 200m medley relay. They also came out on top of the diving section, and Matthew Wade scored a 333.53 in the one-meter dive and a 403.20 in the 3-meter dive.
These performances led the Lady Vols to finish at a perfect 8-0, while the men's swim team finished their regular season at 7-1. Tennessee will have two weeks off, with its next meet will be the SEC Championships that are held at Auburn this season.