For a quarter, everything seemed to change.
Tennessee's offense was firing on all cylinders during the first portion of its matchup with Vanderbilt on Saturday, with redshirt freshman quarterback Jarrett Guarantano displaying impressive accuracy throwing the ball.
In the limited sample size of game action, the Vols appeared ready to enact a shootout with Vanderbilt, which was also playing well offensively, and perform differently than it had on that side of the ball all season.
It didn't happen.
Tennessee's unit sputtered during the game's next three quarters, accumulating just 90 yards in those periods and ultimately falling to the Commodores 42-24, ending its season without an SEC victory.
"I think the offense started out very well," Guarantano said. "I think we were connecting a lot of passes … Then things kind of just went downhill at that point."
Interim head coach Brady Hoke pointed to the factors around his quarterback that led to the team's offense stagnating, particularly the Vols' struggles on the offensive line. Tennessee gave up three sacks to Vanderbilt.
"We had some protection problems," Hoke said. "Couple times in there, we got beat on a one-on-one. Anytime you start criticizing a quarterback, you better know everything. You better know what routes were run and what was the timing of the route, what was the protection.
"I always hate it when (people) say the quarterback needs to play better, but there are other guys around him going to also play better."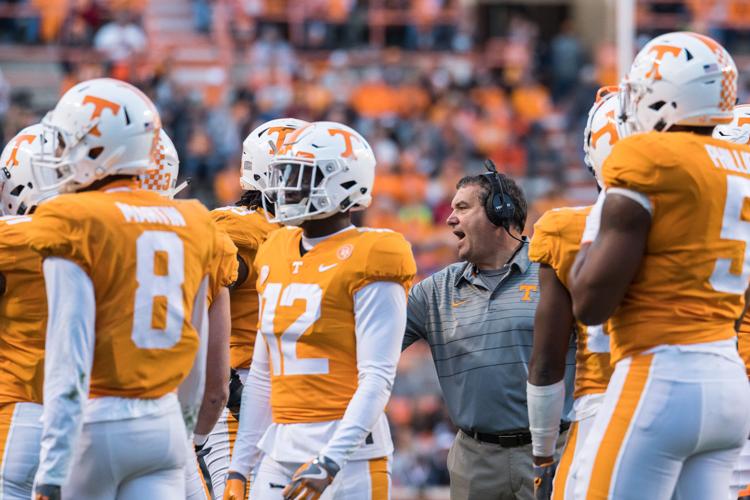 Guarantano connected with sophomore wide receiver Marquez Callaway on a two-yard touchdown pass on Tennessee's first drive of the game. Vanderbilt responded with a nine-yard touchdown from Shurmur to C.J. Duncan, scoring on its first possession as well.
Junior running back John Kelly notched a rushing score from a yard out to give Tennessee a 14-7 lead on the ensuing drive, but Vanderbilt's Ralph Webb recorded his own touchdown to tie the game at 14-14 during the second quarter.
With just 2:50 remaining in the first half, Lipscomb scored his second touchdown of the game on a 30-yard flea-flicker pass from Shurmur, giving the Commodores a 21-14 advantage at halftime.
The only points of the third quarter came courtesy of Aaron Medley, who hit a 49-yard field goal. However, a 20-yard touchdown pass from Shurmur to Trent Sherfield during the first minute of the fourth period notched Vanderbilt a 28-17 lead.
The Commodores scored two more times in the quarter, with Shurmur throwing a 12-yard pass to Sherfield for his fourth touchdown of the game and Webb running the ball in from 20 yards out. A 20-yard scoring pass from Guarantano to Ethan Wolf did nothing but decrease the final deficit.
Shurmur extended his career hot streak against the Vols, ending with 283 yards on 20-of-31 passing.
"They did a good job in the passing game," senior linebacker Colton Jumper said. "We knew he was a good quarterback, had really good poise. He came out and executed tonight."
With Saturday's loss, Tennessee concludes its season with a 4-8 record, the worst single-season mark in program history.
"Really hurts," Hoke said. "It hurts as a coach for those 22 seniors that played their last football at Tennessee. Obviously being in Neyland Stadium, as a coach, you always look at yourself first. We needed to all do a better job.
"Just feel bad for those kids and those guys that played their last game at Neyland."
Freshman offensive lineman Trey Smith was optimistic about Tennessee's future following Saturday's loss.
"Just remembering this moment, the multiple moments of this season, the let-downs," Smith said. "Just not allowing this to happen again. We're going to be great leaders in the locker room, great leading presences … We're going to come back better.
"I promise that."
Photo Gallery - Football vs Vanderbilt