JACKSONVILLE, Fla. - Tennessee's 2019 football season nearly ended just as it began.
Their Taxslayer Gator Bowl matchup with the Indiana Hoosiers conjured up shades of early season losses to Georgia State and BYU.
There was the first half where the stats showed domination but the score did not. There was the second half, when the Vols' defense had seemingly no answer for Hoosiers quarterback Peyton Ramsey as he moved his team up and down the field to build a 22-9 lead.
Then there was the final minutes, when Tennessee battled back to take a seemingly impossible lead only to see Indiana eat up yards quickly to set up a potential game-winning field goal.
But the ending of the game-and the season-could not have been any more fitting. The Vols did what they've done for six-straight games: find the will to win.
As Tennessee head coach Jeremy Pruitt took the stage at TIAA Bank Field, holding the 75th Gator Bowl Game trophy in one hand and his 2-year-old son Flynt in the other, the second-year head coach said that his team "never quit."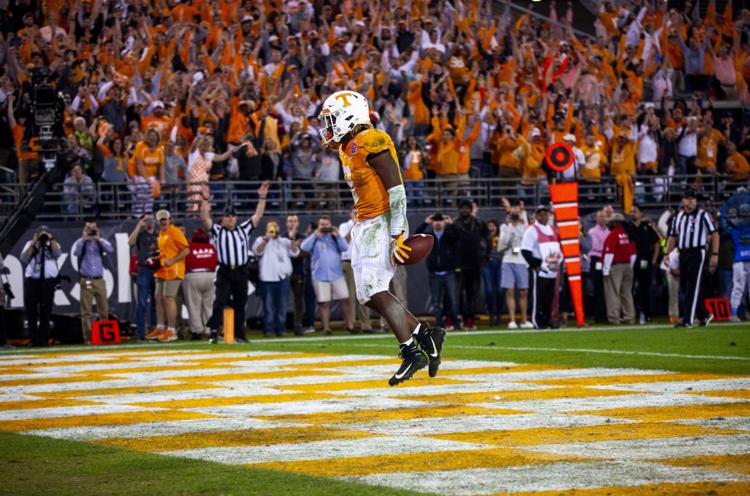 They didn't in Lexington, they didn't in Columbia and on Thursday night, they didn't do it in Jacksonville.
The scoreboard told the wild tale: Tennessee 23, Indiana 22.
"You really don't find out a whole lot about yourself or a team until you face adversity," Pruitt said. "We faced a lot this year. A lot of it was self-inflicted. I really think the team stayed the course. They looked in the mirror and said, 'how can I improve? How can I be my best?"
There was plenty of reason to feel depleted. The Vols dominated the first half, but turned three redzone trips into 6 points. Indiana kicked a field goal as time expired to cut that lead to just three, 6-3.
The missed opportunities in those first 30 minutes immediately haunted Tennessee in the second half.
Indiana engineered a five and a half minute, 69-yard drive that was paid off with a go-ahead touchdown to give the Hoosiers a 10-6 lead. On the ensuing drive, Tennessee redshirt junior quarter Jarrett Guarantano threw a pass that could have been intercepted by two different crimson and creme jerseys. The honor went to defensive back Micah McFadden, who took it back 63 yards for another score.
After mustering just three points in the final seconds of the first half, Indiana was suddenly up 16-6.
A quarterback change halfway through the third quarter gave Tennessee true freshman quarterback Brian Muarer and chance to give the Vols offense a spark. Enough plays were made to get Tennessee within field goal range, but two of his passes on the drive were nearly intercepted, prompting Pruitt to turn back to Guarantano.
Tennessee's offense continued to sputter, but the defense was able to return the favor on two crucial Indiana drives that ended in field goals to extend their lead to 22-9.
At the time, Quavaris Crouch's 1-yard touchdown to reward a 10 play, 82-yard drive with 4:21 left to make it a 22-16 game may have felt too little, too late, especially with the way Indiana's offense had moved the ball. Pruitt felt differently.
He could have put up to his defense to make a stop and try and get the ball back, but he felt a one-possession game was the perfect opportunity for an onside kick-something he'd had his team practice ad nauseam for the past several months.
Vols vs Indiana - Tax Slayer Bowl
Kicker Paxton Brooks teed the ball, knowing full well what he intended to do. Eric Gray knew too, as did the other nine players on the Vols' kickoff hands team.
Fortunately for them, Indiana did not.
The ball went the required 10-years, and not an inch more before it bounced safely into the hands of Gator Bowl MVP Eric Gray.
"It was something that we felt was there when we broke it down," Pruitt said. "We've probably repped it 600 times in the last six months. I had confidence in our players. Paxton (Brooks) laid down a great kick.
"Wasn't much (Indiana) could do the way they were aligned."
Not fielding the kick that ended up saving the epic conclusion to Tennessee's roller coaster season never crossed Gray's mind. He had practiced it enough.