The No. 11 Tennessee women's basketball team (21-4, 9-3 SEC) welcomed the No. 18 Georgia Bulldogs (21-4, 9-3 SEC) to Knoxville on Sunday afternoon for a contest that had the makings of a stellar chess match between two evenly matched teams.
However, that was not reality, as the Lady Vols were able to dispatch the Bulldogs in a statement win, 62-46.
Senior post Mercedes Russell made history during the game, as she pulled down her 1,000th career rebound in the first half and came just one point away from scoring her 1,500th career point.
She became just the sixth Lady Vol in history to reach 1,000 rebounds.
Tennessee flashes versatile offense:
For the past two games, offensive production has been slightly top-heavy for the Lady Vols.
On Thursday against Arkansas, freshman Rennia Davis and junior Meme Jackson were responsible for 54 of Tennessee's 90 total points, with both Lady Vols scoring career highs as Davis dropped 33 and Jackson scored 21.
The duo made a combined 71.4 percent from the field, unlike the rest of the team, which shot just above 30 percent.
The story was the same, albeit with a different cast, in last Sunday's victory on the road against Vanderbilt. Seniors Russell and Jaime Nared were responsible for almost 68 percent of Tennessee's offense, scoring 50 out of 74 total points.
The pair was also responsible for 25 of Tennessee's 41 rebounds, including all but five of the 19 total offensive boards.
"We want to hit a home run every time," head coach Holly Warlick said. "But I just want them to get on base. We've really tried to work on creating great shots."
However, on Sunday against the Bulldogs, Tennessee did a much better job of spreading around its offensive production, with four starters scoring in double-digit point figures.
Every single player on the roster, with the exception of Kortney Dunbar and Kamera Harris, scored at least one point. Freshman Kasiyahnah Kushkituah contributed her first points since Dec. 6 against Troy, scoring three.
Davis stayed hot, scoring 11 points on 4-of-6 shooting and coming just two boards short of recording her second straight double-double, with eight.
Turnover woes continue:
Despite the lopsided result of Sunday's showdown, the Lady Vols still got behind the eight ball when it came to giving the ball away.
This has been a consistent issue for the team in almost every single game this season, and Tennessee averages almost 17 turnovers a game. Against Georgia, Tennessee gave up the ball a whopping 27 times.
The worst stat is that nine of these turnovers were unforced errors like traveling violations. Warlick has maintained all season that she does not mind turnovers as long as the team is being aggressive, but the volume of unforced errors today was not a stat the team is proud of.
"I'm not happy about the turnovers," Warlick said. "I guess you have to be mad at something if you're a head coach."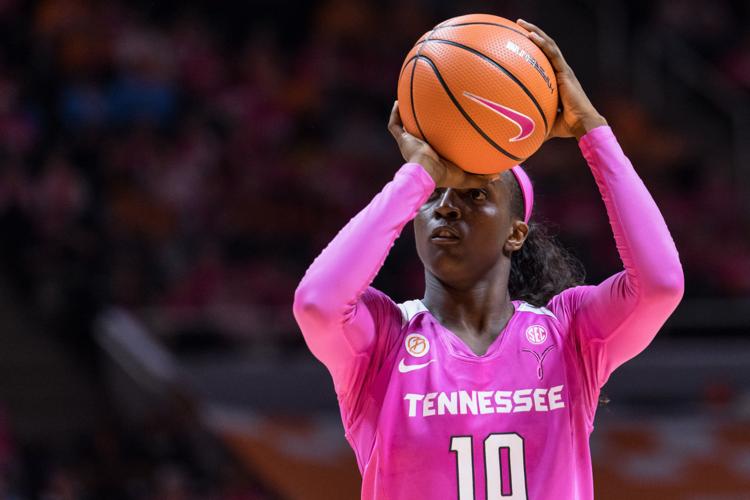 Despite the heavy volume of turnovers, Georgia was only able to capitalize on a handful of the mistakes, scoring only 12 points off of turnovers.
The Lady Vols can be given credit, though, for forcing 19 Georgia turnovers on a day that their defense ruled the roost.
A lot of the defense could be attributed to Tennessee's ability to limit scoring on backcourt cuts this game, something that has bothered them this season.
"We just communicated that in our shoot-around," Nared said. "I think we did a pretty good job of it today. Obviously they're not going to run the same thing every time, but we did a good job."
Next up:
After playing three out of its last four games on the road, Tennessee will return home for the second time in a row as the Lady Vols take on the Alabama Crimson Tide for the first time this season.
The Crimson Tide is currently 15-10, with a 5-7 record in conference play. Tennessee lost twice to Alabama last season. The first came on the road in the regular season when Tennessee dropped the contest 65-57.
The second was an upset victory in the second round of the SEC Tournament, as the No. 12-seed Crimson Tide knocked the No. 5-seed Lady Vols out in their first game, 72-64.
Alabama has a staunch defense that Tennessee will need to look out for, as the Crimson Tide has allowed opponents to have an average of just under 62 points per game, including about 39 percent shooting.
Tip-off is set for 6:30 p.m. on Thursday, and the contest will be broadcast on the SEC Network.