Exhibition games normally serve as that last second "tune-up" before the regular season begins.
They aren't always aesthetic, but they don't have to be.
Such was the case for the 2019-20 Tennessee men's basketball team, who played host to Eastern New Mexico at Thompson-Boling Arena on Wednesday.
Unofficially tipping off a season that has more uncertainty going in than they have had in the past few years, the Vols traded scores with the Greyhounds in a sloppy opening 10 minutes or so before running away behind Lamonte Turner and Jordan Bowden's  20-plus point night in a 107-59 exhibition game win.
The Vols vs. Eastern New Mexico
Tennessee extended their win streak to 20 in exhibition games.
While the initial starting lineup featured all upperclassman, the Vols are still tasked with replacing most of their production from last season's Sweet Sixteen run.
For Tennessee head coach Rick Barnes, the exhibition served as a bit of a preview of what he can expect out of a "different" team.
"This early in the season, you don't know what you're going to get," Barnes said. "It's going to come down to players convincing us that we can trust them. That will determine how many guys we play. A year ago we pretty much knew how it was going to play out. Now I don't. We'll have to wait and see."
Eastern New Mexico guard Devin Pullum proved to be the biggest thorn in the side for the Vols early on, going 4-of-4 from beyond the arc and scoring 13 points in the first half.
In the first half, Pullum allowed the Greyhounds to keep pace with Tennessee thanks in part to the tune of 11 turnovers.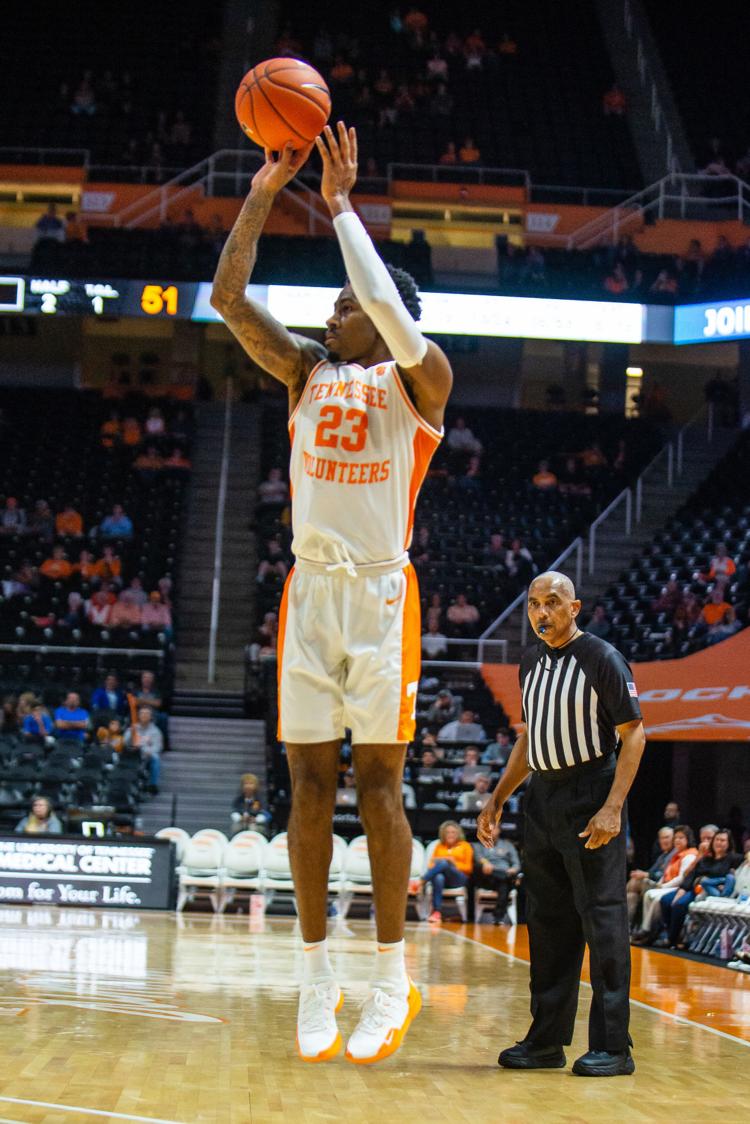 Halfway through the opening half, however, the Vols used a strong 14-1 run to pull ahead comfortably as senior tandem Lamonte Turner and Jordan Bowden put together a 16 and 12-point first half, respectively.
Turner scored 8-straight points late in the half as Tennessee took a 25-point lead before taking a 52-28 advantage into the intermission.
While the Vols received strong showings from their senior leaders, there are areas where Barnes would like to see improvement, particularly where securing the ball is concerned.
"(Turner and Bowden) are guys we count on and between the two of them they had ten turnovers," Barnes said. "They were trying to do a little bit too much. But those two guys work as hard as anybody we have here. We need them to have big years. Overall, I'm happy with their effort."
The Vols continued to reap the benefits of Eastern New Mexico's roster disadvantage, outscoring them 55-29 in the final 20 minutes of action, this time with the help of some new and old faces.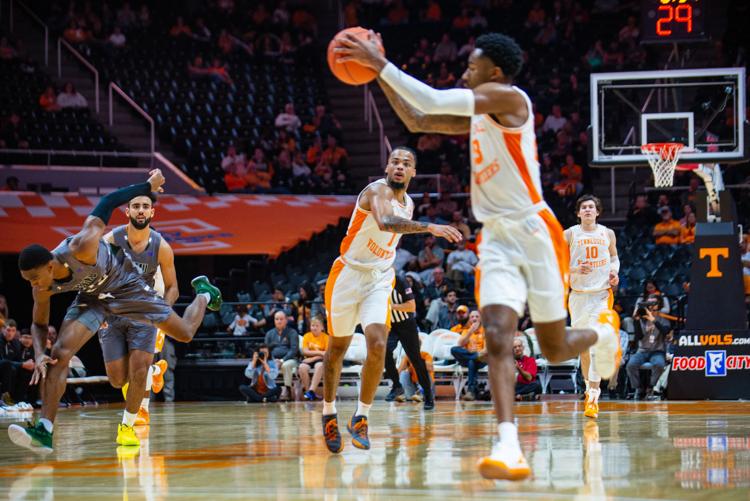 Thirty-seven points came from the Tennessee bench, with newcomers Drew Pember and Josiah-Jordan James notching 7 and 10 points, respectively.
As far as their defensive outing, the freshmen accounted for five blocks and seven defensive rebounds.
"I thought the freshmen tried to defend," Barnes said. "We'll still work on sticking with our coverage as much as we could. Again, I think there was a ton of mistakes we'll learn from, but I really think they're trying to do the right thing."
Defensively, the Vols were able to contain Pullum, who had just four total points in the second half after that impressive showing in the first half.
Overall, Tennessee accounted for 11 blocks, and out-rebounded the Greyhounds 37-18 on the defensive end.
James, the highly touted freshman and former five-star recruit by way of Charleston, South Carolina, didn't get the start but saw the floor for 23 minutes, turning in a 10-point, 7 assist and 5 rebound performance in his debut.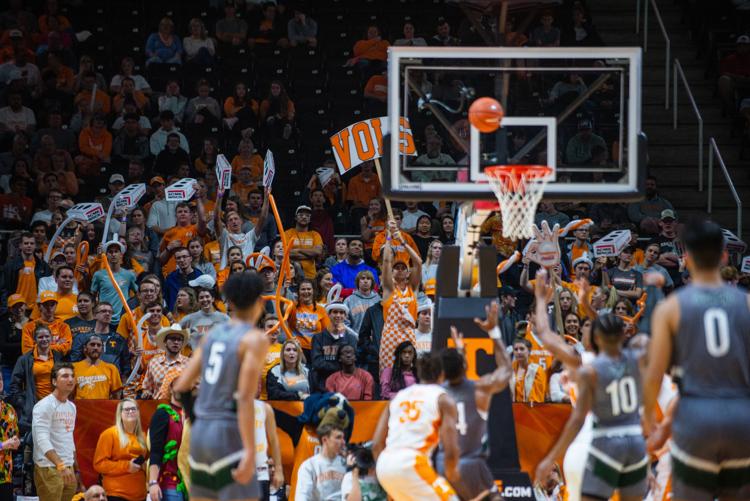 Due to a lingering hip issue, James had been been limited in preseason practices heading into the exhibition game. Getting him valuable playing time with Tennessee's starters was a priority for Barnes.
"I think (James) did okay," Barnes said. "This was really the first time that he was out there with Lamonte (Turner) and (Jordan) Bowden. This is the most he's played in six weeks. He's a really hard worker, but he just needs to play and get back in shape and get used to play with these guys."
Junior forward John Fulkerson scored 11 points along with 10 rebounds for a double-double, while going 4-of-8 from the floor.
According to Barnes, the Vols will need similar performances from Fulkerson to be successful in the regular season.
"We need that," Barnes said of Fulkerson's performance. "The fact is, we need him to rebound. Overall, we've talked to him about it and tonight was one of those situations where we had the whole team together. We need (Fulkerson) to be consistent."
Tennessee begins their regular season on Nov. 5 when they play host to UNC Asheville at Thompson-Boling Arena.
Tip-off for that game is slated for 7 p.m. and will stream on SEC Network-plus.