In a 32-plus game season, it's hard to for any team to perform at a high level night in and night out.
Monday was one of those nights where the No. 17 Tennessee men's basketball team had to grind out a win despite not playing at a high level, especially on offense.
Lamonte Turner assisted, Jordan Bowden rebounded and Fulkerson flew around on defense to make his presence known in a low-scoring affair.
Turner lead the Vols (5-0) in scoring and assists with 17 and 12, respectively, while Fulkerson tallied 14 points and four rebounds, with Bowden adding 13 points of his own in a 58-46 win against the Chattanooga Mocs (3-3) at Thompson-Boling Arena.
The Vols shot just 37.5% from the field and were 5-of-18 from beyond the arc in a contest highlighted by defense and low scoring, but took the lead a minute into the game and held off any and every Chattanooga threat with timely scoring from Tennessee's upperclassmen trio.
"Offensively, we weren't very efficient," Tennessee head coach Rick Barnes said. "Jordan Bowden missed some wide open layups. We weren't very good on offense. We've got to get better offensively."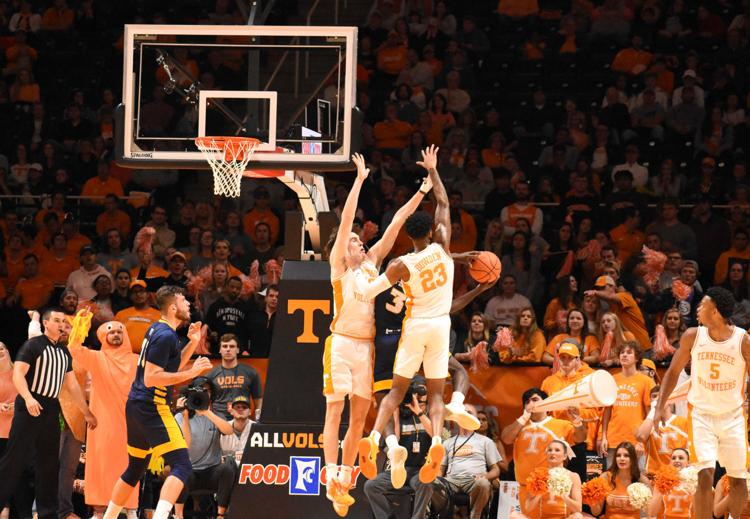 While Turner, and the offense as a whole, did not shoot well, his contributions in the assist category and single turnover was key, although Barnes wanted to see more passing out of the senior leader.
"I think (Turner) should have passed it a few more times," Barnes said "There's no doubt other guys need to touch the ball more. They have a right to miss some shots, too. It goes back to those guys fighting for the position and acting like they really want it is the key part of it.
"Lamonte sees it, he's a terrific passer. If those guys would move quicker, I think he would get the ball there more."
As for Fulkerson, both Barnes and Chattanooga head coach Lamont Paris praised his ability to create turnovers on defense and fly around to the ball following the game.
In fact, Paris described Fulkerson's toughness as his "blue collar having a blue collar."
No matter what you call it or how you describe it, Fulkerson just looks at it as helping out his team in the best way he can.
"I just try to do everything to help my team," Fulkerson said. " Whatever that is, I'm going to do it. If it's rebounds or out there hustling, I'm there for it."
Defensively, the Vols held the Mocs to their lowest point total of the season at 46, and just 33.9% shooting.
Chattanooga was 19-of-56 from the floor and 6-of-19 from the perimeter.
"(Tennessee) took away some things we wanted to do," Chattanooga head coach Lamont Paris said. "Couple that with our struggles shooting tonight. They're just a good basketball team. We didn't have a good night offensively."
Junior Yves Pons lead the team with blocks, turning away three Chattanooga shots, including one late with the Mocs down ten, while Bowden hauled in 12 defensive boards-nine of which came in the second half.
"Defensively, the game played the way we thought we'd call it," "Became a very heavy ball-screen game, we turned it into that. Defensively, we did some really good things. We did exactly what we thought we would do."
Tennessee will next head to the Sunshine State to participate in the Emerald Coast Classic in Niceville, Florida.
The Vols draw Florida State (5-1) on Friday at the Northwest Florida College gymnasium.
Tip-off is slated for 7:00 p.m. and will air on the CBS Sports Network.