Tennessee dropped its second straight game as well as its fourth game in the last five as LSU came into Thompson-Boling Arena and beat the Vols, 78-64.
Tennessee made 9 of 13 3-pointers in the first half and led by as many as eight, but turnovers plagued the Vols and LSU used 7-0 run to end the half to take a 38-37 lead into the locker room. 
"It kind of sucked the air out of the building," guard Josiah-Jordan James said. "We kind of beat ourselves at the end of the first half in the last four minutes with offensive rebounds, they had a couple put back dunks, and turnovers."
The Vols cooled off from 3-point range in the second half where they just shot 4 of 13 and struggled defensively where LSU shot 58% and grabbed four offensive rebounds while scoring 40 points. 
Much has been made of Tennessee's senior guards this season, but it was the new duo of freshman guards that helped keep Tennessee in it Saturday. Santiago Vescovi just arrived in Knoxville a week ago and was just made eligible on Friday, but he was thrust into the starting lineup Saturday and scored a team high 18 points on 6 of 9 3-point shooting.
"I felt confident," Vescovi said. "I know I need to get down those turnovers and I still don't have a very good feeling about the game because it was a tough loss and I don't really care about how I played. I just care about if we won or we lost. This is all about the team."
Vescovi struggled handling the ball turning it over nine times, but the freshman recorded six rebounds and four assists. 
"He shot the ball well, but his turnovers were big," Barnes said. "He knows it, but a lot of that had to do with fatigue. That was probably my fault leaving him out there for too long. He looked tired."
"I did get tired," Vescovi said. "I did just get here the week before. I'm trying to get back in shape to what I was before."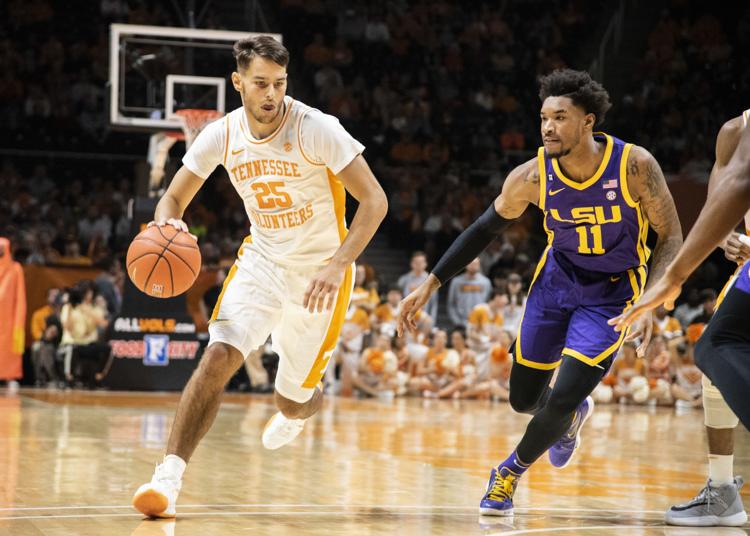 Josiah-Jordan James turned in one of his best halves of the year in Saturday's first 20 minutes when he scored 11 points and grabbed four rebounds leading the Vols in points. Like he has for much of the year, James struggled to put together two great halves.
James wasn't bad in the second half, he scored four points on 1 of 5 shooting, but the Vols didn't get the offensive production they needed to keep up with the Tiger's offense.
LSU used a plethora of ways to score on Tennessee Saturday afternoon. The Tigers made 10 threes and shot 47% from the field while grabbing 10 offensive rebounds and turned 14 Tennessee turnovers into 19 Tiger's points.
LSU's talented backcourt of Javonte Smart and Skylar Mays starred on the afternoon giving Tennessee worlds of trouble. Smart scored 21 points and Mays scored 17 on a combined 13 of 23 shooting while also combining to shoot 7 of 11 from beyond the 3-point line.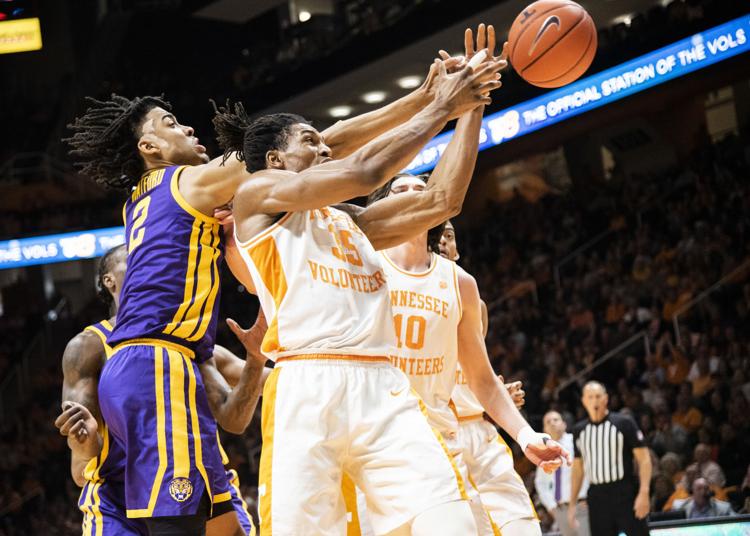 "They're great drivers," James said. "You gotta guard them everywhere on the court and know where they're at all times. I felt like we did a good job for most of the time and then we'd get a switch at the end of the clock and they hit some big shots."
Freshman forward Trendon Watford also gave Tennessee problems with his physical play scoring 15 points and grabbing eight rebounds.
One of the biggest x-factors of the afternoon was Jordan Bowden's continued offensive struggles. Everyone in the gym knows the Vols need the senior to provide offense but he was woeful Saturday scoring just three points on 1-for-12 shooting.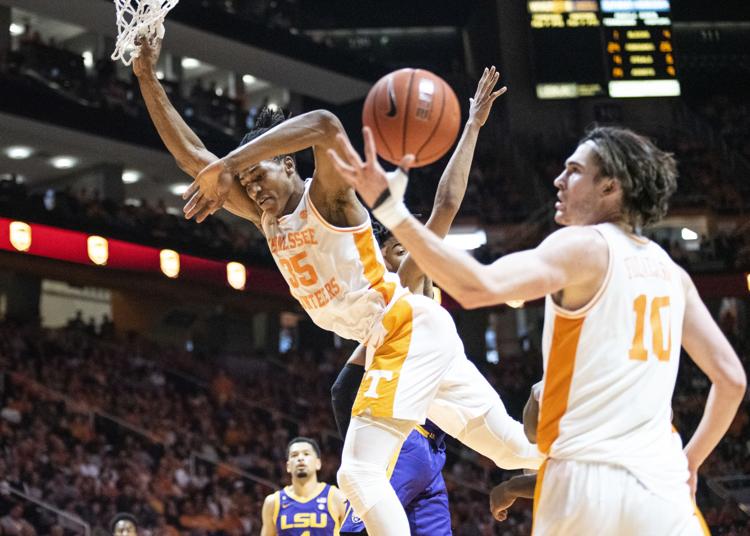 "He was terrific in practice yesterday," Barnes said. "He was terrific. When you've been in the game for a long time you know players go through these types of slumps. Again, we're not asking him to do anything that he hasn't done in the past. We're not. He shouldn't have shot a couple shots that he took cause I know he got frustrated."
Tennessee will return to action Tuesday night when they travel to Columbia to face Missouri. Tipoff is set for 7 pm ET and will be broadcast on SEC Network.