Tennessee trailed by nine points at halftime and looked ripe for an early season upset, but the Vols outscored the Racers 58-19 in the second half as Jordan Bowden scored a career high 26 points, 19 of which came in the second half.
Here are four takeaways.
Let's talk about the first half
The Vols vs. Murray State
Murray State got on top of the Vols early and looked fresh in the first half leading by eight at the 7:33 mark and leading 44-35 at halftime.
"In the first half we weren't very good," head coach Rick Barnes said. "They had a lot to do with that to be honest."
Tennessee's offense struggled to find a rhythm and relied on the long ball from forwards Yves Pons, more below, and Zack Kent to keep them in striking distance.
On defense, Tennessee couldn't slow down the Racers as Murray State shot eight-of-14 from three and 54% from the field.
When the Racers were missing shots, they were chasing down rebounds grabbing six on the offensive end.
Tennessee, who has just 10 scholarship players, faced foul trouble in the first half as leaders John Fulkerson and Bowden spent extended time on the bench due to foul trouble.
Tennessee's depth is thin and the Vols will lean on a lot of young players off the bench this season. The Vols are going to struggle if Bowden and Fulkerson play only six and seven minutes. 
If Tennessee wants to have a successful season those young players will have to step up when the Vols face foul trouble.
Who is this Yves Pons?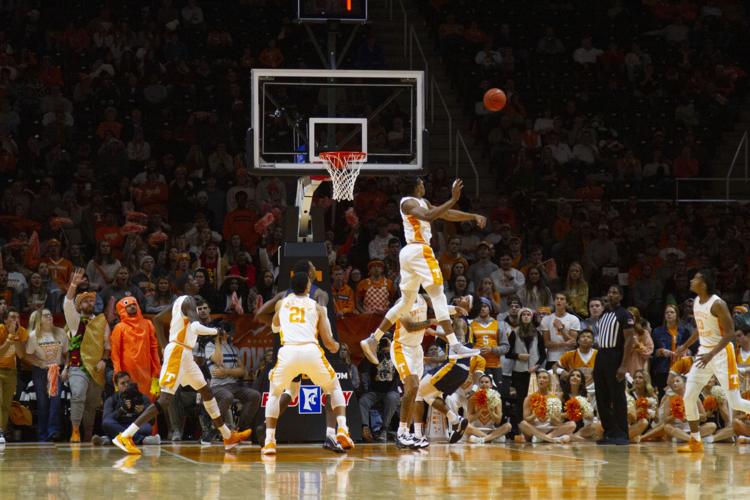 Rick Barnes' said at his UNC-Asheville postgame presser that Yves Pons had shot the highest percentage from three of any Tennessee player during practice. That comment turned heads, after all Pons had shot 28 percent from behind the arch a year ago.
Pons proved those numbers right Tuesday night hitting three triples all of which came in the first half.
"I work a lot on it (three-point shot), every day," Pons said. "Every day I work on it. I feel comfortable shooting it, so I'm going to take every opportunity."
Pons, who struggled on offense last season, helped carry Tennessee's offense in the first half scoring 13 points.
It's the second straight game Pons has looked like a formidable scorer and that could prove rather important for Tennessee as they struggle to find a rhythm on offense early this season. 
Pons would end the game with 19 points on eight-of-10 shooting.
Pons also made his impact on the defensive end felt blocking four shots.
"He's as hard a worker as we've had," Barnes said. "He's been through a lot. He's a guy we've counted on in the past to play defense and rebound and just a secondary role. We told him he's going to have to play a much different role and he's embraced that."
Aggressive Jordan Bowden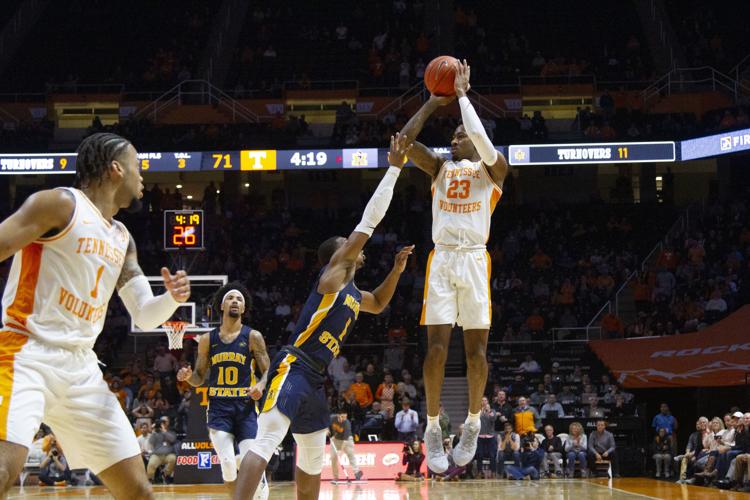 Jordan Bowden averaged double digit points last season for a team that spent five weeks as the number one team in the nation, but the senior had only played second fiddle going into this season.
Some questioned whether Bowden had the aggression to step up as a go to scorer, but the Knoxville native proved the doubters wrong Tuesday night scoring 26 points.
"Yeah we have to," Bowden said about stepping up as a go-to scorer this season. "Me and Lamonté as leaders we got to step up and make those tough shots, or those shots within the offense."
"It's the one thing I have to do. I have to stay aggressive to help our team win. It's one thing I did tonight and I have to continue to do it."
Bowden scored the Vols first five points of the night before getting two quick fouls and spending most of the first half on the bench.
Bowden immediately got back into a rhythm scoring 10 points in the first seven minutes of the second half.
Bowden would shoot five-of-sixth from three-point range in the second half including a transition triple that gave Tennessee an 11-point lead with 4:16 left.
It was the Jordan Bowden fans were hoping to see this season and the senior proved he could step up and carry the Vols offense to a win in the second half.
Odds and Ins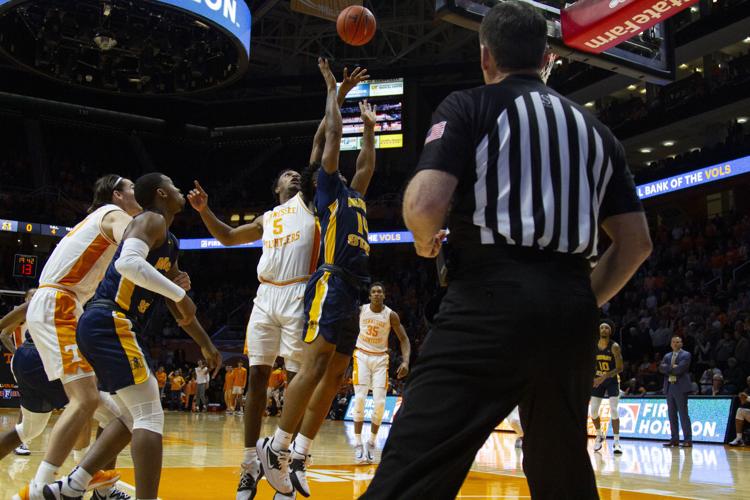 It wasn't a sellout inside Thompson-Boling Arena Tuesday night, but the 16,913 Vol fans made their presence felt.
The crowd came alive a plethora of times in the second half Tuesday night as the fans helped rally a defense that struggled to find stops in the first half.
"The crowd is everything," Bowden said. "We feed off them. We got a couple stops. … It really brings us some life and it really helps us."
Lamonté Turner didn't have his best shooting night scoring just five points on two-of-12 shooting. Turner made his presence felt otherwise dishing out 14 assists while not turning it over. 
"Lamonté had to go the distance because of foul trouble and he was terrific, he was a warrior," Barnes said.  
After turning it over five times in the season opener against UNC-Asheville and earning an earful from his head coach, the senior point guard responded well helping push Tennessee's offense in the second half.
After turning it over seven times in the first half the Vols turned it over just two times in the second half.
Up Next
Tennessee returns to action Saturday as the Vols travel to Toronto to face Washington in the James Naismith Classic. Tip-off is set for 5 p.m. ET.