Tennessee's 2019-20 basketball season unofficially began Wednesday night as the Vols defeated Eastern New Mexico 107-59 in an exhibition game.
The Vols knocked off some offseason rust as seniors Lamonté Turner and Jordan Bowden led the way in the blowout win.
Here are four takeaways.
No Uroš Plavšić
The wait for the NCAA to approve or deny Uroš Plavšić eligibility waiver continues as six days from the season's official start the Vols' still haven't heard about the Arizona State transfer's eligibility.
Plavśić didn't dress out for Wednesday's exhibition game leaving the Vols with just 10 scholarship players.
Tennessee officials stated after the game that there had been no word on a decision about Plavšić waiver.
No injury was mentioned related to Plavšić as the redshirt-freshman sitting out appears to be purely based on the lack of approval of his waiver.
The Vols vs. Eastern New Mexico
Sloppy play
It was the first college action for four Tennessee player Wednesday and it showed at time as the Vols' newcomers and veterans alike looked sloppy at times.
Tennessee turned it over 18 times on the afternoon including 11 times during the first half.
"Coach (Barnes) came in (the locker room) and he didn't really say too much but that was a big emphasis after the game," Josiah-Jordan James said. "He said, 'that's unacceptable' and we'll see it in film tomorrow."
While a couple of those turnovers came from the Vols' newcomers the bulk came from the senior backcourt duo of Bowden and Turner. As two of Tennessee's primary ball handlers Turner and Bowden combined for 10 of the Vols' 18 turnovers.
"Those guys are guys we count on and I thought they were playing hard but between the two of them they had 10 turnovers," head coach Rick Barnes said. "Trying to do a little bit too much… Overall, other than the turnovers, I'm happy with their effort and what they're trying to get done."
Tennessee, who is short on post production and depth, gave up 18 offensive rebounds on the night including three off of free throws.
Inversely Tennessee's length and athleticism gave the Greyhounds trouble all night as Eastern New Mexico turned it over 23 times. Tennessee was able to capitalize off of the Greyhound's mistakes scoring 28 points off of turnovers.
"That's going to be big for us this year," Turner said. "Picking up the ball and pressing and kind of getting turnovers and creating turnovers and getting in the passing lanes. Things like that, turning them into points. Coach wants us to play fast and to play fast we have to turn defense into offense."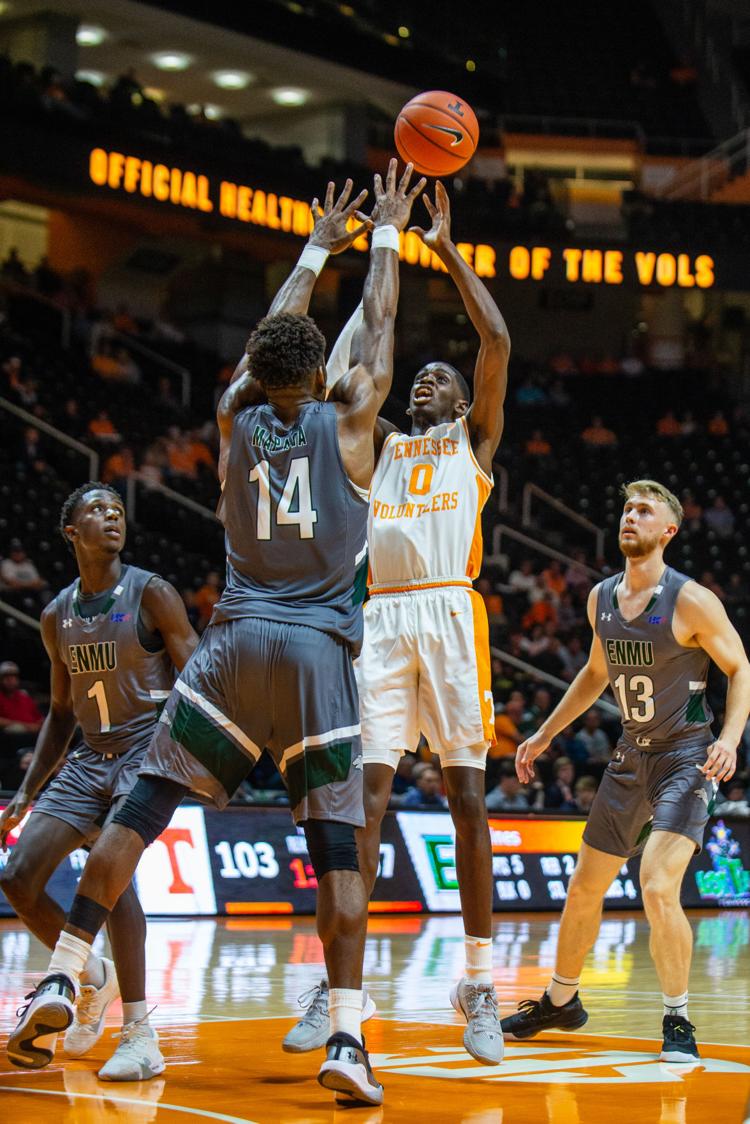 Double digit runs
There was little doubt that Tennessee would take care of the division two Greyhounds Wednesday night, but a pair of runs in both halves put to bed any doubts.
The first run came in the first half with the Vols trailing 20-17 at the 11:32 mark. Tennessee started the scoring with a Josiah-Jordan James transition layup and ended it with a Drew Pember free throw as the Vols would reclaim a 29-20 lead.
Bowden led the way on the run scoring five points for Tennessee. The Vols would never trail again.
The second big Tennessee run came early in the second half. The Vols had the game in control leading by 19 with just over 16 minutes to play in the contest but the Greyhounds had outscored the Vols 8-5 early in the second half.
Tennessee responded by pushing the game into rout territory scoring 10 consecutive points. 
Tennessee would never lead by less than 20 again.
Upperclassmen lead the way
Tennessee's six newcomers received plenty of talk around them this offseason and fall practice, but it was the Vols' three returning contributors led the way Wednesday.
Turner looked like the Vols' unquestioned leader starting at the point and running the Vols' offense.
Turner, a Second-Team Preseason All-SEC selection, led the Vols in scoring with 23 points on 8-of-13 shooting. Turner added seven assists and six rebounds in the win.
Bowden didn't get off to as quick as a start as Turner, but the Knoxville native turned in a big night. Bowden finished just behind Turner with 22 points on 7-of-13 shooting.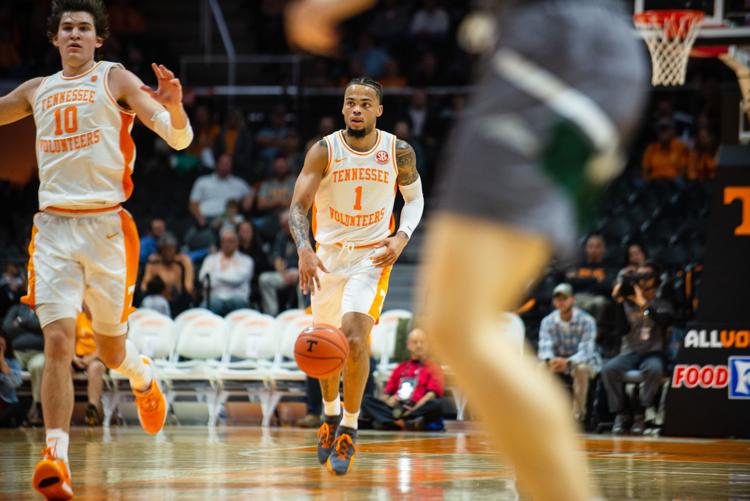 Who Tennessee can get scoring from besides Turner and Bowden remains one of this team's biggest questions.
"I do think so," Barnes said on if the Vols' have scoring options behind Bowden and Turner. "I'm not sure it's just one guy. Fulky (Fulkerson) is a guy we think can score. We've watched him do it before in some high-level games."
Redshirt-junior forward John Fulkerson got off to a hot start scoring six of the Vols' first eight points. Fulkerson would finish with a double-double scoring 12 points and grabbing 10 rebounds in just 20 minutes of action.
Highly touted freshman Josiah-Jordan James missed much of preseason practice with a lingering hip injury but the South Carolina native suited up Wednesday night scoring 10 points and dishing seven assists for the Vols.
"I think Josiah will play his was into the kind of shape he needs to be in," Barnes said. "He's not there yet, but hopefully he'll come out of this where he's feeling good about his injury… He needs practice time like all young guys need at this time of year."
James worked both on and off ball Wednesday night, but looked most comfortable with the ball in his hand as the freshman looked most comfortable in a pass first point guard role.
Jalen Johnson also added nine points in the win. 
Up Next
Tennessee will tip off its 2019-2020 season next Tuesday as the Vols host UNC-Asheville to Thompson-Boling Arena. Tip-off is set for 7 p.m. ET.