No. 17 improved to 5-0 Monday night defeating Tennessee-Chattanooga, 58-46 at Thompson-Boling Arena.
Tennessee's senior guards led the way with double-doubles as the offense struggled. The Vols defense was able to lead the way for the Vols giving them a comfortable 12-point win.
Here are three takeaways.
Senior guards record double-doubles
Tennessee's pair of senior guards had a strong night in Tennessee's win despite having lack luster shooting performances.
Bowden had a good first half scoring 11 points on 5 of 8 shooting. Bowden looked comfortable as the Vols go to scorer in the first half, especially in a four-minute stretch midway through the half where Tennessee's offense struggled.
Bowden was able to carry the group scoring six out of nine points during the stretch allowing Tennessee to keep a comfortable lead over the Mocs. 
Bowden's offensive production went down in the second half as he shot just 1 of 7. Bowden completed the double-double grabbing a game high 12 rebounds in 39 minutes of action.
"It's something we can do," Bowden said. "We come down and rebound when the bigs are having a tough time on other bigs, so it's one thing to make it easier on them."
Lamonté Turner found his three-point shot, hitting a season high three threes in the win. Turner struggled from within the arch shooting 1 of 8, but he continued to run the Vols offense well from the point guard spot dishing out 12 assists.
"I've been playing this game for a little while now," Turner said. "You're going to have some nights where it doesn't go in, or something doesn't go your way, but you have to continue to grind and grind."
Turner took care of the ball at a high level turning it over just once.
Dominant defensive performance
On a night where Tennessee never got its offense going, its defense played at an exceptionally high level holding the Mocs to just 46 points and kept them at an arms distance throughout the game.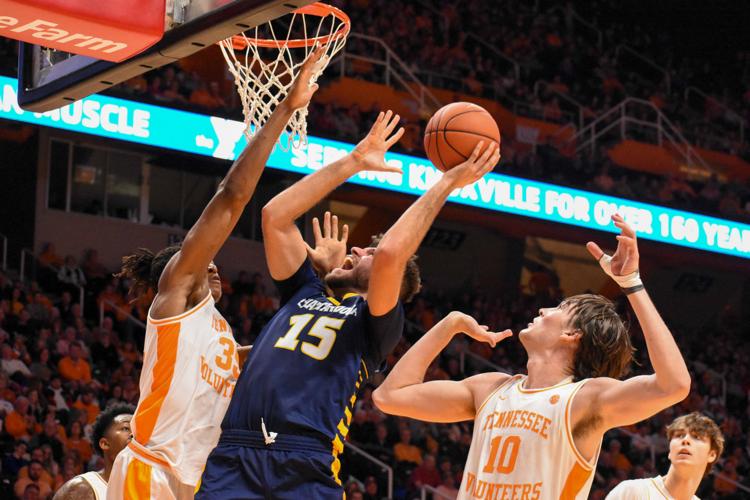 "Defensively the game played the way we thought," head coach Rick Barnes said. "We felt like we could defend the early action and become a very heavy ball screen game."
Tennessee held Chattanooga to 34% shooting from the field as the Vols shutdown the Mocs offense.
Additionally, Chattanooga shot just 6 of 19 from three as Tennessee's length seemed to give the Mocs problems.
That length showed up at the basket as the Vols blocked seven Chattanooga shots and held the Mocs to just 20 points in the paint.
"I think we did a great job on the glass limiting them to one shot," Turner said. "I want to say we guarded the ball well. I got blown by a couple of times that I wasn't really happy with, but other than that I think we did a good job of staying in front of the ball."
Tennessee did a good job of playing defense without fouling, committing just 11 fouls as Chattanooga shot just four free throws.
Vols offense struggles
It was Tennessee's worst offensive night of the young season as the Vols just mustered 56 points against the Southern Conference foe.
Tennessee couldn't get shots to fall shooting just 5 of 18 from three-point range. Additionally, the Vols shot just 37% from the field and 65% from the charity stripe.
"Offensively we weren't very efficient," Barnes said. "Jordan Bowden missed two wide open layups. Olivier (Nkamhoua) had a dunk and Josiah (James) threw the ball so hard I mean I don't think Fred Bilietnikoff could have caught it. … We just weren't very good on offense."
"The ball stuck. When you play against a team that's going to come in and sag, they did exactly what we thought they would do, and hoped that we would settle. We didn't move the ball. We held the ball. We were too slow getting into actions, didn't finish cuts. We have to get better on the offensive end."
Chattanooga did a good job of limiting turnovers and transition opportunities as the Vols scored just three point off turnovers and didn't record a fast break point.
"You can keep a team from running by just getting five guys back, not turning the ball over and not taking bad shots." Barnes said. "If you do those three things it's hard to run on anybody, regardless of what they do. We were really solid defensively, but we didn't have any deflections. Deflections usually turn into baskets."
Up Next
Tennessee return to action Friday as the Vols will face Florida State in the Emerald Coast Classic. Tip-off is set for 7 p.m. ET.