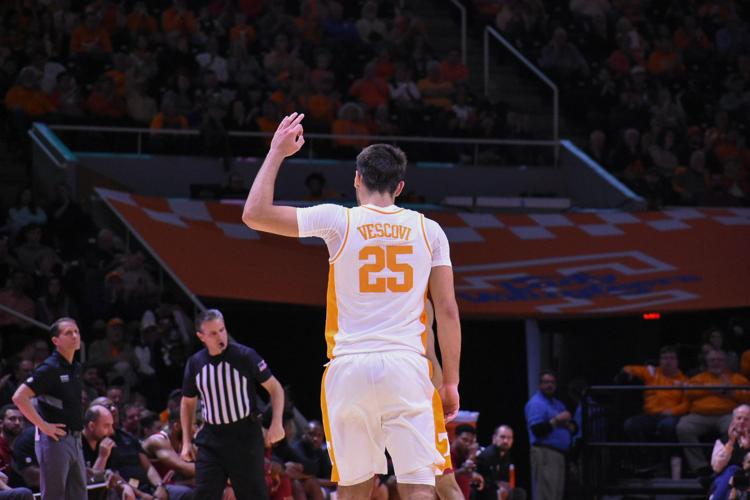 Santiago Vescovi wasn't expected to make much of a difference in his first semester on Rocky Top. Tennessee head coach Rick Barnes said as much before Vescovi arrived in Knoxville on Dec. 28.
Circumstances would intervene though. Tennessee's starting point guard Lamonté Turner announced he was having season-ending shoulder surgery after the Vols' win over Jacksonville State on Dec. 21. The Vols were now left with just eight eligible scholarship players and only one point guard.
Two weeks later Tennessee had a new starting point guard.
"Santiago is a phenomenal story," Barnes said. "When you think about what that kid has done. It's amazing. It really is. … What he's done is really phenomenal."
Vescovi hit the ground running, not only playing in his first college basketball game, but starting his first college basketball game just a week after arriving in the states.
It wasn't an easy task for Vescovi in his debut. The Montevideo, Uruguay native would be matched up with one of the SEC's best backcourts in LSU's Javonte Smart and Skylar Mays. Vescovi turned in some bad in his debut, turning it over nine times in the loss.
However, Vescovi flashed in his debut as well by scoring a team-high 18 points while raining in six 3-pointers.
"Maybe he had the problems with the turnovers, but he was still hooping. He was still playing with that confidence that — I'm going to be honest with you — not everybody has right off the bat coming into a new place. I really respect him for that," freshman forward Olivier Nkamhoua said.
The adjustment to the college game was a big one for Vescovi. The 6-foot-3 guard had been playing at the NBA Global Academy in Australia before deciding to play college basketball. The speed and athleticism of the American game gave Vescovi issues early on, but his 3-point shooting and passing allowed him to still contribute to Tennessee.
Vescovi turned the ball over 21 times in his first three games and averaged 5.6 turnovers per game in his first five games compared to just 2.2 assists in those contests.
Vescovi was still able to contribute to the Vols while struggling with turnovers his first five games. The left-hander scored 11 points per game during the stretch and helped Tennessee's struggling offense with dribble drive penetration.
It wouldn't take Vescovi long to start figuring out the college game. In the seven games since, Vescovi is averaging 12 points and 4.7 assists per game while limiting his turnovers to two a contest.
"I think having minutes and playing really helped me to adjust to what the SEC level is in terms of how quick they are, and long and athletic they are," Vescovi said of the adjustment to college basketball. "When I just got here it surprised me how strongly and quick people are. I think with all the games I've already played it helped me to adjust and know what to do with these types of athletes."
The turnovers have been the biggest improvement from Vescovi's debut to now. Vescovi credits a focus on fundamentals in addition to adjustments in speed.
"I think my biggest problem was I was jumping all the time to pass the ball," Vescovi said. "It cost me a lot of turnovers, so I think, first of all, it was playing off two feet and just trying to read the situation and not jumping, wondering if someone is open."
"A lot of things have adjusted for him, I think," Barnes said. "For one, he has gotten himself into better shape, that's where it started. There's no doubt he can shoot the ball, he has a great feel for the game, he's competitive, he sees everything really well, he knows he's going to have to get better defensively."
There aren't many stories in college basketball this season more impressive than what Vescovi is doing. Playing for a coach that is famously known for being hard on point guards, Vescovi has been able to learn a new offense and run it at a high level in just seven weeks.
"It's crazy," Nkamhoua said. "I didn't really understand how crazy it was until we were in the film room one time and coach Barnes said, 'What do you guys think is really special that's happening on our team right now?' and he said, 'You guys realize Santi (Vescovi) has been here for three weeks, and he's doing what he's doing.' That's when I realize(d) (I) noticed it."
For Barnes, it's Vescovi's mature approach and ability to learn on the fly, both from things Barnes' and defenses throw at him and from his mistakes
"He learns. He's a fast learner. He was tired tonight when they started doubling in the backcourt, he got sloppy," Barnes said following Tennessee's win over Arkansas. "He knows it, but he'll learn from it. He learns from his mistakes about as well as anyone we've coached."
As Tennessee heads into its last seven conference games, Vescovi is starting to play his best basketball. Last Saturday, matched up against one of the SEC's best defenders in Ashton Hagans, Vescovi starred scoring 18 points and turning it over just three times in 39 minutes against Kentucky.
Vescovi followed it up with his best performance to date scoring career highs in points (20) and assists (8) in a 21-point win over Arkansas.
Whether Tennessee can sneak its way into the NCAA Tournament during a bridge year for the Vols' program is yet to be seen. But Tennessee certainly wouldn't be in a place where they were capable of making a late run if it weren't for the Uruguayan.
Tennessee fans are getting to watch a budding star figure things out one game at a time, and picturing Vescovi with a full offseason of training, paired with incoming 5-star guards Jaden Springer and Keon Johnson should give Tennessee fans a lot to smile about when thinking about the state of the Vols' program.