Tennessee improved to 3-0 last week as the Vols picked up a come-from-behind win over Murray State and went north of the border to No. 20, the Washington Huskies.
The win pushed Tennessee into the AP poll for the first time this season as the Vols came in at No. 20 and the Huskies dropped to No. 25 following the loss.
Here's how the Vols graded out.
Backcourt
The Vols vs. Murray State
The Vols' backcourt will have to lead Tennessee this season if they want to compete for a SEC title.
They led the way for Tennessee last week as Jordan Bowden had one of the biggest weeks of his career.
The senior from Knoxville scored a career high of 26 points, including 18 second half points, against Murray State leading the Vols to a come-from-behind win. Bowden stayed hot against Washington scoring 15 first half points before finishing with 18 on 6 of 13 shooting.
I was unsure whether Bowden would show the aggressiveness that Tennessee needed him to show on the offensive end, but so far Bowden has stepped up when his team's needed him.
Lamonté Turner's shot didn't fall this week as he deals with pain in his shoulder, according to Rick Barnes.
Turner doesn't want to talk about his shoulder, but it obviously seems to be bothering him as the redshirt-senior shot just 5 of 24 on the week including a 1-for-8 shooting from beyond the arch.
Despite this, Turner has found a way to still be productive when his shot's not falling, dishing out a combined 22 assists on the week while turning it over just six times.
Tennessee needs Turner to find his shot, but his ability to run the offense at a high level has been a major positive for the Vols.
Josiah-Jordan James looked more comfortable this week, especially against Washington. The freshman scored nine points on 4-for-4 shooting while grabbing four rebounds and dishing out five assists.
Grade: A-
Frontcourt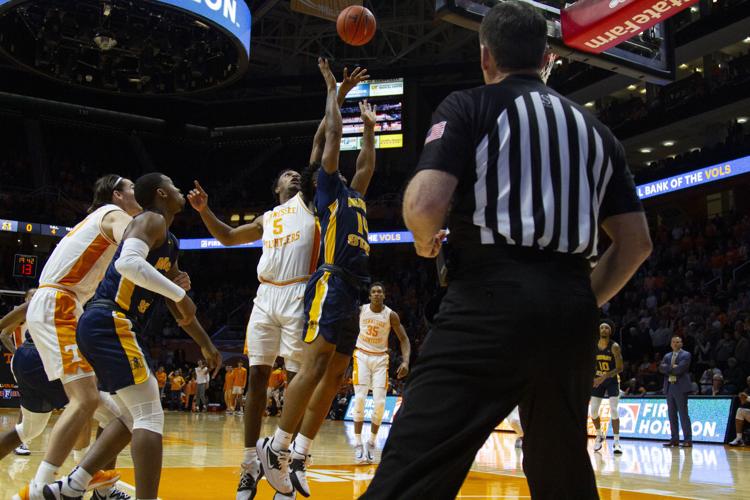 I wasn't sure Tennessee's front court could hold up against Washington's Isaiah Stewart and Jaden McDaniels.
The Vols front court didn't just hold up but went toe-to-toe with the projected lottery picks.
John Fulkerson and Yves Pons matched Stewart and McDaniel's 29 combined points, but the Vols tandem did it on 21 shots while the Huskies pair did it on 29 shots.
Yves Pons just looks like a completely different player right now, as the junior clearly has more confidence on the offensive end and much of that is due to his vastly improved jump shot.
It was on display this week as Pons went 4 of 6 from three-point range and he killed Washington with 10-foot jumpers from the high post Saturday.
John Fulkerson didn't have his best game against Murray State picking up two early fouls, but the Kingsport native still scored nine points and grabbed nine rebounds.
Fulkerson would go for 14 points against Washington while going a perfect 6 of 6 at the free throw line.
Grade: A
Offense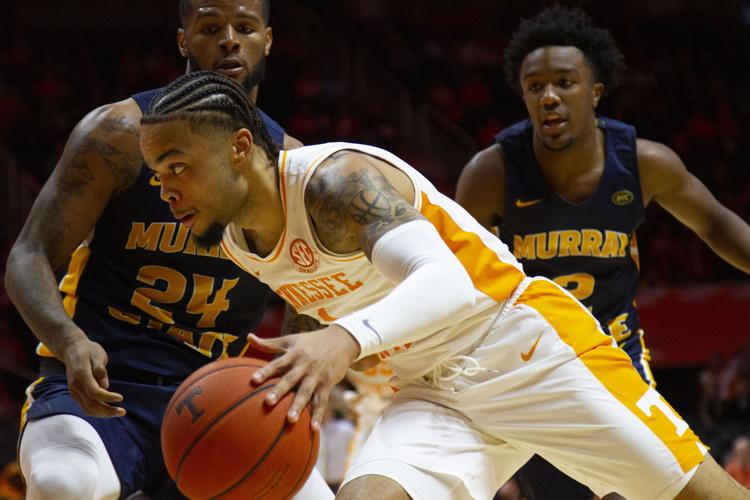 It was a good week for Tennessee's offense that started Tuesday night where the Vols put up 46 second half points to win, 82-63.
Tennessee shot 50 percent from the field and 54 percent from three-point range against the Racers.
Tennessee assisted on 21 of its 29 baskets against Murray State while recording single digit turnovers for the first time this season.
Tennessee would turn it over 14 times against Washington, but the assist per basket rate remained high as the Vols would assist on 19 of their 25 baskets.
Tennessee's shooting percentages would come back to earth a little against Washington, but it was still a strong shooting display from the Vols who shot 47% from the field and 46% from beyond the arc.
Grade: A-
Defense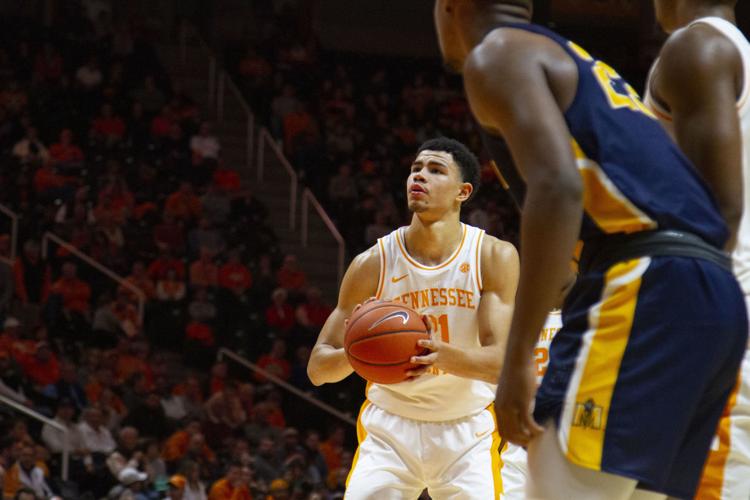 Tennessee's defense looked suspect at best in the first half against Murray State, giving up 41 points as the Racers hit eight threes and shot 50 percent from the field.
Tennessee flipped switch at halftime, holding Murray State to just 19 second half points. That half included just one made three for the Racers and 30% shooting from the field.
After giving up a combined 24 first half points from Tevon Brown and Jaiveon Eaves, Tennessee shut down the duo in the second half holding them to just five total points.
Tennessee made Washington uncomfortable all afternoon long forcing 17 Huskies' turnovers as Washington would only muster 62 points.
Additionally, the Vols held Washington to 40% shooting from the field and 28% from three.
Grade: A
Bench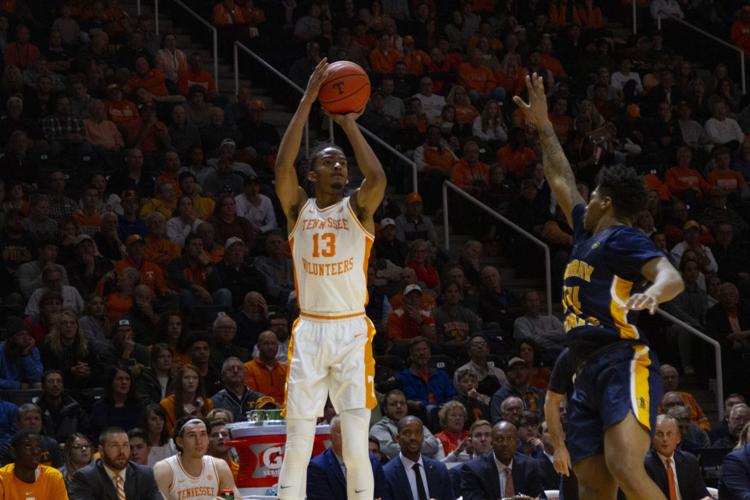 Tennessee's depth continues to be my biggest concern for this team going forward. As impressive as Tennessee's week was, they were forced to ride their stars. Turner played 39 minutes in each game this week while Pons played 38 and 34 minutes.
Tennessee played just seven players against Washington and Jalen Johnson only played six minutes.
Tennessee is banged up right now, but the Vols have to find more contributions from its bench, even if it's just finding minutes before TV timeouts.
Olivier Nkamhoua appears to have submitted himself as the sixth man early this season and it seems like just a matter of time before the freshman becomes a really good player.
He played 19 minutes against Murray State and 17 minutes against Washington as he scored a combined 11 points and nine rebounds.
Johnson only playing six minutes against Washington is a little worrisome for Tennessee. The redshirt-junior is someone Tennessee desperately needs to play major minutes off the bench at guard.
Davontae Gaines seems to have found Rick Barnes' doghouse; after seeing early action against Murray State had a bad turnover he didn't play the rest of the week.
Grade: C-
Coaching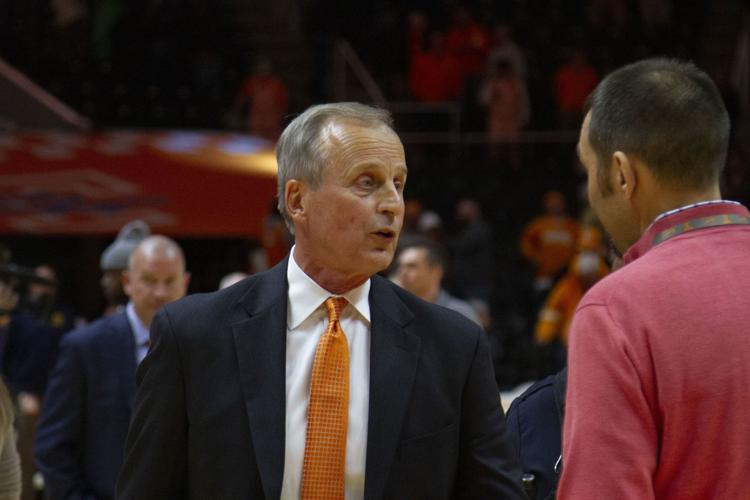 Rick Barnes announced a new nickname for Tennessee assistant Kim English: Dr. English.
It was English that was charged with game planning against Washington after spending time in the Pac 12 at Colorado before coming to Tennessee. English game plan was fantastic as Tennessee carved up Washington's two-three zone, especially in the first half, hitting 10-foot jumper after 10-foot jumper.
Barnes clearly felt he could ride his best guys after the Huskies due to their slow pace of play and the move paid dividends.
After looking sloppy both in its exhibition game and opener, Barnes had Tennessee ready to play against two competitive teams.
Grade: A+
Overall
Tennessee picked up two really solid wins last week that will likely benefit the Vols in March.
Murray State was a team that won a NCAA Tournament game last season and while Ja Morant is no longer there, the Racers are still one of the OVC's best teams and will have a good chance to return to the NCAA Tournament.
Washington was a legitimate top 20 team who had already had a win over a good Baylor team. The Huskies also possess serious NBA talent.
Outside of a bad first half against the Racers, Tennessee handled both easily. The Vols jump into the top 20 of both the AP and Coaches Poll, further points out what a good week it was for the Vols.
Grade: A