Tennessee dropped back-to-back games for the first time since January of 2018 as the Vols struggled in their first game of the week losing to a struggling Cincinnati team, 78-66. 
Tennessee bounced back on Saturday when the Vols returned home to Thompson-Boling Arena where Rick Barnes earned his 700th career win as Tennessee edged out Jacksonville State, 75-53.
Here's how the Vols graded out.
Backcourt
It was a mixed week for Lamonté Turner as Tennessee's senior leader played his last two games in a Tennessee uniform. 
Turner struggled in the Vols' road loss at Cincinnati scoring 12 points but turning it over four times while assisting on only three baskets. Additionally, Turner had the Vols' worst plus/minus with Tennessee losing by 22 points with Turner on the floor.
Turner would turn around and play one of the best games of his season against Jacksonville State scoring 8 points on 4 of 6 shooting while dishing out 11 assists. 
Jordan Bowden's shot struggled in Tennessee's loss at Cincinnati going just 1 of 5 from beyond the 3-point line. Bowden did find ways to play well despite his shooting woes as he scored 13 points and dished out six assists.
Bowden found his shot against the Gamecocks as the senior hit four threes while recording a game high 19 points.
Josiah-Jordan James 3-point shot struggled on the week going 2 of 11 from beyond the arch, but James confidence on offense seems to be rising as he showed aggression in both games, averaging 9 points per game on the week. 
Grade: C+
Frontcourt
For the first time this season, Tennessee's lack of size inside cost the Vols against Cincinnati. The Bearcats picked up 11 offensive rebounds and their starting bigs combined for 26 points on 63% shooting.
On the offensive end, John Fulkerson and Yves Pons had strong efforts in both games. Fulkerson led the Vols with 14 points on 6 of 8 shooting against Cincinnati while Pons added 11 points.
Pons starred against Jacksonville State to end the week flirting with a triple double in the 22-point win. The France native scored 11 points while grabbing nine rebounds and recording a program best six blocks.
Fulkerson's offensive efficiency continued against the Gamecocks where he scored 16 points on 8 of 11 shooting. Fulkerson's rebounding struggled all week where he grabbed just five boards.
Grade: B-
Offense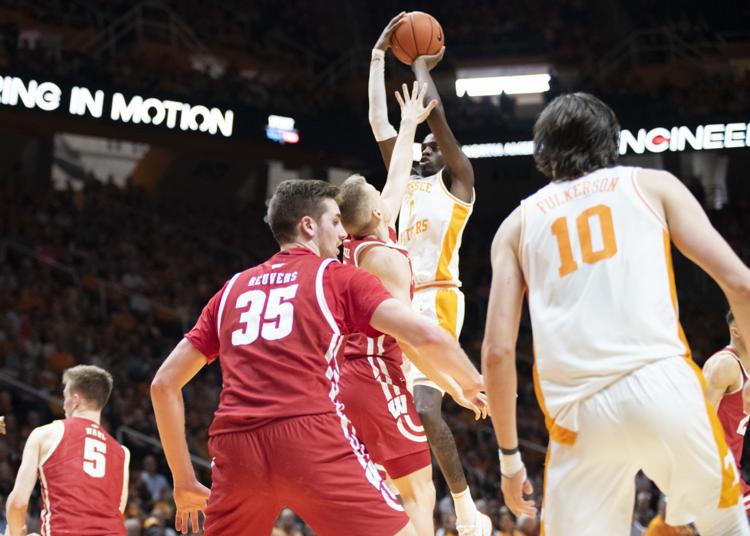 Tennessee's offense was improved from its last outing against Memphis where the Vols only mustered just 47 points. However, Tennessee still didn't light the world on fire scoring just 66 and 75 points in the week's performances.
Tennessee shot 45% from the field against Cincinnati, a solid mark for this team, but the 3-point struggles continued against the Bearcats where they shot just 3 of 15.
The 3-point shooting improved a bit against Jacksonville State where the Vols shot 7 of 26 from beyond the arch thanks to Bowden's four 3-pointers. Tennessee shot 48% from the field against the Gamecocks marking one of its highest tallies of the year.
Who produces offense and creates open shots for teammates becomes the question for Tennessee going forward without Turner. 
Tennessee went 23-for-23 at the free throw line on the week. The Vols have shot well at the charity stripe all year and that continued last week. Tennessee has very little room for error on the offensive end and the ability to consistently knock down free throws could go a long way.
Grade: B+
Defense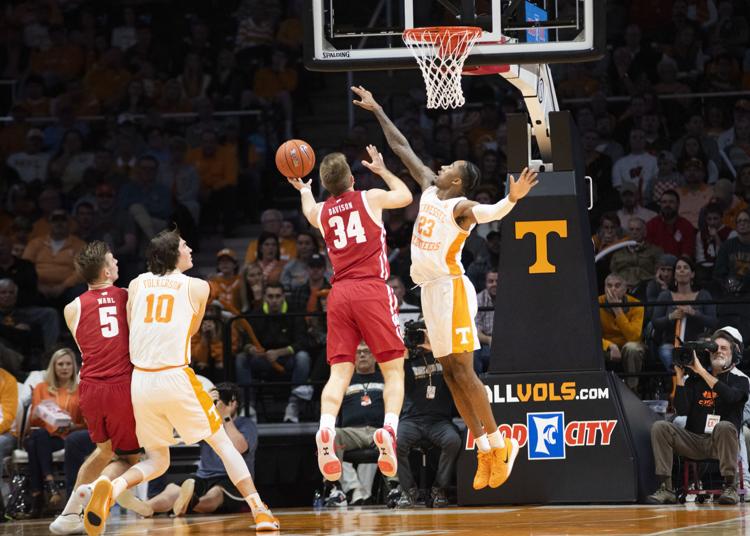 For the first time all season the Vols defense let them down in the road loss at Cincinnati. The Bearcats shot 56% from the field and 33% from the 3-point line. 
Cincinnati's 78 points where the most Tennessee has given up all season. Additionally, Cincinnati found scoring from a plethora of options with seven Bearcats scoring nine points or more.
The Vols bounced back against Jacksonville State holding the Gamecocks to 37% shooting from the field and 30% shooting from beyond the arch.
As previously noted, Pons starred on the defensive end against Jacksonville State recording a career high six blocks. Pons move to the frontcourt has been beneficial for the Vols' defense giving them a rim protector.
Grade: C+
Bench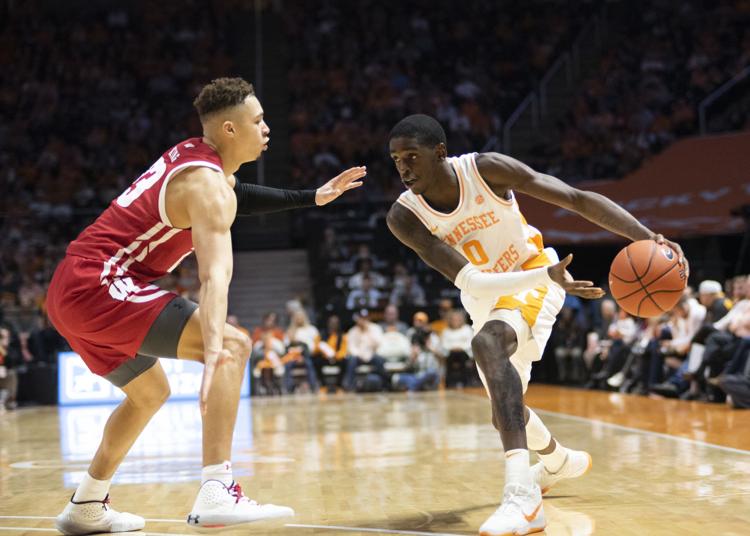 Tennessee's struggles to find offensive production from its bench continued on the week as the Vols got only 8 points from their bench against Cincinnati and 11 points against Jacksonville State.
Davonte Gaines continues to come on for the Vols and the freshman guard had a strong week. Gaines scored four points in the loss at Cincinnati and seven points in the win over Jacksonville State. The lanky guard could be in for a boost into the starting lineup after Turner's season ending surgery.
It wasn't the best week for Olivier Nkamhoua who scored just six combined points while grabbing just five rebounds. Nkamhoua is clearly trusted to play a lot of minutes but the Vols need more production from the Finnish forward going forward.
Jalen Johnson and Drew Pember combined to give Tennessee 22 minutes and two points on the week. With Tennessee's bench getting shorter how much time and production those two can give Tennessee is worth watching.
Grade: C
Coaching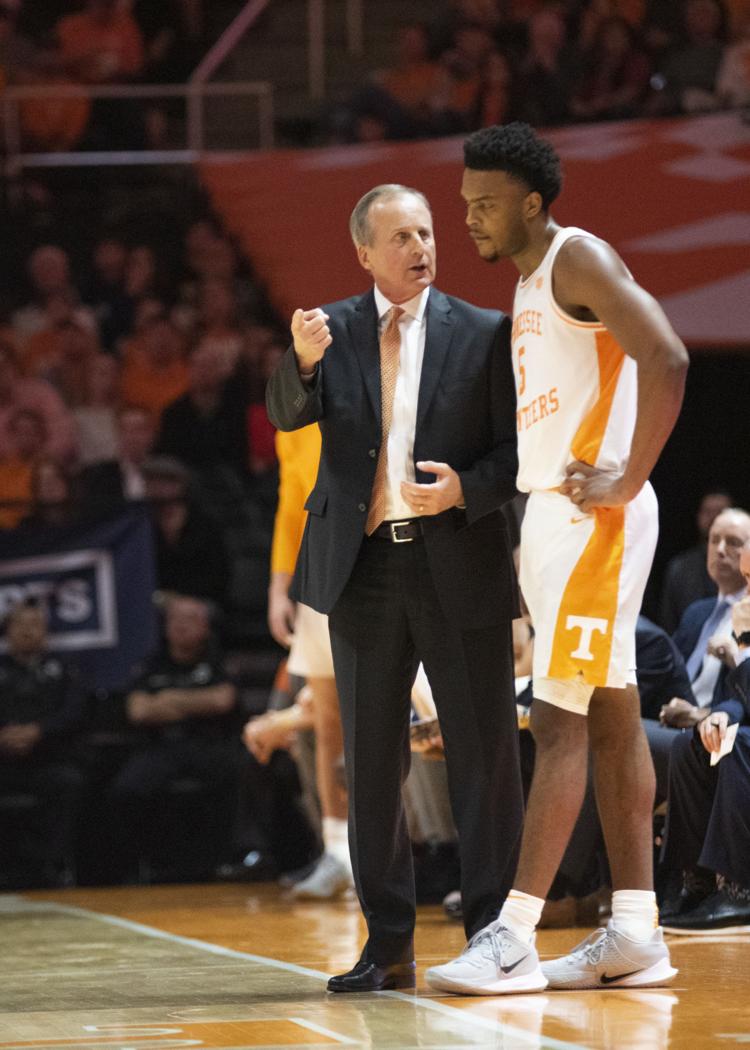 Barnes clearly made some adjustments to help the offense this week and the improvements were there. The Vols regular defensive performance was the difference in this being a successful week or an unsuccessful week for UT. 
Barnes showed some more trust in the bench this week and while they struggled that trust is simply a must. The Vols are going to have to live with some of the freshman struggling and Barnes is just going to have to let them play through it.
While it sometimes hurt them on the court this week it's still the smart this for Barnes to do. Tennessee couldn't rely just on its starting five to begin with. Now without Turner that problem just gets even harder. 
Grade: B+
Overall
This week highlighted some of the challenges this team is going to face all season. Unless Tennessee plays well on the defensive end it's going to be hard for them win games. They simply can't outscore teams.
Tennessee missed an opportunity as Cincinnati to pick up a big road win. Even with some of their struggles the game was a very winnable one for the Vols.
It was a nice bounce back against Jacksonville State, but it's hard to consider it a successful week when you drop a winnable game a pickup a win over a struggling Ohio Valley squad.
The loss to Cincinnati makes Saturday's matchup with a struggling Wisconsin team all the more important. Tennessee needs a big win to boost momentum ahead of January 4th's conference opener against LSU.
Grade: C+