Paul Finebaum was under attack.
The SEC Network host and "Voice of the SEC," then the sports editor at The Daily Beacon and a student at UT, was at a Tennessee football practice when a player, apparently perturbed by Finebaum's opinions on the team, bounded toward him.
"I had a football player come after me (during) practice one day," Finebaum said. "He charged me. Somebody stepped in between them."
It was one of the more memorable moments Finebaum had while working as a student journalist at UT, years before he would become well-known as an authoritative voice in the SEC and college football realm.
Finebaum's renown as a sports personality, which is widespread and has only grown throughout the years, doesn't require much of an introduction.
But his story ultimately begins as a young and inexperienced student at UT and The Daily Beacon, with a lifelong passion yet to be discovered.
Roots in student journalism
Finebaum arrived at UT's campus in the '70s, unsure of what to do to fill his time. That's when he saw an ad in The Daily Beacon for a reporter.
He inquired about joining the newspaper and was given a simple news story covering "some bus service to campus."
Finebaum's work in the assignment, though, soon took a dramatic turn, with him uncovering scandal and payoffs just eight hours into the investigation.
The story put Finebaum on the map at The Daily Beacon. His bosses were impressed by the rookie who had never worked for a newspaper before, even a student-run outlet.
"All of a sudden, I think the newspaper realized, and I realized … I had some ability," Finebaum said.
He eventually began working in sports and moved up to sports editor of The Daily Beacon, a position he held for two years. His criticism of teams and coaches incited multiple clashes with athletic personnel; he was once called into the men's basketball coach's office, screamed at by the coach and banned from flying with the team to away games, a privilege then allowed to the sports editor of the student newspaper.
Finebaum even faced conflict with legendary women's basketball coach Pat Summitt, who was in her early years coaching the Lady Vols during Finebaum's time at Tennessee.
"It wasn't so much her … Women's coverage was still in its infancy, so that was always an issue," Finebaum said.
His time at The Daily Beacon had a lifelong impact on the budding journalist and political science major.
"It changed my life," Finebaum said. "Instead of pursuing probably law, which I was mainly interested in, I said, 'You know what? I'll put that on hold.'
"I had the best two years I've ever had covering the Vols, and ultimately, I got a job from that."
From reporter to SEC authority
After graduating from UT, Finebaum didn't have many job offers because of his lack of a journalism degree, but eventually found a job in Shreveport, La, covering teams ranging from the Dallas Cowboys to LSU.
He later moved to Birmingham, Ala., where he wrote for the Birmingham Post-Herald before making the move into radio and eventually spending 30 years in the city.
"I didn't think I'd stay there that long, but it turned out really well," Finebaum said.
Finebaum's jump to radio was more than profitable for his career; he appeared on multiple shows as a talk host, including hosting the nationally-syndicated Paul Finebaum Radio Network, before eventually signing a deal with ESPN in 2013 to become a part of its new SEC Network.
His current show, "The Paul Finebaum Show," runs daily and is broadcast not only on the radio, but also on television through The SEC Network; it is also available via podcast. Part of its notoriety is due to its format, which encourages fans from around the SEC to call in with questions or opinions, which Finebaum then responds to himself.
Finebaum has become a staple in ESPN's college coverage, making regular appearances on numerous shows including SportsCenter and College Gameday. For many, he is the leading authority on college football in the SEC, having also authored several books on the subject.
"I realize when you work at a company like mine, you're seen by a lot of people," Finebaum said. "But you take it seriously too. You realize you are affecting people. You are influencing people."
Finebaum has garnered multiple awards for his work. He was included on Sports Illustrated's 2013 Most Powerful People in Sports Media list and has been given an Accomplished Alumni Award by UT.
"Finebaum joins a variety of outstanding alumni who have been featured through the Accomplished Alumni program, including CEOs of major corporations, Olympians, authors, lawyers, musicians, U.S. ambassadors and civic leaders," a story about Finebaum's award on UT's website said.
Looking forward
Despite all of his career success, Finebaum's roots as a student reporter at UT and The Daily Beacon haven't slipped his mind.
"I'll never forget how it began, and probably (out) of all the things I've done, the thing I really loved doing best was starting out at the school paper and then working for a newspaper," Finebaum said. "Because that's really what I always thought I was best at."
His advice to young reporters? Don't be satisfied with just a few basic questions when interviewing others, as "sometimes we make the mistake of looking down at our next question, and you miss the best answer you'll ever hear."
"I don't want to sound like some old professor in the classroom by giving you a bunch of clichés, but you can never go wrong by being relentless, by being dogged in your pursuit of a story," Finebaum said.
Finebaum also encourages young journalists to be fair in their writing, something he doesn't feel like he has always done, especially during his time covering sports at UT.
"I've written some things in my career that I really wish I could do over again," Finebaum said.
"I don't think I was being objective, or I don't think I was being fair," Finebaum added. "I think being fair minded is an important ingredient of being a really good journalist."
Finebaum advises keeping in touch with important people and professionals in the career field in order to potentially be remembered in connection with a job opening in the future.
After all, the "Voice of the SEC" remembers his now-famous career's humble beginnings.
Though now years removed from his tense encounter with the football player at practice that day, the memories live on, just as his legacy at Tennessee and beyond surely will.
"I think you do have a responsibility as you get older, whether successful or not, to try to help," Finebaum said. "And don't forget where it all began."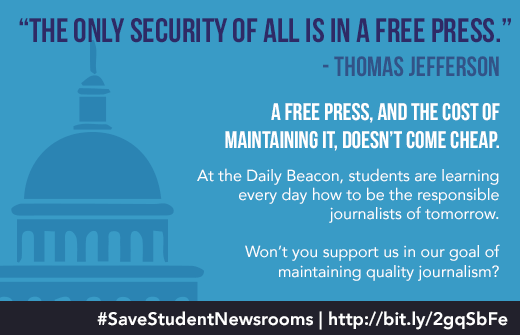 Please continue to support The Daily Beacon. It is by your support alone that this paper publishes twice a week and has the equipment to post consistently to our online site. We do all of this while also paying a good bit of our staff. Over half of student newspapers across the country are not independent, are not paid and are very small. With your donations, you are supporting not only The Daily Beacon but other Office of Student Media departments. Please consider donating by clicking the above image.