Tennessee fans got their first look at the 2019 Tennessee football team on Saturday, as it took to the field for the Orange and White Game, the team's annual spring exhibition. Given the setting, both recognizable and fresh faces were given a chance to showcase their abilities.
Here are some players that took full advantage of the opportunity:
Jarrett Guarantano
It should be considered a good sign that Tennessee's incumbent starter is among the players that stood out on Saturday night, despite a poor start. In the first quarter, he completed just two passes for seven yards, and was sacked twice.
He picked it up in the second quarter, exploding for 134 yards through the air with two touchdowns, completing 10 of his 18 pass attempts. He showcased a nice combination of strength and accuracy on a 52-yard bomb to Marquez Callaway.
"I think there's a couple of throws that I wish I had back," Guarantano said. "I think the offense pushed the ball very well when we were going fast-paced."
He led the White Team to a 21-3 victory, ending the day with 198 yards and four touchdowns, leading all three quarterbacks in both categories. He also took home MVP honors, his second consecutive year doing so.
Jaylen McCollough
With the departure of both Todd Kelly Jr. and Micah Abernathy due to graduation in the offseason, the Vols have some depth to make up in the back-end of the secondary. Though Nigel Warrior is likely to reassume a starting role, the other spot is still in the air.
True freshman Jaylen McCollough certainly made his presence known while playing on the second team defense. He led the White Team in tackles with seven, the second highest mark for both teams.
He was freshman quarterback Brian Maurer's worst nightmare. In the third quarter, he skied to pick off an errant throw by Maurer, and returned it 32 yards to the seven yard line.
McCollough would do it again in the fourth quarter, covering some serious ground to snatch another Maurer pass out of the arms of a wide open receiver. He returned that one for 27 yards.
"As far as spring ball goes, I only ever remember him intercepting one ball in 14 practices," Pruitt said. "He's got the ball skills. He's a smart guy… He's a guy that we've just got to continue to grow."
Shannon Reid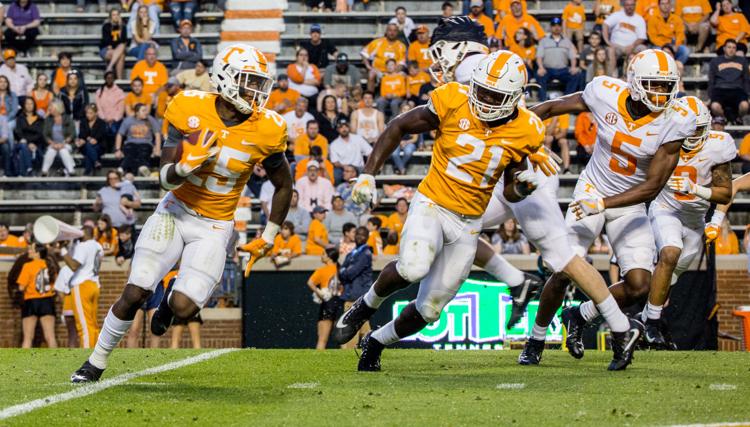 Darrin Kirkland Jr. was sidelined with a knee injury for the Orange and White Game, and his future in football is in the air. Shannon Reid was the next man up at inside linebacker for Tennessee's first team defense, playing opposite Daniel Bituli.
Reid did well, matching up against the first team offense. He led all defenders in tackles with 10, eight of which were unassisted, more than doubling Bituli's three tackles.
"Shannon's a hard working guy," Bituli said. "He's eager to learn, eager to get better. That's the type of guys we need on this team."
He also showcased decent coverage skills, breaking up a Guarantano pass intended for Dominick Wood-Anderson in the first quarter. He was the only linebacker to get credited for a pass breakup.
Jauan Jennings
Jauan Jennings had a decently productive 2018 season, posting 438 yards and three touchdowns. Given the fact that he missed that entire offseason due to injury, and those numbers look a little better.
Now, after a full offseason of practice, he looked like the Jennings of old in Tennessee's spring game. He caught five passes on eight targets for 57 yards and two touchdowns. He was the only player with a multi-touchdown outing.
He had one of the offensive highlights of the game, catching a seven-yard touchdown pass while falling backwards on a fade route, while draped in coverage, in the second quarter.