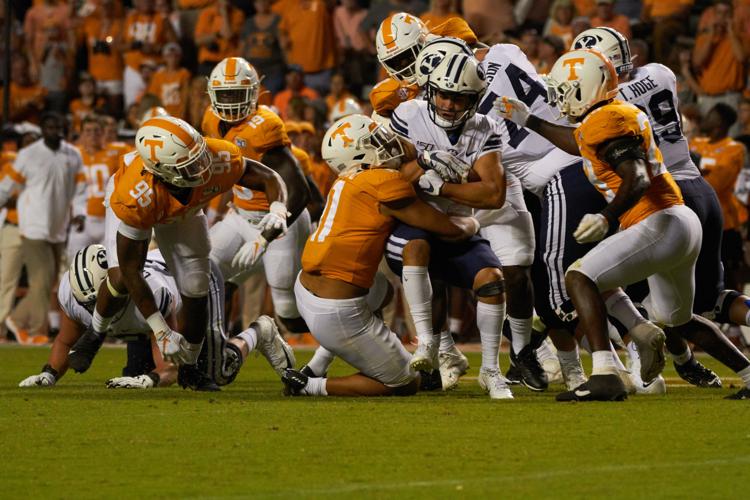 Despite an 0-2 start to the 2019 season and contrary to popular belief, there have been some positive takeaways for the Tennessee football team through their first two games.
One of them is that senior wide receiver Jauan Jennings may be playing harder than anyone else on the field, establishing himself once again as a sure-handed threat for the Vols' offense, catching nearly everything thrown his way.
The biggest and arguably most important positive, however, is the early performances of some of Tennessee's newcomers.
Due to a lack of depth at several key positions on both offense and defense, a lot of the Vols' freshmen have been thrown into the fire early, forcing them to grow up on the field in the very beginning of their careers.
Two of them standout above the rest.
On defense, Tennessee's linebacking corps has received a lot of production from freshman linebacker Henry To'o To'o, who came to Knoxville by way of De La Salle High School in Sacramento, California as a four-star prospect, has been a force in the first two games of the season.
Just two games into his young career and To'o To'o is already tied for the most tackles on the team with 15.
In the game against Georgia State, To'o To'o made program history, leading the team with seven tackles — the most by any Tennessee true freshman since Dwayne Goodrich did it against UNLV in 1996.
"I just expected myself to be able to contribute to the team," To'o To'o said. "I wanted to be a part of something special, and I wanted to be able to help these guys around here, my brothers, the best way I can."
To'o To'o's early impact in Knoxville was close to happening in either Tuscaloosa or back in his native West Coast in Seattle, instead.
Thanks to their pursuit, Tennessee head coach Jeremy Pruitt and his staff were able to pull a rabbit out of the hat late by getting To'o To'o's commitment on national signing day. He spurned rival Alabama and 'nearby' Washington for the Vols.
But what was it that helped To'o To'o to decide to turn down both a perennial college football playoff contender and a team much closer to his home? He says it was Pruitt's vision.
"I saw Coach Pruitt's vision," To'o To'o said. "I trusted Coach Pruitt, and I still do. I love what he has going and the things that he tells us."
With such success at such an early part of his career, it would be easy for To'o To'o to credit his own abilities with how much he's accomplished in such a short amount of time, but he wouldn't do that. It's not who he is. Instead, he credits his teammates, especially the veterans who have helped him along.
"I'm still adjusting," To'o To'o said. "College is not easy, but just being able to have leaders like our senior leaders, like Nigel Warrior and Darrell Taylor — having guys like that — here helps more than anything."
On the offensive side of the ball, another true freshman has made his presence known early on. Running back Eric Gray was recruited as a four-star from Memphis, joining a Tennessee backfield laden with upperclassmen like Tim Jordan, Carlin Fils-aime and Ty Chandler.
Being short on experience hasn't stopped the coaches from giving Gray the ball, though.
The Vols struggled in the run game against Georgia State, but they found daylight in the loss to BYU, posting more than 200 yards on the ground. More than 70 of those yards came from Gray, who's elusive ability became a crowd favorite instantly.
While some players struggle to perform their best during the week, Pruitt says that Gray is one of those players who brings the same level of competition to practice, in the game and even in the classroom.
"I think Eric Gray has done a really nice job since he's been here," Pruitt said. "He is very mature. He made all A's and one B in his (first) semester; he is a really good student. He does everything we ask him to do; he has very good leadership skills. What you see on Saturday's is what we see Monday through Friday. That isn't a surprise. The guy comes to work every single day."
Due to a foot injury to junior Tim Jordan, Tennessee's backfield was limited to Chandler and Gray, allowing him to get more carries against BYU.
After going for just 29 yards in the opener against Georgia State, Gray says that comfortability allowed him to perform better in game two.
"In my second game, I just felt more comfortable under the lights," Gray said. "I felt good. I just felt more comfortable. I think we just felt more comfortable as a team. You can see the difference between Georgia State and BYU. I feel like we came out and played better."
With so many question marks surrounding the Tennessee football program after their two losses to start the season, the effort given by Gray and To'o To'o, as well as other freshmen, can at least give Pruitt and his coaching staff some optimism that goes beyond their 2019 campaign.