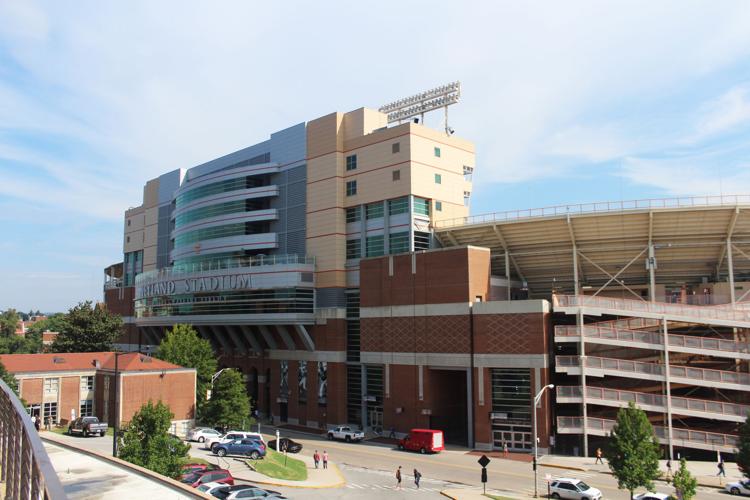 Back in 1932, life was much different — Back then, there were no ballpoint pens, jet engines or even color televisions. But perhaps most notably for sports fans, there was also no Southeastern Conference.
At the time, many schools in the southeast competed in the Southern Conference (now called the SoCon). The SoCon was made up of several universities that are currently in the SEC, along with a few schools from the Carolinas, Virginia and Maryland. There were 23 schools in total, and the members agreed that the conference had become too large.
In December of 1932, many of these schools held a meeting to discuss a smaller, more manageable conference. This meeting took place in downtown Knoxville at the Farragut Hotel, which is now Hyatt Place on the corner of Gay St. and
Clinch Ave. There is still a plaque on the outside of the building commemorating the event.
At this meeting, the schools decided to split the SoCon into two conferences, and they based who was in each conference on which side of the Appalachian Mountains they were on. Schools located east and north of the mountains would remain in the SoCon, while those to the south and west would form something new, known as the Southeastern Conference.
After agreeing to this, 10 schools remained in the SoCon, and 13 joined the newly founded SEC.
The SEC has changed quite a lot since that fateful meeting on Gay St. While many of the original schools are still in the conference, the SEC has dropped and added a few along the way.
In 1940, Sewanee left the conference, and in the 1960s, they lost Georgia Tech and Tulane.
As athletic conferences around the country began to restructure, the SEC added the University of Arkansas and the University of South Carolina in 1991. The SEC also picked up Texas A&M and the University of Missouri in 2012, giving the conference the 14 teams it has today.
While it may have begun in Knoxville, the SEC is headquartered in Birmingham, AL, and it is currently run by its eighth commissioner Greg Sankey.
The SEC has gone on to have storied success in top-level collegiate athletics, especially in recent years. Since its founding, the conference has claimed well over 200 national championships across all sports. Of those, over half of them have come since the turn of the century.
The SEC continues to grow and succeed. It has become not only one of the most dominant athletics conferences in the entire country, but also a symbol of culture and pride in the southeast, and it all started just over 87 years ago, right here in Knoxville.