When Jeremy Pruitt and the Vols were suiting up for day one of fall camp a year ago, they had no idea what to expect. They, like many of the fans in the greater Knoxville area, were left to ponder about the inevitable uncertainty that loomed.
The aura surrounding day one of fall camp for the 2019 version of Tennessee couldn't have been more opposite.
As Pruitt and his staff attempt to reverse the Vols' fortunes, ones that saw them end last season with two consecutive losses that stripped them of bowl game eligibility, they'll be given the benefit of continuity that did not exist within the program a year ago.
Here are some takeaways from Tennessee's first day of preseason practice:
Jennings moving well, garnering praise from coaches
Following a disappointing two seasons that saw him fight through injuries and struggle to regain his previous form, Jauan Jennings was moving noticeably well during the media portion of practice.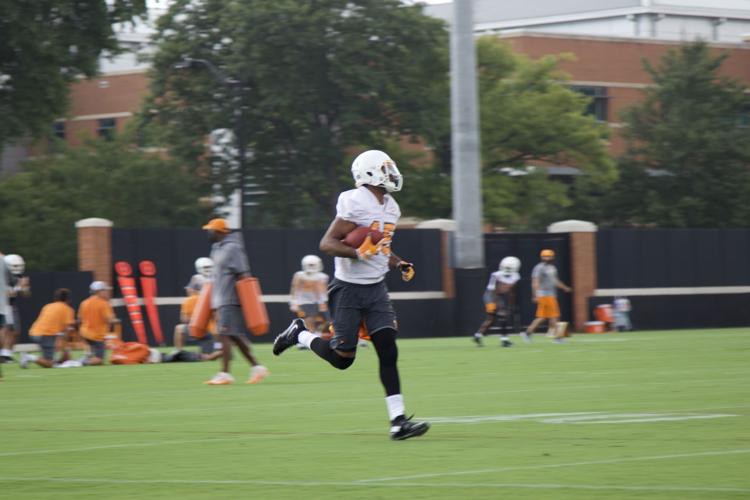 The Vols have yet to don pads and participate in full contact drills, but Jennings jogged with a bounce in his step and was able to elude defenders with relative ease. His hands were holding up quite well also, hauling in countless tosses on fade and slant routes alike. 
It's his passion for the game however that has caught his coaching staff's attention.
"He doesn't like it, he loves it. He loves football, he loves the University of Tennessee," Pruitt said. "He likes to practice. He likes to play. He likes to be in the building. You love coaching guys like Jauan."
As far as it pertains to on-the-field matters, Tennessee will be easing Jennings back into the everyday grind that is the college football season. While appearing in 12 games last season, he struggled to consistently impact them, leading to only five starts. 
With that being said, Pruitt is confident that Jennings is healthy and ready to participate. 
"Jauan is ready to go, we'll probably monitor him a little bit for a week, put him on a pitch count to ease him into it," Pruitt said. "He's healthy, he's full speed. He obviously did miss a little bit of the summer conditioning. We'll ease him into it."
Guarantano's comfort level has risen
When Jarrett Guarantano was taking snaps last season, he was running for his life on nearly every play. Whether taking a snap under center or in the shotgun, he rarely found that level of comfort that allows quarterbacks such as Tua Tagavailoa and Jake Fromm to be so successful.
There is still some time before the Vols take the field officially, but if today was an indication, that version of Guarantano is gone. The New Jersey native threw countless darts and moved through his progressions smoothly as new offensive coordinator Jim Chaney looked on.
While Guarantano's skills have made strides since the start of last season, it's his fundamentals and ability to protect himself at all times that Chaney is primarily focused on. 
"Playing clean football and distributing the ball around to our playmakers and not letting him think everything rides on his shoulders," Chaney said. "I'm more worried about him learning all of the protections and continuing to develop in that mindset."
Pruitt, staff want 'ballhawking' defense 
If UT's inconsistent offense gave any indication of how inexperienced of a unit the Vols were last year, their defense proved much worse.
Tennessee produced just nine interceptions and 15 total turnovers in 12 games, featuring one of the younger secondaries in the conference. A reality that made fans cringe did not go unnoticed by the coaching staff, and that was one of the first areas Pruitt and his staff addressed during the offseason, a mindset that has carried over into practice.
The Vols' first task on defense? Become ball-hawking in the secondary, a task Pruitt Days is not for the faint-hearted.
"You have to create turnovers for that. We want to be good fundamentally, and how you do that is practicing well every single day," Pruit said. "If you're going to be a good football player, you have to have some toughness to you."
As the regular season slowly looms in the distance, Tennessee is looking to reach a level of relevancy not experienced in Knoxville since Phillip Fulmer's coaching days.
While that reality is likely not in the near future, a step in the right direction would be an improved unit in 2019 and that is all Pruitt and his staff are asking for as practice kicks off. 
"We have a very young football team, a lot of these guys will learn a lot from today, since it was their first day out there with the coaches," Pruitt said. "We'll be much improved tomorrow and we'll continue to improve as camp goes."