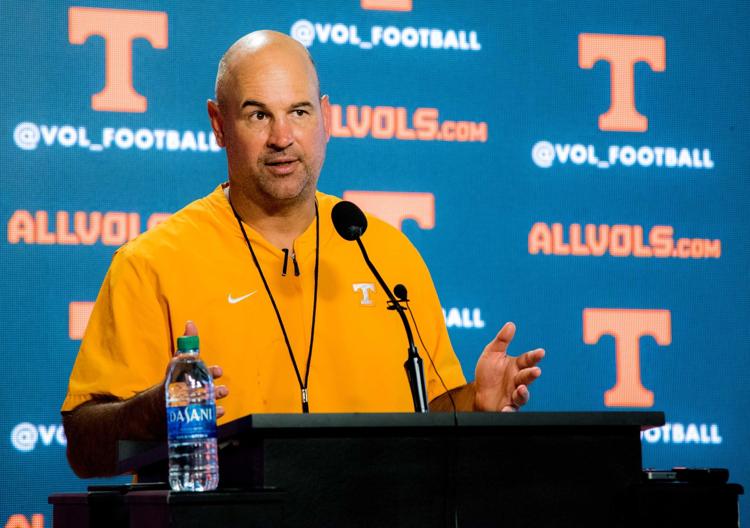 The Tennessee football team notched their first win of 2019 on Saturday with a 45-0 drubbing of Chattanooga at Neyland Stadium.
Now, the Vols (1-2, 0-0 SEC) will head to Gainesville to kickoff a tough SEC slate against No. 9 Florida (3-0, 1-0 SEC).
Head coach Jeremy Pruitt talked about preparing for the Gators, his thoughts on how his team performed against Chattanooga and the special teams play through the first three games of the season.
Here are the takeaways from Pruitt's Monday press conference:
Facing Florida
Pruitt is all too familiar with Florida head coach Dan Mullen. Mullen spent nine seasons in the SEC West at Mississippi State, leading a successful stint in Starkville where he had seven winning seasons, five of which included eight or more wins.
"I think Dan (Mullen) does what all good football coaches do," Pruitt said. "He figures out what he's got and he's done it a little bit differently over the last ten years. To me, that's what a good football coach does. He figures out who his playmakers are."
Adjusting is something Mullen will have to do against Tennessee on Saturday. The Gators traveled to Kentucky last Saturday, down starting defensive back CJ Henderson, defensive lineman Jabari Zuniga and versatile wide receiver Kadarius Toney.
After falling behind 21-10 in the third quarter, Florida also lost starting quarterback Feleipe Franks to a gruesome ankle injury that will likely sideline the redshirt junior for the rest of the season.
Mullen was forced to turn to Franks' backup, junior Kyle Trask who lead the Gators to a 29-21 comeback win late in the fourth quarter, finishing with 9-of-13 passing for 126 yards and a rushing touchdown.
Tennessee's defense having to prep for Trask instead Franks this week might add a bit of a wrinkle, and Pruitt thinks Florida's offense looked more efficient under Trasks' leadership.
"(Florida) just ran their offense," Pruitt said. "It was the same plays, nothing different. They might have even executed better. Obviously, they scored more points in a short period of time, but (Trask) is a guy that competed for the quarterback job and is very talented."
Offensive Line Improvement
Tennessee's offensive line has started to come into its own over the last two weeks. Even in the loss to BYU, there was obvious improvement along the front, and it was even more evident against Chattanooga on Saturday.
While the depth is there, Pruitt and the coaching staff have had to turn to the newcomers upfront to make an impact early in the season, leading to almost constant rotation.
It hasn't been perfect, but after viewing the film, Pruitt has been pleased with the unit's lack of mental errors as of late.
"We're going to the right (players)," Pruitt said. "We might not be taking the right path to get there; there's lots of things, technically, that we need to clean up. But, the positives are that there were very few mental errors."
Special Teams
The Vols' kicking game continued to be Tennessee's most consistent group against Chattanooga.
Junior kicker Brent Cimaglia only had to kick once, but he remained perfect to put the Vols up 38-0 in the third quarter.
With that field goal, Cimaglia is 8 for 8 thus far on the 2019 season, including one from 51-yards. But Cimaglia isn't the only one that has impressed Pruitt. Outside of one kick that went out of bounds, sophomore Paxton Brooks has kicked 17 touchbacks.
"Brent (Cimaglia) has done a nice job kicking field goals," Pruitt said. "Riley (Lovingood) and Joe (Doyle) holding, those three together have done a really nice job. Paxton (Brooks), except for kicking it out of bounds, has had a touchback on every kick."
"The guys have executed there very well. We've got to continue to do that."