At SEC Media Days back in July, Tennessee head coach Jeremy Pruitt remarked that ahead of his first season at the helm in Knoxville in 2018, he knew very little about the team he had inherited.
"This time last year, I had no idea who was going to come with me to Media Days," Pruitt said on July 16. "I didn't know the football team."
With one season now under his belt, Pruitt not only has a better understanding of who his players are, he has confidence in what they can do heading into his second season.
"After being here for a year, we know the players that we have," Pruitt said. "We know what their strengths are, what their weaknesses are, and I think that's been extremely important in the development of our football team."
As the season opener versus Georgia State approaches, the optimism within the Tennessee camp is growing, thanks in large part to offseason training and a number of experienced players returning to several positions across the board.
Here is how Tennessee could look when they take the field at Neyland Stadium on Aug. 31.
Offense
Before opening up against West Virginia in Charlotte last season, there was some speculation as to who would be lining up under center for the Vols on their first offensive possession.
In the 2018 offseason, the Tennessee coaching staff had acquired the services of graduate transfer quarterback Keller Chryst out of Stanford.
Already on the Vols' roster was returning starter Jarrett Guarantano and Will McBride, who had also seen playing time in 2017.
If there was a quarterback battle like coaches had suggested, then Guarantano won it, starting in the opener and the remaining 11 games afterward.
Despite Tennessee's inconsistency on offense in 2018, Guarantano showed marked improvement from his redshirt freshman campaign in 2017, throwing for more than 1,900 yards and 12 touchdowns against just three interceptions.
With two true freshman behind him, there is no doubt who will be the Vols' signal caller this time around.
In the backfield, Tennessee returns a staple of talented rushers that saw plenty of action last season in Ty Chandler, Tim Jordan, Carlin Fils-aime and Jeremy Banks.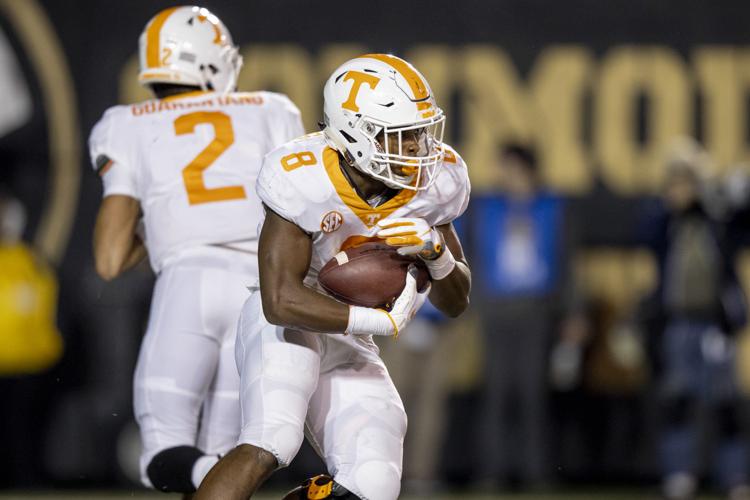 Chandler lead the group and the team in rushing with 630 yards and four touchdowns, while adding 183 more yards and three scores receiving out of the backfield. Chandler will mostly likely get the starting nod, but the rest of the unit will be expected to contribute heavily.
Receiver is the group that the coaching staff is most excited about.
The Vols return seniors Marquez Callaway and Jauan Jennings, as well as junior Josh Palmer. Callaway lead the team in receiving nearly 600 yards and two touchdowns in 2018. Senior tight end Domonick Wood-Anderson, who started 10 of 11 games last season, should be a threat that Tennessee can utilize.
Add first-year Offensive Coordinator Jim Chaney into the mix, who excelled at Georgia over the past three seasons and at Tennessee under Derek Dooley in 2010-2012, and there could be some real improvement for the Vols offense.
But like the 2018 season, upfront will make or break Tennessee in 2019. The Vols' offensive line was abysmal last season, returning just two starters and losing Trey Smith to medical issues. Pruitt and company have recruited well, bringing in five-star Wanya Morris and four-star Darnell Wright this past recruiting cycle. Four starters return, but expect the young players to see plenty of action.
Defense
The defense returned six starters from the 2017 team last season. The group, especially the secondary showed spurts of improvement throughout the season but still gave up an average of 462 yards and 36 points per game.
After losing their top-two corners from 2017, Pruitt was forced to start two true freshman in Alonte Taylor and Bryce Thompson in their opener versus West Virginia last season. The experience should pay off for what was a young secondary in 2018. Senior safety Nigel Warrior returns as the most experienced of the group.
At linebacker, the unit is set to be headed up by seniors Daniel Bituli and Darrell Taylor. Bituli lead the defense in tackles last season with 79, including one sack and five tackles for loss. Taylor was moved over from defensive end due to a scheme change with the new staff.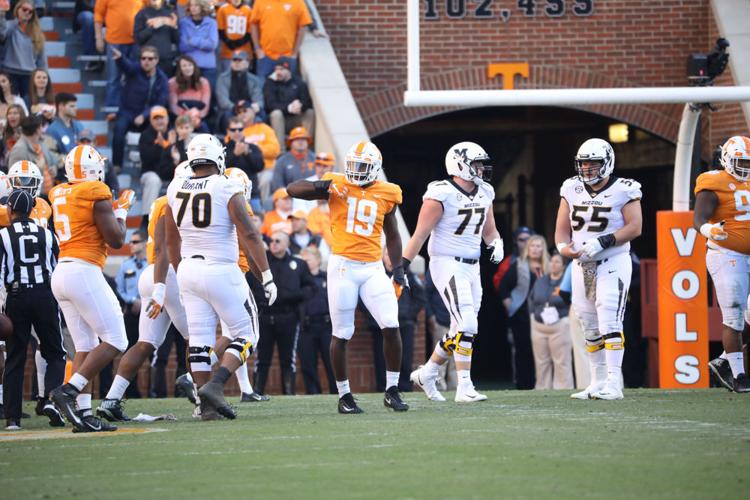 While Bituli and Taylor will most assuredly have locked down their starting positions in fall camp, expect to see some youth get a shot. J.J. Peterson, who was a 4-star prospect, a part of the 2018 class, now has a full offseason with the team, while fellow 4-star linebackers Quavarious Crouch and Henry To'oTo'o came in as big prospects in the 2019 class.
The defensive front for Tennessee will include some new faces after the departure edge-rushers of Kyle Phillips and Alexis Johnson.
Senior Emmitt Gooden, who came to Knoxville by way of Independence Community College in Kansas, returns after playing in 12 games in 2018, while junior defensive end Matthew Butler is also expected to start after playing nine games.
On the other end of the line, former Michigan defensive end Aubrey Solomon has the skills and experience to start, but his status remains in limbo as the coaching staff awaits clearance from the NCAA.
Special Teams
This time last season, Tennessee was tasked with finding replacements on special teams. Heading into 2019, the Vols are locked up at kicker with junior Brent Cimaglia.
In his sophomore campaign, Cimaglia was a 10-of-13 on field goals and perfect on extra points, finishing 31-of-31, making him the Vols leading scorer with 61 points in the 11 games he saw the field in. His longest field goal was a 45-yarder versus Auburn.
At punter, redshirt-sophomore Joe Doyle started all 12 games for Tennessee as a freshman. Doyle averaged better than 41 yards a punt, with 23 of those downed inside the 20-yard line. The performance was good enough to land Doyle freshman All-America honors in 2018.
You could see a few different skill players returning kicks for the Vols this year, but when Georgia State punts for the first time, you're going to see Marquez Callaway deep to receive.
While no other Tennessee player made any preseason All-SEC or All-American teams, there's a reason Callaway landed on the All-SEC second-team as a return specialist. In 2018, Callaway averaged 11.9 yards a return, including an 82-yard touchdown return. Callaway ranked No. 3 in the SEC in punt returns and No. 13 in the nation.