Tennessee dropped to 1-3 (0-1) on the season Saturday falling in Gainesville 34-3. Tennessee had some early chances to make it interesting, but poor execution cost the Vols a chance to make things interesting before Florida pulled away in the second half. 
Here are three takeaways.
It's the little things
Early in Saturday's matchup Tennessee's offense showed some life, and its defense gave them a prime scoring opportunity early when Daniel Bituli stripped Kyle Trask giving the Vols the ball at Florida's 20-yard line.
Tennessee moved the ball down to the Gator's three yard line setting up a third-and-goal. Jarrett Guarantano found Jauan Jennings open in the end zone, but the ball went through Jennings hands and off his head before being intercepted by Florida's Trey Dean.
On Tennessee's next drive a busted coverage by the Florida defense allowed Dominick Wood-Anderson to get far behind the Gator's defense, but Guarantano's throw was inaccurate turning a potential game tying touchdown into an incompletion.
Four plays later a miscommunication between Guarantano and Marquez Callaway led to an easy interception for Marco Wilson.
"It looked like cover two to me," Callaway said. "Our rule is convert verse cover two so that's exactly what I did. He (Guarantano) didn't see it. I didn't see it. We have to communicate better."
The Vols would end the day with four turnovers, and despite a strong effort from the defensive lost the turnover battle.
Penalties were also an issue for the Vols as Tennessee committed seven for 75 yards including some costly offensive ones.
"Discipline to me is doing what to do and doing it the right way all the time," Tennessee head coach Jeremy Pruitt said. "When you have dead ball penalties, when you have delay of games, when you're offsides. Things like that are discipline related."
Quarterback changes
It wasn't a pretty first half for Jarrett Guarantano as the Vols' quarterback went 8-for-15 with 73 yards passing and two interceptions.
After moving the ball decently in their first two drives the offense stalled the rest of the half recording only 98 total yards.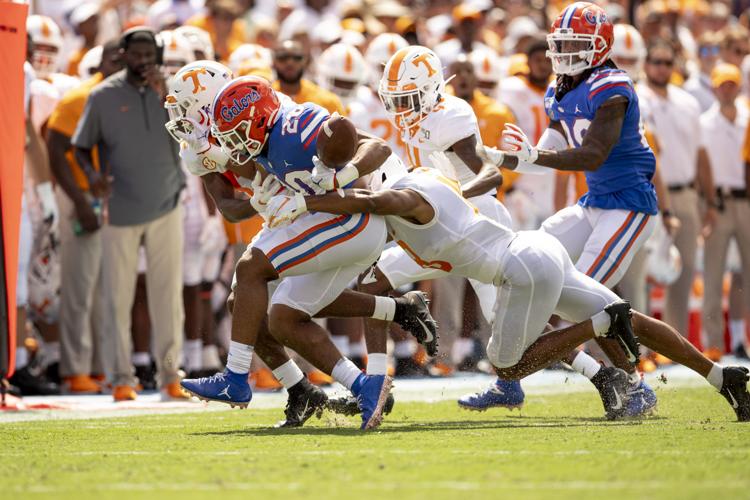 A week after publicly backing up Guarantano, vowing he was the Vols' starting quarterback Pruitt made a change at halftime going to Brian Maurer.
"He brings a lot of energy." Callaway said of Maurer. "He's real eager to get on the field. When his number is called he's ready. He came out there and we had his back. We told him to be calm and do what you're supposed to do. It's nothing like practice, so go out there and have fun with it."
Maurer, a freshman from Ocala, Florida, opened the second half leading the Vols on their only scoring drive of the day including an impressive third down completion to Josh Palmer. However, the Vols' offense struggled the next two drives including a Maurer interception.
Tennessee went back to Guarantano late in the third quarter and the redshirt-junior led two scoreless drives.
Guarantano ended the day 10-for-17 with 107 yards and two interceptions.
Maurer would come back in for the last drive of the game but didn't throw a pass as the Vols ran out the clock ending the day 4-for-11 with 44 yards passing and an interception.
"Every position for us we try to play the best players," Pruitt said postgame on whether there is a quarterback competition. "Who competes the best at practice, who plays the best last game."
Pass defense struggles
Tennessee's run defense was a rare positive for the Vols Saturday holding the Gators to 145 yards on 37 carries, but the Gators were able to find success through the air.
Despite the return of Tennessee cornerback Bryce Thompson, the Gator's two quarterbacks, Trask and Emory Jones, combined for 24-for-34 passing, throwing for 313 yards and two touchdowns.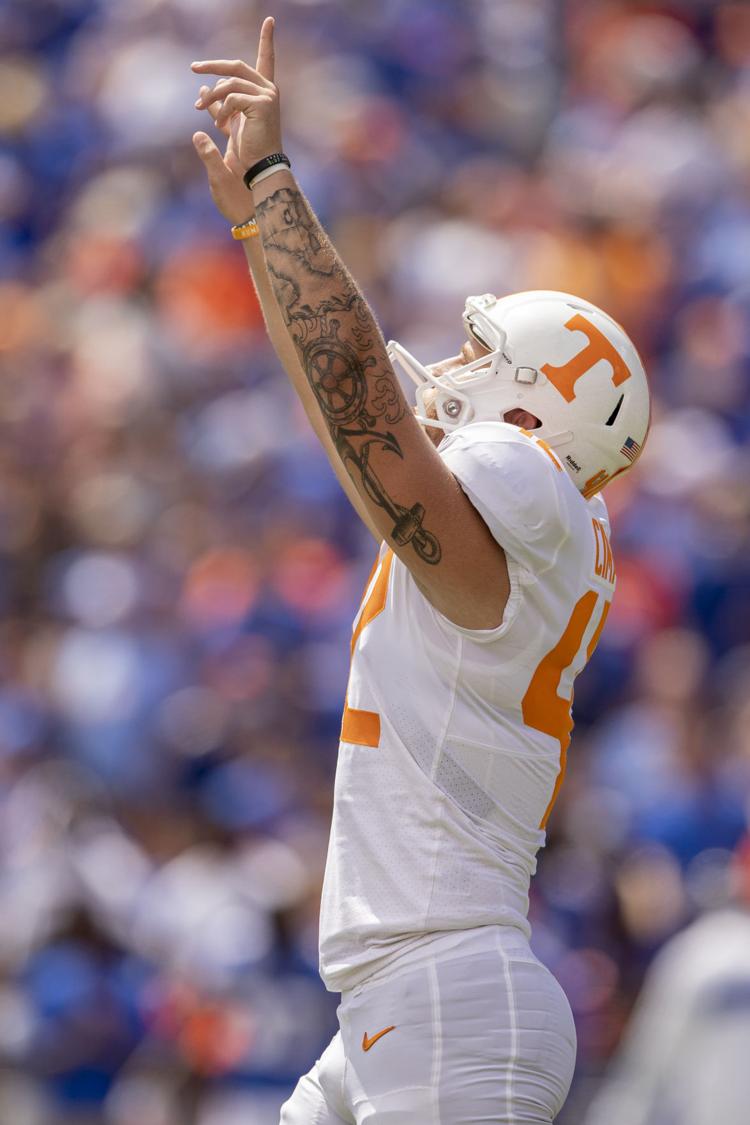 It was a double-edged sword for the Vols as they couldn't get pressure on Trask while rushing four but gave up some big plays while blitzing.
"Early in the game we really struggled to rush the quarterback," Pruitt said. "We had to generate some pass rush by bringing pressure and when you do that you have to be able to guard them on the back end. There was times that we did and times when we didn't."
Trask, who was making his first start at Florida, got off to a blazing start for the Gators completing 12-of-14 first half attempts for 204 yards and a touchdown in the first half.
"Honestly we were just beating ourselves," linebacker Daniel Bituli said. "They didn't do anything that we hadn't seen, or our coaching staff hadn't talked about. We just need to be on the same page and communicate."
The lone bright spot for the Vols secondary were a pair of second half interceptions. One from Theo Jackson and another from Alontae Taylor in Tennessee's end zone.
Up Next
Tennessee will have its first of two byes next weekend before returning to action on October 5thwhen the Vols host No. 3 Georgia to Neyland Stadium.