If Tennessee was going to repeat not-so-distant history by losing to a Group of Five team at home, on paper, UAB was the team to do it.
The Blazers, who's program was dormant just three seasons ago, have been knocking on the door of slaying Goliath under head coach Bill Clark in recent years.
The Vols, coming off of an emotional win over South Carolina a week ago and needing three more wins to reach bowl eligibility seemed to be in a dangerous spot with UAB sandwiched in the middle of an important final stretch to the season.
For past Tennessee teams, the scenario could have easily manifested itself, but not on this night.
On this night, the Vols (4-5, 2-3 SEC) weren't going to get caught looking ahead, running away from the Blazers (6-2, 3-1 C-USA), 30-7 on Homecoming at Neyland Stadium.
"That was a really hard-fought game," Tennessee head coach Jeremy Pruitt said. "Those guys, especially on defense, played an outstanding game."
Tennessee was slow out of the gate on offense, settling for three field goals on their first three scoring drives.
But it was the Vols' defense, behind four forced turnovers, that continued to set the offense up in prime field position until they hit paydirt with a Ty Chandler walk-in touchdown in the second quarter.
"I thought defensively, really changed the game with the turnovers," Pruitt said. "In the first half, it really gave us confidence. It helped us put some scores on the board there. We felt like we won the field position battle there in the first half."
After giving up a 75-yard touchdown pass and catch against South Carolina a week ago, Tennessee's defense set the tone early against UAB.
On the first play of the game, Blazers quarterback Tyler Johnston dropped back to throw, missing on a throw that was intercepted by sophomore defensive back Bryce Thompson and returned inside the UAB 20-yard line.
"Honestly, it was the perfect play-calling," Thompson said of his first interception. "I was in the flats and my man went verticle to the safety and I went to help the linebacker over the top. The quarterback threw it right to me and it was all sure from there."
It wasn't the first time in the game that the Vols' defense would gift the offense good starting field position, but it wasn't until midway through the second quarter that they found the endzone.
Tennessee had driven to the Blazers' goal line on a drive that was again set up by a Bryce Thompson interception.
Senior wide receiver Jauan Jennings lined up for the direct snap, finding a wide-open hole for a walk-in touchdown to put the Vols up 23-0.
Tennessee had a chance to extend their lead just before the half, deep in UAB territory, but redshirt junior quarterback Jarrett Guarantano, who rotated in and out throughout the night with redshirt freshman JT Shrout, lobbed a pass into the endzone that was intercepted.
Guarantano's status during the week leading up to kickoff was in limbo after having a procedure done on his non-throwing hand the Sunday after the win against South Carolina.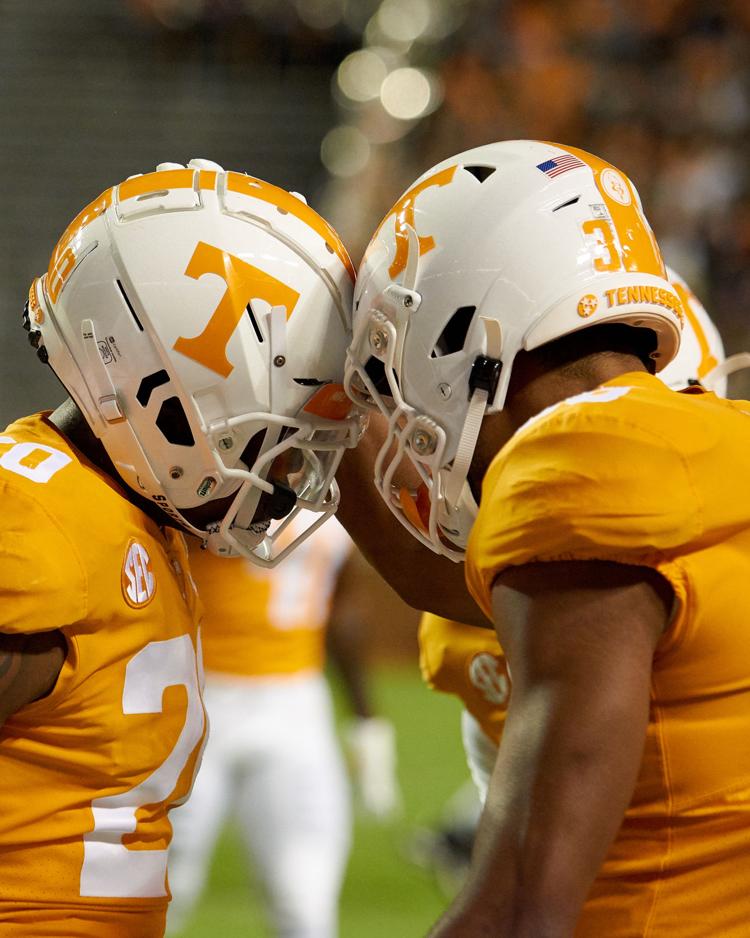 Following the game, Pruitt cited that the combination of having a screw put in his hand and the 40-degree weather might have played a part in some of his struggled throwing the ball, but also that Tennessee's offense can't continue to turn the ball over in the redzone.
"(Guarantano) had surgery on Sunday," Pruitt said. "It's cold out there, he's got a cast on his hand. First time getting out there, the ball was pretty slick out there the way the air was tonight. There's some mistakes as quarterback you can't make. You might miss a throw, but you can't turn the football over in the red area."
In the third quarter, Tennessee scored their last touchdown of the game off of a Guarantano pass to freshman running back Eric Gray to extend the Vols' lead to 30-0.
The score was Gray's first of his young UT career.
"It felt great," Gray said of his touchdown. "It was long overdue for me. It felt great to finally get in there. The first of many."
The headliner of the game, however was Tennessee's defense and special teams.
Along with a strong defensive performance, limiting UAB to 174 yards passing and just 64 yards on the ground, Thompson hauled in three total interceptions, all off of Johnston in the first half.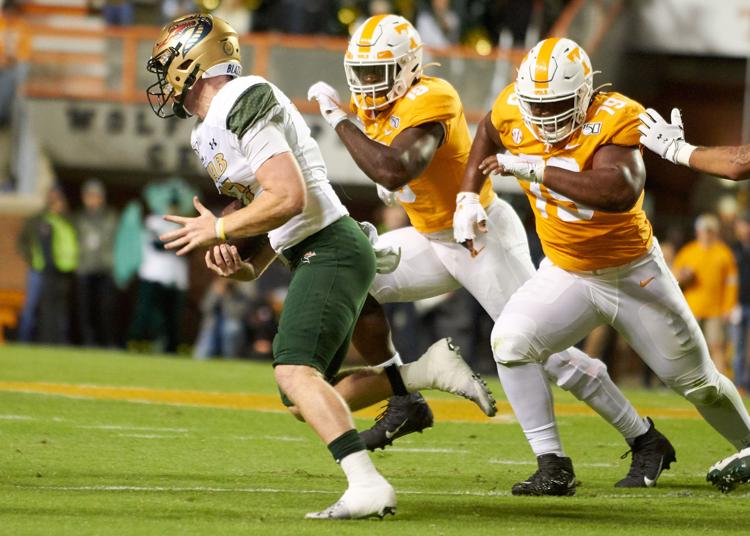 "Bryce (Thompson) made three interceptions there," Pruitt said. "When they make mistakes, you've got to make them pay and we did that tonight."
Pruitt credits the Vols' continued success and improvement in the secondary to first-year defensive coordinator Derrick Ansley.
"I can tell you this, I love coaching defensive backs," Pruitt said. "If I can't coach defensive backs, then I'm not going to coach anymore. But Derrick Ansley is a guy that, for me, I don't have to be in the room. I know what's being said. I know how the room is prepared.
"I know how his meetings are run. He's one of the best coaches that I've ever been around. It's been great to watch him grow and develop over the years."
On a night where Tennessee struggled to capitalize on UAB turnovers with touchdowns, the 3-of-3 field goal kicking of Brent Cimaglia went along way in the win.
In fact, Cimaglia's 53-yard field goal in the second quarter was a career long and the longest in a Tennessee game since Jeff Hall kicked a 51-yard field goal against Oklahoma State in 1995.
Having an asset like Cimaglia, who is now 18-of-20 on the 2019 season, is something that could serve the Vols' well in an upcoming crucial three-game stretch
"(Cimaglia) is a guy that's always working," Pruitt said. "He has talent. It's obvious when you're out there. If he misses one, he jumps up there and he wants to hit another one. He doesn't try to hide somewhere, he wants to do it again.
"I think he's got a really good makeup about him. He's a great competitor."
Tennessee will next head to Lexington to face off against Kentucky (4-4, 2-4 SEC), who was idle on Saturday following a 29-7 win over Missouri last week.
Kickoff at Kroger Field  is slated for 7 p.m. on the SEC Network.