LEXINGTON, Ky.- Kentucky had gone 39 yards on eight plays leaving just over two and a half minutes left on the clock. Six yards stood between Kentucky and its third win over Tennessee since 1985. Tennessee's defense had other ideas forcing a goal-line stand and securing a 17-13 win over the division rival.
Everyone on the field, in the stands and in the press box knew what the Wildcats were going to do. Starting a receiver at quarterback, Kentucky had run the ball 58 times and thrown just seven passes.
"I'd have been very disappointed if we didn't stop them," Tennessee head coach Jeremy Pruitt said. "We knew they weren't going to throw it. We had more up there than they could block. … Our kids did what they should do."
Kentucky gained two yards on the first two plays of the goal-to-goal situation. Tennessee took its last timeout with 2:11 left to stop the clock.
Out of the timeout Tennessee was flagged for having 12 players on the field, moving Kentucky just a yard away from the go-ahead touchdown.
Kentucky ran Chris Rodriguez up the middle on third down with no success as Henry To'o To'o stuffed the run for a loss of one.
On fourth down, Kentucky ran the speed option, a play that had worked well for the Wildcats all night. Nigel Warrior took the pitch man forcing Bowden to run it himself. Ja'Quain Blakely and Daniel Bituli were there to seal play and goal line stand making the tackle at the two-yard line.
"Something was telling me don't take the quarterback. Take the pitch," Warrior said. "Thankfully my guys came in and did what they're supposed to do, and I gave them enough time to make the play."
"At the end of the day they can move down the field as much as possible, but our goal is to keep them out of that end zone and we did that," Bituli said.
It was tackle number 19 on the night for the Vols' senior linebacker as the Nashville native led both teams in tackles, including the biggest of the night.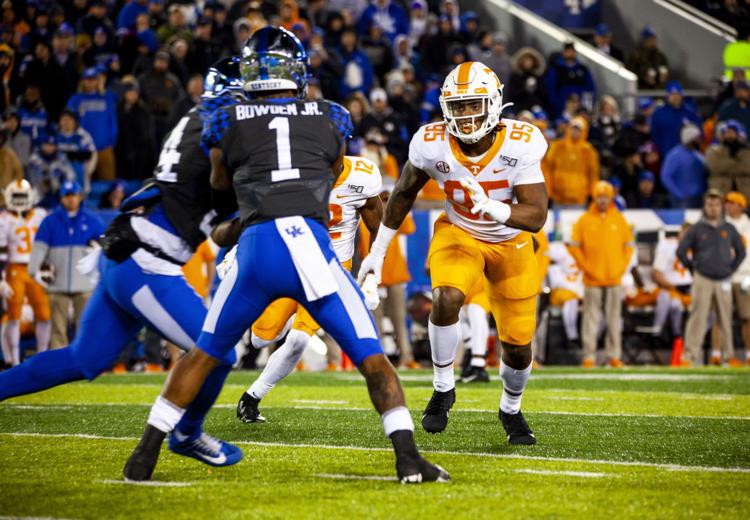 "That guy right there he's a dog," Warrior said of Bituli. "He's pretty much the quarterback of the defense. He makes sure everything is good. Somehow he can just keep everything together."
"Daniel is smart, he's tough, he's dependable, he loves Tennessee and he's a great teammate," Pruitt said. "He's a great leader, he's instinctive. You want everybody on your team to be like Daniel Bituli. I can't find one characteristic or intangible that's not great about him."
The win gets Tennessee to 5-5 on the season as the Vols just need one win in their final two to make a bowl game for the first time since 2016.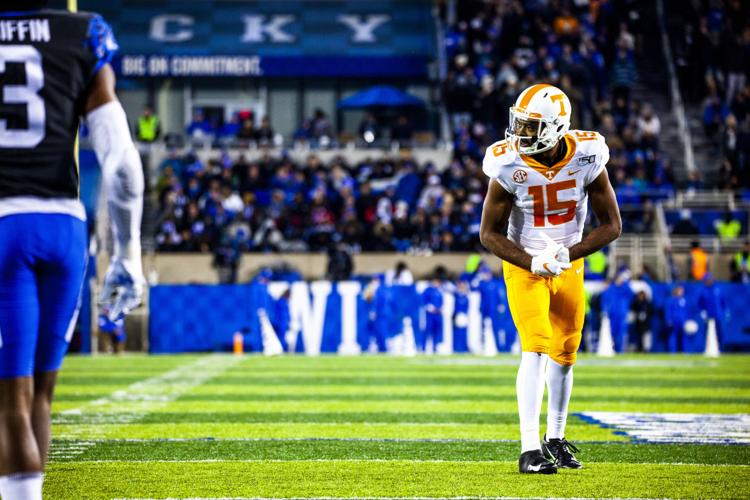 It was a win for Tennessee in a game that the Vols struggled for most of. Tennessee trailed 13-0 in the first quarter, ran 25 less plays than Kentucky and was outgained by the 'Cats.
Jeremy Pruitt expressed frustration with some of his team's simple mistakes but ended his opening statement with the sentiment shared with Vols' fans traveling south on Interstate 75 tonight.
"We're very fortunate to win the football game, but we did and that's what matters."