It looked like, at least for a half, that things were finally going Tennessee's way.
The Vols scored on their opening drive, a fourth down pass from redshirt junior quarterback Jarrett Guarantano that was tipped up at the goal line around a sea of white jerseys and caught by an orange-clad Jauan Jennings.
The defensive line held BYU's run game to negative yards in the first half, and got pressure on quarterback Zach Wilson-something they struggled to do against Georgia State the week before.
The run game found daylight, and Jennings was able to mask Guarantano's questionable throws with some impressive catches to give the offense some momentum.
It still wasn't enough.
The Vols collapsed in the worst way at the worst possible moment as Wilson connected with Micha Simon for a 70-plus yard gain in the waning seconds of regulation. Two plays later, BYU kicker Jacob Oldroyd connected on a 33-yard field goal to send the game into overtime, 16-16.
It was in the second overtime, with Tennessee leading 26-23, that Cougar running back Ty'Son Williams carried a load of orange jerseys into the endzone, giving BYU the improbable 29-26 win in front of another stunned crowd of 92,475 at Neyland Stadium.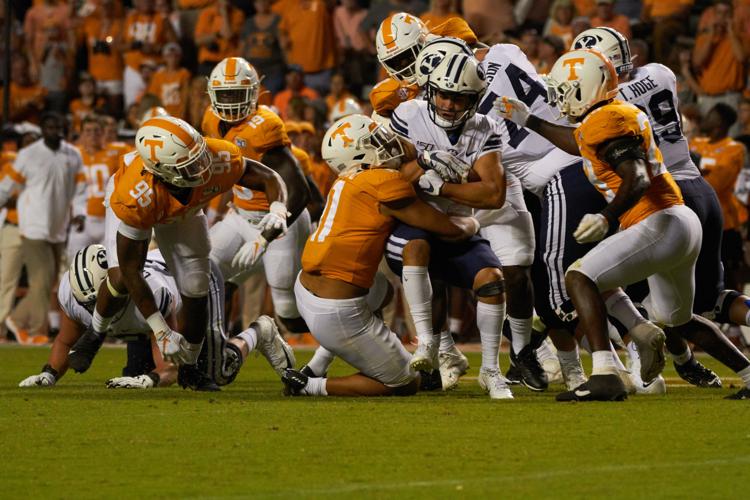 "We came out on the wrong end of it," Pruitt said of the loss following the game. "It's a tough one to swallow. It's hard to figure out how you lose that game."
The Vols, who now sit at 0-2, are coming off of back-to-back losses to open the season for the first since 1988, and the first time in program history that both of those losses have come at home.
Last week, Tennessee turned the ball over on their first drive, setting Georgia State up in scoring position early. On Saturday night, it was the Vols who got off to a hot start.
After holding BYU to a punt to start the game, the Tennessee offense put together an 80-yard drive that was capped off by that Jennings catch in the end zone to put them up 7-0.
The Cougars answered in the form of a field goal, but the Vols added a pair of their own in the second quarter to take a 13-3 advantage into the intermission.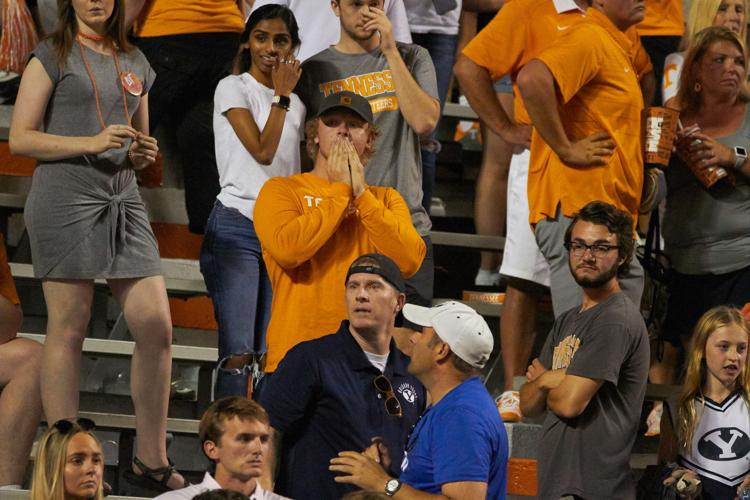 It was early in the second half that Tennessee committed their first major mistake of the night.
Facing a third down inside their own 20, Guarantano threw an interception directly to a BYU linebacker that set up the Cougars' first touchdown of the game, a 16-yard run that made it a 13-10 game.
Tennessee and BYU once again traded field goals in the fourth quarter, first with junior kicker Brent Cimaglia-who finished 4-of-4 in the game, including one from 51-yards out-to extend the Vols lead to 16-10, and then another from Oldroyd to pull within three.
With just over three minutes left in the game, Tennessee decided to ice the game by attempting a fourth-and-one with an end-around that was snuffed out by the BYU defense. It was one of two fourth downs that the Vols failed to convert from a yard out.
"You think about how you lose that game," Pruitt said. "When you start thinking about it, there's those two fourth-and-one's that we don't get. We had two guys running open for touchdowns that we didn't hit. We end up settling for field goals."
Tennessee was able to get the ball back one other time after that, but another BYU stop gave the Cougars the ball with less than a minute left.
Pinned back against the backdrop of their own endzone and facing third-and-long, Wilson breathed new life into BYU with that pass to Simon, who took it down inside the Vols' 20 yard line.
"We gave up a 70-yard play with 17 seconds left on the clock," Pruitt said. "It's hard to figure that one out. We'll go back, we'll coach them up and get them to where they understand those situations better."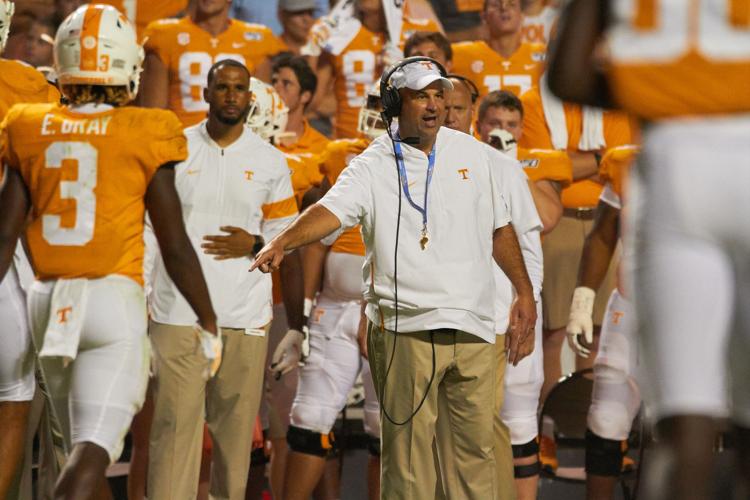 BYU scored first in overtime off of a Wilson slant pass to Talon Shumway from 14-yards out to take their first lead of the game, 23-16.
Jennings kept the Vols hopes of a win alive with another grab that could have easily been taken back the other way, wrestling away the ball all the way to the ground to tie the game again, 23-23.
"There was some guys that were fighting out there on both sides of the ball," Pruitt said. "It was a hell of a game. We didn't make the breaks there at the end."
Another Cimaglia field goal put Tennessee back on top, but only briefly. BYU's run game, which struggled in the first half, sliced up the Vols' defense on their final drive, ending in a Williams touchdown run to complete the comeback.
"We've got to get back on our feet this next week," Pruitt said. "You've got to give BYU credit. They never gave up, they kept fighting and they went on to win the game."
Tennessee will look for their first win of the season when they host Chattanooga on Saturday at noon.