BIRMINGHAM, Ala.- Before a record-setting career that included a Heisman Trophy and a national championship, Herschel Walker was set to make a life-changing decision on the flip of a coin.
Join the Marines, or go to college.
A big-time recruit from small-time Wrightsville, Ga., the offers to play at some of college football's premier programs were definitely on the table.
"I didn't watch football growing up," Walker said. " On Saturdays, my joy was watching wrestling with my brother. To get a scholarship was an honor, but I was going to the Marines."
For Walker's mother, Christine, the chance to go to college on a scholarship was too good to pass up, but she gave her son sound advice before he made his final decision.
"In April, my mom said, 'Don't you think it's time to decide what you want to do?," Walker said. "Before I could say anything, she said, 'If your mind and your heart is pure with Jesus, it doesn't matter what you decide."
So Walker flipped a coin and wound up in Athens, and the rest is SEC and college football history.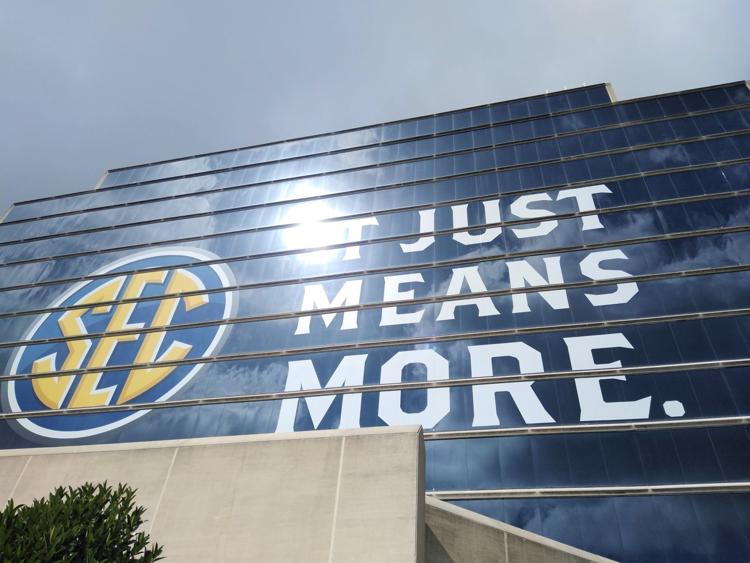 History will be at the forefront of the 2019 college football season. After all, the sport is celebrating its 150th anniversary, which began on Nov. 6, 1869 when Princeton and Rutgers faced off on the gridiron.
Although the beloved game's origins can be traced to America's Northeast, it may not be nearly as revered anywhere else in the country than in the Southeast, where country boys from blue-collar families in the most rural corners of America become God-like figures in the eyes of children and grown men, alike.
The history of football in the South and its role in shaping college football were also a big topic of discussion at the annual SEC Media Days in Hoover, Ala. this week.
Former Florida quarterback and head coach Steve Spurrier, former Ole Miss quarterback Archie Manning and former Georgia running back Herschel Walker made an appearance at the event to discuss their legendary careers, as well as promote SEC Network's upcoming 8-part series 'Saturdays in the South,' which will air on the network this fall.
Walker's coin flip, Spurrier's journey from the hills of Johnson City to muggy Gainesville and Manning's primetime bout with Alabama in 1969 were just some of what the SEC heroes talked about on Tuesday.
Archie Who?
Manning began his journey to southern lore in the small farming town of Drew, Miss., deep in the Mississippi Delta.
The call to stay home was just too great, and Manning headed north to Oxford to play for John Vaught at Ole Miss.
On the eve of the 150th, Manning remembers commemorating the 100th season of college football his junior season in 1969.
"When I was a junior at Ole Miss, that was the 100th year (of college football)," Manning said. "We wore the '100' decals on our helmets that season. Now it's the 150th."I feel very blessed. I grew up in a small town in Mississippi and I wanted to go to Ole Miss. I got to go there and live that dream."
That same season, the legend of Archie reached new heights. After being picked to win their first SEC title in six years in the preseason, No. 8 Ole Miss was upset at unranked Kentucky just two games into the season. The following week, they traveled to Birmingham to face No. 15 Alabama at Legion Field in the first-ever college football primetime game on ABC.
In those days, even the prolific quarterbacks' stats were pedestrian compared to the video-game-like numbers that quarterbacks put up today. It wasn't out of the ordinary, especially in the rugged SEC, to see low-scoring contests that were grinded out.
But this October night at Legion Field was an exception to the rule.Manning bounced to the outside, eluding Crimson Tide defenders and keeping plays alive.
On the ground, Manning rushed for 104 yards on 15 runs. Through the air, the gunslinger from Drew went 33-of-52 for 436 yards. The performance prompted then-Sports Illustrated writer William F. Reed to write of the spectacle, "That had been college football's answer to Gone with the Wind, an Old South spectacular awash with melodrama, madness and more passes than Rhett Butler ever threw."
Despite being individually responsible for more than 500 yards of offense, Manning and the Rebels came out on the losing end of the shootout, falling 33-32.
A dejected Manning walked off Legion Field in tears, as the once-SEC hopeful Rebels had fallen to 0-2 in conference play.
"We didn't throw the ball around like they do today," Manning recalled."That night, we threw it. It was hard losing. The hardest part about it was we were picked to win the SEC and we had lost two in a row. It was a great football game. People bring it up a lot."
Ole Miss and Manning recovered to finish 8-3 and 5th in the conference. Their biggest win came six weeks later in Jackson, Miss. in a 38-0 rout with No. 3 Tennessee.T
The week leading up to the contest, when asked what he thought about Ole Miss and their 'horses,' Vols linebacker Steve Kiner said, "A lot of people go to a farm and can't tell the difference between a horse and mule."
Tennessee fans and local newspapers began printing headlines and wearing pins that said 'Archie who?'That day at Veterans Memorial Stadium, they knew.
From Heisman to Ball Coach
Before he revolutionized college football in the 1990s, Steven Orr Spurrier, like the men he shared the stage with on Tuesday, came from humble beginnings.
The son of a pastor, Spurrier was raised in Johnson City, Tenn. where he excelled in little league sports, and then high school football and basketball at Science Hill High School.
By the time Spurrier had reached his senior year of high school, the offers came in.
Tennessee was just down the road. In fact, Spurrier had grown up going to Vols games at Neyland Stadium, but they didn't throw the ball around enough for Spurrier to be interested.
Ole Miss was a serious contender, but a trip to Gainesville to meet Florida head coach Ray Graves changed his mind — and his life.
Maybe it was the relationship with Graves. Maybe it was the warmer weather while it was near freezing back home in Johnson City. Maybe it was a little bit of both. either way, Spurrier made Gainesville his home.
"I just look back and think of how fortunate I was to go to the University of Florida," Spurrier said. "I didn't know where else to go. I visited in late March when it was about 70 degrees in Gainesville and 32 degrees in Johnson City.
"I was blessed to go there and know Coach Graves and I've been thankful ever since. I met my wife Jerri there. Everything that has happened to me was because of that decision."
That decision also lead Spurrier to breaking several Florida records, which culminated to winning the Heisman Trophy in 1966.
After a 10-year NFL career, Spurrier got into the coaching game, first as an assistant and then as a head coach in the USFL and eventually Duke.
Spurrier's turning around of the Blue Devils' previously dormant program caught the eye of several suitors. But there was one he could not turn down — home came calling again.
In 1990, Spurrier was named head coach at his Alma Mater. Before that, the Gators had made a reputation for themselves, never being able to win the big game and never winning an SEC title. In his 12-year stint in Gainesville, Spurrier lead Florida to six of them.
He also produced winning records over rivals Tennessee and Georgia, compiling a 19-5 overall record against them. Along the way, Florida aired the ball out more than any team in college football. The aptly named 'Fun-n-Gun' offense helped the Gators to their first national title in 1996. Spurrier left Florida for the NFL at the end of the 2001 season, and after a stint with the Redskins, he returned to the college ranks, this time at South Carolina, where he led the Gamecocks to new heights and their first SEC East title in 2010 before retiring in 2014.
For Spurrier, that decision he made as a high school senior in early 1963 was the biggest, and best of his life, and the region's affection for the game of football played a part in that.
"The college decision of a young man is really important," Spurrier said. "The South loves football. They're crazy about it. I think that's benefitted me and all of us up here."