When the Tennessee football team takes the field this season, head coach Jeremy Pruitt's staff will look a bit different.
The Vols' coaching staff saw some turnover this offseason, with three members of last year's staff leaving the program and three new coaches joining it. 
Former offensive coordinator Tyson Helton left to become the new head coach at Western Kentucky, former special teams coordinator/safeties coach Charles Kelly is now with Alabama and former defensive backs coach Terry Fair was relieved of his duties.
The holes were filled by Jim Chaney as offensive coordinator, Derrick Ansley as defensive coordinator/defensive backs coach and Tee Martin as wide receivers coach/passing game coordinator/assistant head coach.
On top of all of that, only five members of last year's staff are coaching the same positions they were last season.
If it seems like a lot of change, that's because it is. Here's a breakdown of each coach on Tennessee's staff and their individual responsibilities:
Jim Chaney- Offensive coordinator
This isn't Chaney's first stint in Knoxville. He coached at Tennessee under both Lane Kiffin and Derek Dooley as offensive coordinator and even served as the Vols' interim head coach when Dooley was fired with one game left in the 2012 season.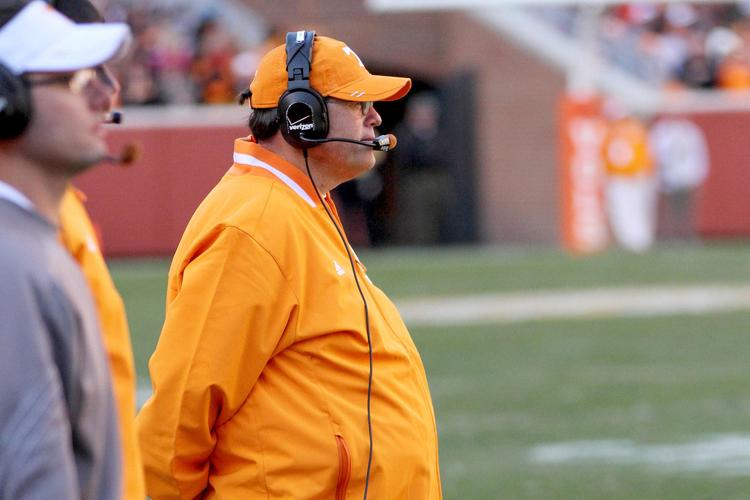 He's Tennessee's fourth offensive coordinator in as many years, but fans are excited for what Chaney brings to the table, as he is a well-respected coach who has worked with multiple big-name programs and recently had success with SEC-peer Georgia. 
Derrick Ansley- Defensive coordinator, defensive backs coach
Ansley was considered a strong hire for Pruitt when he replaced Fair this offseason. He comes to the Vols from the NFL's Oakland Raiders, where he served as Jon Gruden's secondary coach for one season. Prior to that, he worked with Pruitt at Alabama and had a stint at Kentucky. He is returning to Tennessee after serving as cornerbacks coach in 2012.
"We are very familiar with each other," Pruitt said of Ansley. "It's good to work from the back to the front (of the defense). I think he brings a lot of experience. He has coached a lot of really good players. And probably, when I start a sentence, he can finish it.
"Derrick has been in really high demand for several years. He's a guy who is ready for this. He has been ready for quite some time."
Chris Rumph- Co-defensive coordinator, outside linebackers coach
Rumph is one of the few coaches who is keeping his same job description from last year's staff. His defensive unit did find some success last season; the Vols moved up 74 spots in FBS run defense rankings and 45 places in third down defense rankings compared to the year prior.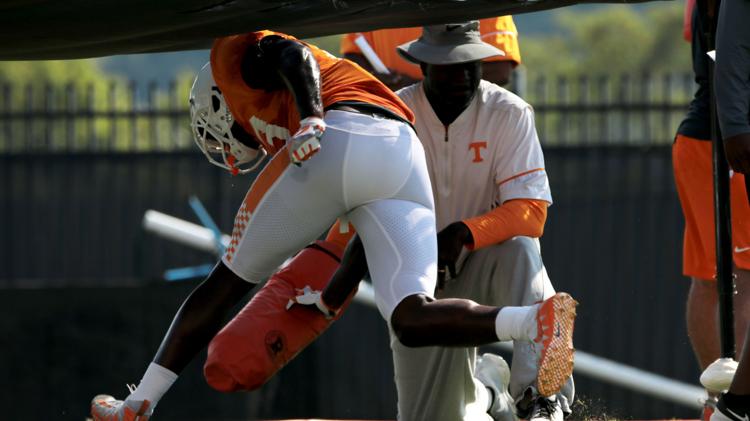 Before joining Pruitt's staff at Tennessee, Rumph was the co-defensive coordinator and defensive line coach at Florida and had had stints at multiple schools, including serving as the head coach of Calhoun County High School in South Carolina.
Kevin Sherrer- Special teams coordinator, inside linebackers coach
Some initially viewed Sherrer's move from co-defensive coordinator to special teams coordinator as a demotion, but that may not be the right angle to take. In replacing Charles Kelly as special teams boss, he now has full control over a unit that can make or break a game and still gets to coach a crucial position group.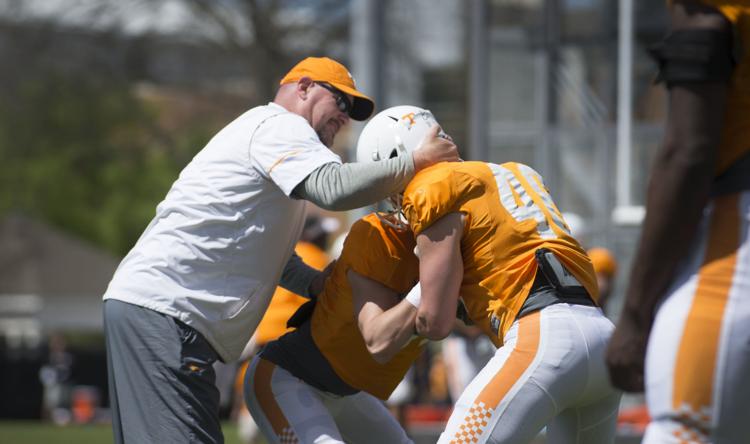 Sherrer and Pruitt have a longstanding relationship that includes time coaching together at Hoover High School in Alabama, so any changes in job titles are likely viewed by both as simply business.
Chris Weinke- Quarterbacks coach
Weinke is one of the more interesting members of Pruitt's staff, yet hasn't gotten much public attention. He won the Heisman trophy as a star quarterback for Florida State before working as director of the prestigious IMG Football Academy and quarterbacks coach for the NFL's Los Angeles Rams. He was also an analyst at Alabama, a position currently held by former Vols head coach Butch Jones.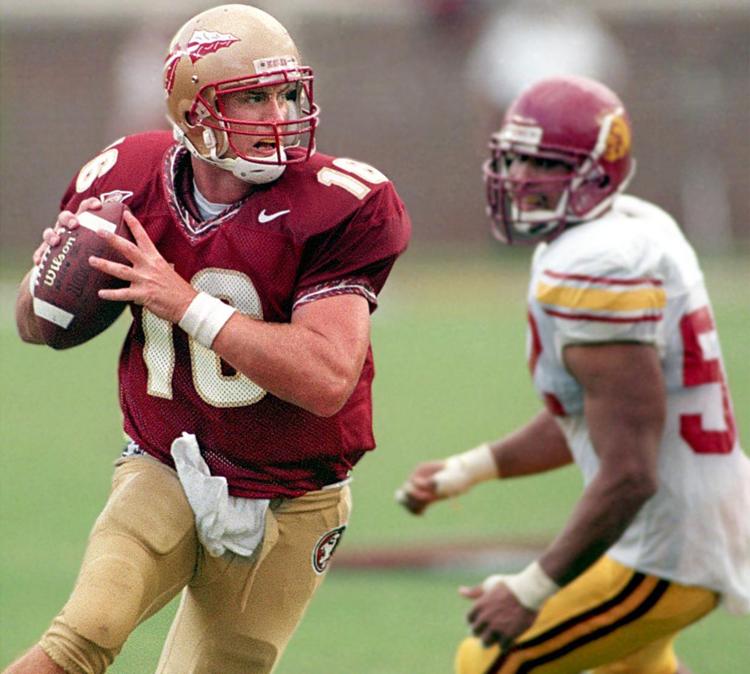 Weinke coached Tennessee's running backs last season before moving to his natural position of quarterbacks.
David Johnson- Running backs coach
With Weinke's move to quarterbacks and the arrival of Martin, former wide receivers coach Johnson is now tasked with mentoring Tennessee's backfield. That shouldn't pose a challenge for him, though, as Johnson has coached multiple different offensive positions at various schools, including working as Memphis' passing game coordinator and wide receivers coach from 2016 to 2017.
He'll also have talent to work with, as the Vols return skilled running backs Ty Chandler and Tim Jordan and add Eric Gray, a four-star recruit out of high school.
Tee Martin- Wide receivers coach, passing game coordinator, assistant head coach
In one of the major headlines of the offseason for Tennessee, Pruitt hired former Vols quarterback Martin to his staff. His exact job title and description were kept under wraps for a while, but he has since been announced as Tennessee's wide receivers coach, passing game coordinator and assistant head coach.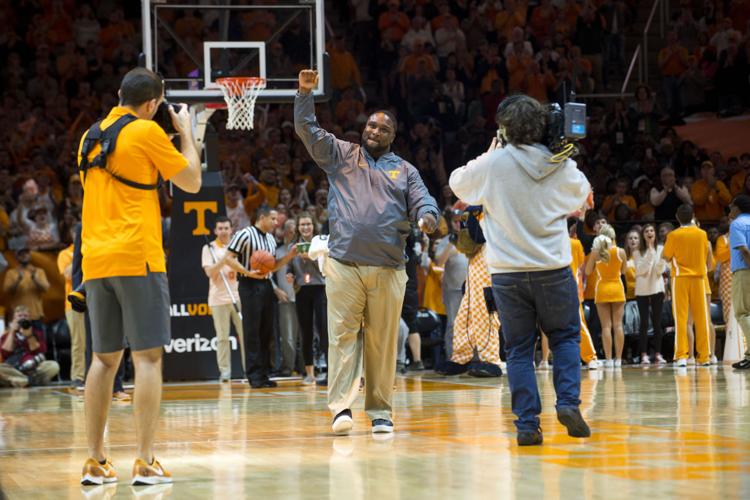 Each role seems to mesh well with what Martin has done previously; he was USC's offensive coordinator and wide receivers coach last year and has immense experience with the program, having led the Vols to the 1998 national championship as the team's starting signal caller. 
Plus, it's no secret that Martin was pleased to return to his alma mater.
"It's the perfect time to come back home," Martin said in a release. "With Coach (Phillip) Fulmer's support, Coach Pruitt is taking the Tennessee program in the right direction, and I'm excited to be a member of this outstanding coaching staff. I truly love this university and I bleed Orange and White. My time here was the greatest four years I could've ever imagined on and off the field. 
"It's my goal to help our Tennessee football student-athletes have the same experiences I had when I was a student here. It's great to be home."
Brian Niedermeyer- Tight ends coach
Niedermeyer was a star this offseason in the eyes of Vols fans, helping Tennessee land several big-name recruits and earning 247Sports national recruiter of the year honors. A young up-and-coming coach known for his passion and intensity, Niedermeyer is sticking with his same role as tight ends coach for the upcoming season. 
The Eagle River, Alaska, native joined Pruitt's staff in 2018 after working as Alabama's assistant director of recruiting operations, a job that was preceded by stints at Miami, East Texas Baptist University and Georgia in various roles.
Will Friend- Offensive line coach
Friend is a veteran coach who brings coordinator experience to the offensive line coach spot, a role he served in last year as well. Prior to joining Pruitt at Tennessee, he was Colorado State's offensive coordinator and offensive line coach. Before that, he worked at Georgia as running game coordinator and offensive line coach.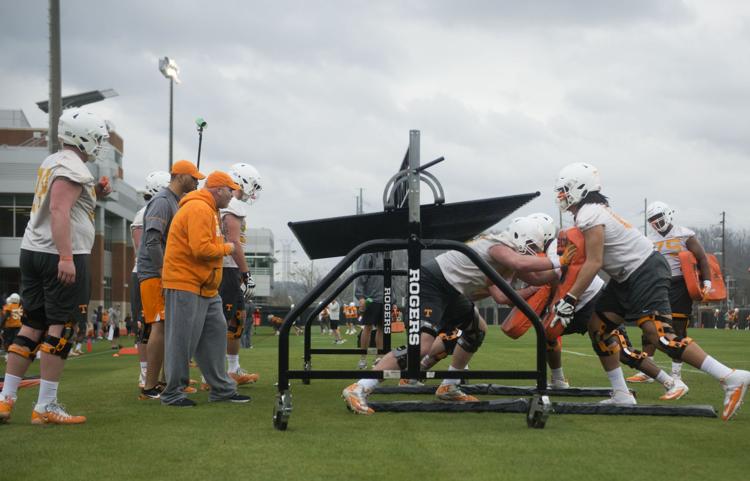 Friend is yet another member of Tennessee's staff that began his career in the high school coaching ranks, working at Tuscaloosa Central High School for a year before making the jump to Division II-program West Alabama. 
His work will be cut out for him in improving a Vols offensive line that was abysmal in 2018, but the additions of five-star recruits Darnell Wright and Wayne Morris can't hurt.
Tracy Rocker- Defensive line coach
Another experienced coach mentoring Tennessee's linemen, Rocker has made stops at multiple SEC schools and even had a stint coaching the defensive line for the NFL's Tennessee Titans. He was Georgia's defensive line coach and associate head coach from 2016 to 2016 before joining the Vols. 
Rocker's loud voice and strong presence aren't hard to find on the practice field, a fact that Tennessee's incoming defensive linemen will surely soon find out. The Vols' defensive front was gutted by losses this offseason, so Rocker will have to work to find new starters to lead the Vols' defensive push.