Rick Honeycutt is one of many Tennessee baseball alums who have found success in the major leagues, currently as a special assistant with the Los Angeles Dodgers. The Chattanooga, Tennessee native has spent practically his entire adult life in professional baseball with a 21-year playing career, an eight-year stint as an advisor, a 14-year tenure as the Dodgers' pitching coach as a part of four different coaching staffs before transitioning to the role in which he currently finds himself. However, his love of baseball stretches back to childhood.
"I played all sports, but (baseball) was the sport that I liked the most." Honeycutt said "I always felt like I was the best at it, and that was pretty easy. And then my baseball coach was also our head football coach. He told me, 'You know you go on these football recruiting trips, but baseball is your sport,' so he felt the same way ---- that I would have a better chance if I stuck to baseball."
Born in Chattanooga, Honeycutt grew up in North Georgia where he graduated from high school, and even though as a highly touted recruit many schools vied for his commitment, the call of family and friends led him in his choice of where to play college ball.
"I was always a Tennessee fan." Honeycutt said "I mean my dad grew up in Hammond and Oakdale, which is right there not far from Knoxville. And every Saturday, when the football game came on, I listened to John Ward. … I felt like I had some allegiance at that time. When it came down to it, making the decision, Georgia was pushing hard and so was Vanderbilt. Vanderbilt, I actually thought had a better program at the time. But two of my buddies had gotten football scholarships to Tennessee so when it really came down to decision time, I chose Tennessee"
While playing for the Vols, Honeycutt, who also played as a first baseman in college, was an All-American during a strong period for Tennessee. During his senior season, Honeycutt led the SEC with a .404 batting percentage. The highlight of his season came on March 19, 1976. In a 1-0 win over Georgia, Honeycutt a threw a now hitter in which he was one walk away from a perfect game. In addition, from the plate, Honeycutt went 2-2, drew a walk and scored the lone run of the game.
"Obviously Georgia was really serious in recruiting me," Honeycutt said "But I just pitched the best I could whoever I was pitching against. I think it was 1-0, I think it was a close game. Yeah, I got a big hit and scored a run. So, it was kind of one of those things you dream about, pitching a no-hitter and then getting a key hit, trying to make it hold up.
However, when Honeycutt talks about what he remembers most from college, it has nothing to do with baseball but instead the memories of spending with teammates and friends.
"Living in Gibbs Hall, that was a blast." Honeycutt said "We were on the same floor as the golfers and wrestlers, so there was always something adventurous going on, on our third floor. But you know it was the friendships. I'm still in touch with college teammates. I think it's fun to still be in touch with guys you played with in college. And then, I think the rest of it were all good experiences and good times. Get your education, but we had pretty good teams when we were there. It was a good time in a lot of different areas."
During his 21-year professional playing career, Honeycutt played for six teams, starting 268 games and making 529 additional appearances as a reliever. In total, he pitched 2,160 innings earning 109 wins and 38 saves. Honeycutt was a two-time all-star and 1989 World Series champion. He shared how his experience as a Vol prepared him for his major league playing career.
"… I loved to play the game, I always wanted the opportunity, dreaming about playing in the major leagues, but you statistically know that your chances are probably pretty slim. But I had a good college career. It was devastating to me to not be drafted after my junior year because whenever you're not, that's kind of the time when if they think you have a chance, they're going to draft your junior year. I think in my senior year, I was in better shape; I had an excellent senior year."
Honeycutt says he hasn't been able to keep up with the program as much as he wants due to demands as a Major League coach but that his daughter and teammates have kept him abreast of the Tennessee team. Also, last year Honeycutt spoke at the team's banquet and got the chance to meet and get a read on Tony Vitello and the rest of the new coaching staff.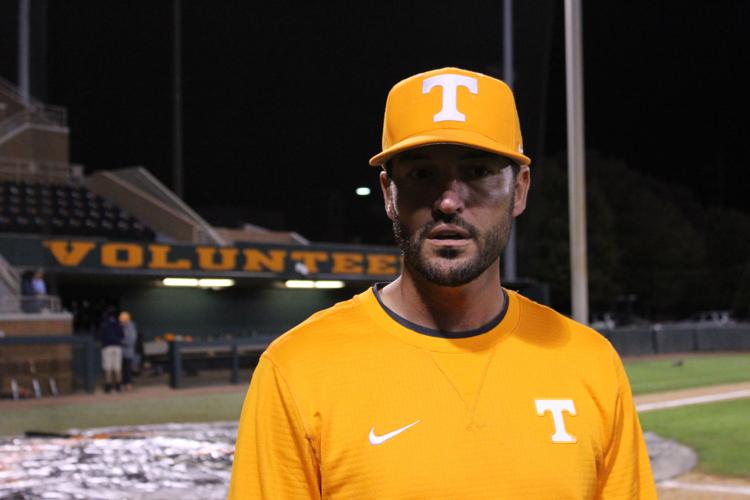 "I think they're in the right direction" Honeycutt said. "(Vitello) and the people they've brought in, I think they have reinvigorated the program. I came up last winter and spoke at their banquet and got to meet all of them, so they're very young and energetic, and they seem like they're recruiting well. But it seems to me that they're going about it the right way. You've got to get players. … they're getting some of the better players again, at least in the surrounding areas. I think they had kind of gotten away from that, going to California or South Florida. That's fine, but you still got to get the best players from the state …"
One of the strengths going into this season for the Vols was their pitching, especially ace Garrett Crochet, who was featured on multiple preseason watch lists for national awards. As someone who played the position at a high level for many years and then evaluated the position for another 14 years, Honeycutt is highly qualified to speak on what makes a good pitcher. In that vein, the former Vol shared what advice he would give to the pitchers on Tennessee's staff.
"The biggest advice is to continue to do what you're doing," Honeycutt said. "It's work. It's conditioning, it's the mental preparation. You start getting better and better arms. But there's that challenge of internal competition to pitch well amongst yourself but also helping each other better. I think that's what makes a good group. … I think college-level kids definitely have an advantage, in my opinion, a lot of the time over the kids just out of high schools because they can advance quicker. They have those capacities, mental abilities to execute and carry out a game plan …"