Last weekend, Michael Bloomberg was greeted by about 150 Knoxvillians to open his fifth campaign office in Tennessee. Bloomberg's visit marks the first Democratic presidential candidate visit Knoxville since 2004. It's an unusual move for a Democratic presidential candidate to open an office in Tennessee, let alone five.
"I suspect you don't get a lot of presidential candidates coming to Tennessee," Bloomberg said. "This is the second trip to Tennessee since I started, and we'll be here more."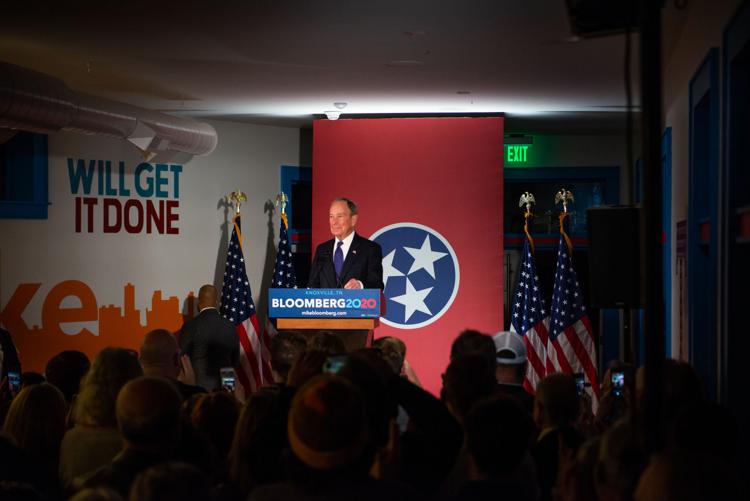 The rare visit to Knoxville just weeks before Iowa votes suggests that Bloomberg isn't running a conventional campaign. No one comes to Knoxville, at least not this early.
What's his Strategy?
While Iowa and New Hampshire are being crisscrossed by leading candidates like former Vice President Joe Biden and Senator Elizabeth Warren, Bloomberg ads run nearly every commercial break in Super Tuesday states. All eyes are on the first four states while Bloomberg is out in left field, campaigning in states like Tennessee, Florida and Texas. It's clear his campaign is in it for the long run, but his strategy is far from the usual one.
Tennessee and 13 other states will hold their primaries on March 3. What makes that day "super" is that those states will allocate over a third of all available delegates—1,357 of 3,979—to candidates who perform well enough. It is by far the most important single day on the primary calendar, including populous states like California, Texas and North Carolina.
While the conventional path to the nomination involves doing well in the first four states to prove viability and garner positive media attention, Bloomberg has written off those states and is hoping for a strong Super Tuesday showing to earn a tangible number of delegates and prove himself to be a legitimate candidate.
He's also gambling big time, investing $217 million of his own money into the campaign so far. (Well, that's just about 0.35% of Bloomberg's $58.4 billion fortune. It's merely pocket change.) He has spent more money on a primary campaign than any candidate in history and is taking an unorthodox approach to earning delegates by betting largely on Super Tuesday.
Is it all for nothing?
The former New York City mayor and businessman is in uncharted waters, and it's not certain whether he's onto something or not. In a race as uncertain as this one, I believe that Bloomberg has a shot. Bloomberg's approach to the Democratic presidential primary has never been tested, but there is no reason to believe he is definitely wasting his time and money on this presidential run.
Bloomberg has flooded the airwaves with ads, opened dozens of offices and has over a thousand well-paid employees deployed throughout the Super Tuesday states, all before other top campaigns have organized people on the ground. (The only other campaign with paid staff in Tennessee is Elizabeth Warren's.)
His huge apparatus of offices and strong ground game in nontraditional states could prove to be a game changer on Super Tuesday. To earn delegates, a candidate must receive at least 15% in a state or an individual congressional district. It is entirely possible that Bloomberg reaches that threshold in multiple states and comes into the convention with a sizable number of delegates.
Spending millions of dollars on ads has proven to make quite a difference in public opinion (see Tom Steyer's support in Nevada and South Carolina). Super Tuesday states are not polled as much as the first four contests, so Bloomberg's support may remain unnoticed until votes are actually cast on March 3. While I do not expect Bloomberg to win any states outright—and I doubt he's counting on it either—there are realistic scenarios in which he comes out of that night with a sizeable amount of delegates to bring into the convention.
The Bloomberg scenario
The only real scenario for Bloomberg to get the nomination would be for no candidate to receive a majority of delegates going into the Milwaukee convention, resulting in a brokered convention. In that unlikely scenario, delegates are no longer required to vote for their assigned candidates, and superdelegates come into play. That's where Bloomberg's investment could pay off, assuming he's able to unite a coalition of party elites and formerly pledged delegates to rally behind him. This would likely be due to a weakened Biden and a surprisingly strong showing by Warren and/or Senator Bernie Sanders. Again, it's incredibly unlikely.
His chances may be minimal, but the Bloomberg campaign shouldn't be written off. Having the head start he has in Super Tuesday isn't nothing, but it very well may end up being null if Biden runs away with wins in Iowa and the remaining early states. Bloomberg's unprecedented self-funded campaign is nothing to ignore, and, ultimately, we will see how many Democratic primary voters are willing to reward the self-funded billionaire with their support on March 3.
Jack Vaughan is a freshman majoring in journalism and electronic media and political science. He can be reached at cvaugha7@vols.utk.edu.
Columns and letters of The Daily Beacon are the views of the individual and do not necessarily reflect the views of the Beacon or the Beacon's editorial staff.