This girl's dreams just came true. Those who personally know me know that I have been an avid Girl Scout for over twelve years. As I take the next step in my life, I have graduated high school and will be 'bridging' from Girl Scouts as well. I recently entered in the Girl Scouts' Cookie Pro Contest, and surprise—I won! It seems rather fitting that I get to go on one last adventure as a final farewell to this life-changing program.
The Contest
When I heard that Girl Scouts had released a new comic contest, I could not wait to get doodling about my journey throughout the program. Being an Ambassador, I had to write two full pages of comics to be considered an entry in the contest. I decided on creating a comic that was based on all my time as a Girl Scout. I made sure to include all those who helped me become the woman I am today, as well as those who were members in troop 20409 with me. I documented past cookie booth sales, troop meetings and my Gold Award ceremony for the conclusion. Just a few weeks ago, I received an email stating that I had been selected as one of the 24 girls chosen to go to California! I absolutely could not wait to get packed; I was so ecstatic!
Welcome to Hollywood
The plane rides were long but beautiful. When we finally landed after being on two different planes with a total flying time—not to mention layovers—of 9 hours, I got to get my first real look at California. When I first took in the view, I realized immediately why it is called, "Sunny California." Unlike in East Tennessee, California has very low humidity and much fewer clouds, trees or any type of shade for that matter. My family and I got chauffeured to the Marriott Hotel where we waited to be checked in to our room. At around five that night, all the Cookie Pro winners met downstairs in the banquet room for a meet-and-greet style dinner. After that, we got our itinerary for the next few days.
Fun with Friends
My fellow Ambassadors became my group for the next four days. I met Alex from Huntington Beach, California; Katie from Marinette, Wisconsin; and Fatima from Dallas, Texas. The first day was spent doing icebreakers and learning about each other. Next, we broke into groups and completed a timed exercise where we dressed one of the team members as a superhero with only duct tape and newspaper. We all shared 'swaps' that represented where we traveled from. Mine represented the peacock from my council's local Camp Tanasi, and I wrote a short story to go along with it. Each morning we met downstairs for a delicious, outdoor buffet-style breakfast where we talked and watched the palm trees sway in the light breeze. On day three, we got to spend the day having lunch around the well-known fountain from the introduction of the TV show "Friends."
Warner Bros. Studio
On the second day, we loaded onto a charter bus and headed to Warner Bros. Studios. We kept busy by making friendship bracelets and talking in the sites. When we arrived, we stopped for photos and then headed into Studio 24, known for the "Friends" series. Inside, we waited quietly and watched an episode of "Fuller House" being filmed. Actress Andrea Barber, known for her role of Kimmy Gibbler, came out and introduced herself to us and told us about the set and her job. We got autographs and pictures with her, and then she gave us Swaps from her and her daughter's Girl Scouts troop. DJ Tanner even made a quick appearance as she had to get back to her directing. Next, we watched an episode of "DC Superhero Girl" that has never been published and met the show's creator, Laura Foust. After this, we got lunch and had our caricatures made. We then got onto tour buses and learned about the entire studio lot. One thing that stood out to me was that when filming winter scenes, every leaf is removed, and the snow is potato flakes and pieces of plastic. If they have to film a summer shot next, they zip-tie felt leaves to the trees. A whole lot of work is put into making the scenes look just right. I got to see the Batmobiles and take a stroll through the Prop Shop, where film props can be purchased. Next, we got to go and take pictures on the "Friends" and "Big Bang Theory" sets. Overall, we had an absolute blast! When we finished, we then headed to the Hollywood walk of fame. I saw the Hollywood sign and a ton of actors and actress stars. We had a scavenger hunt list to find celebrities who were also in Girl Scouts to make it a little more interesting. Then we all headed to Dave and Buster's for a great dinner and fun arcade time. When we got back to the hotel, we went to the pool where the movie "Incredibles 2" was showing.
Detective Comics
The next day, we went on a special tour of the DC studio. We met with the artists and script writers for"DC Superhero Girls" who helped us improve our skills and make new comics. Then we got to take a top-secret tour of the facilities. We saw the first DC comics ever printed and learned about the up-and-coming films. Our tour ended with us receiving as many free comics as we could carry! Next, we ate by the "Friends" fountain, while we got to interview Sara Sherman, who has aided in casting for "Gravity Falls," "Star Versus the Forces of Evil," and"DC Superhero Girls." Then we went to the recording studio, where voice actors film for their roles. We each took our turns voicing a character from "DC Superhero Girls." I got to voice Batgirl, and in a few weeks, Ms. Sherman will send us a copy of the actual TV show with our voice acting. We then had free time, so my mom and I headed to Universal Studios, where we went shopping at the City Walk. My nerdy side got to come out as I went to the Harry Potter shop. I then went to It's Sugar, where I got to step into Hawkins County from"Stranger Things." Finally, I tried bubble tea for the first time—and the last.
Reason to Celebrate
The final day was spent learning about making an actual business. We all made our own cookie that we had to try and sell to potential investors. We even made packaging for the cookies and decided on the target audience. Next, we headed to our interviews, where we shared about our time in Girl Scouts and the trip we just took. Then we went to our photoshoots to conclude the busy day. We then had a few hours off to get ready for our red-carpet awards night. Mackenzie Hacensac from "This Is Us" gave out the awards, and then we all took pictures and shared our favorite parts of the trip.
The Adventure of a Lifetime
We all had our breakfasts and went our separate ways the next morning. My mom and I mainly spent the plane ride eating those delicious Biscoff cookies and watching "Stranger Things" season 2. I miss all 23 of my new friends and all the excitement that comes with just being there in California.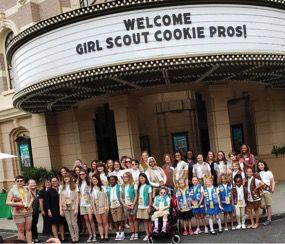 The Outcome
At the beginning of this adventure, I was shy and would not look people in the eyes. I obviously grew during this trip because I learned how to be a better and more pleasant person. I learned that to make new friends, you have to work hard and keep trying. This applies to college because I have made so many new friends. I have been complimenting more people and have seen the change in my personal environment because of it. More people smile when they see me, and I have noticed that I am in better spirits. The key to happiness is to fake it till you make it. I used to get dragged down when anything slightly bad happened. Now, I have learned to smile and keep my head up.
Kaitlyn Daniels is a freshman studying Biosystems Engineering. She can be reached at kdanie29@vols.utk.edu.
Columns and letters of The Daily Beacon are the views of the individual and do not necessarily reflect the views of the Beacon or the Beacon's editorial staff