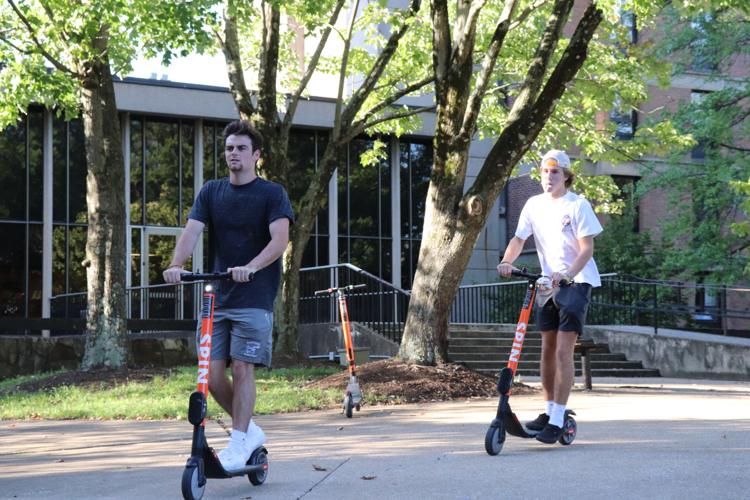 In the past two years, cities across the U.S. have begun to partner with companies to bring accessible, low-cost transportation to their citizens. Dock-less, rent-by-the-minute electric scooters first started appearing in 2017, with companies such as the familiar "Spin" releasing them in downtown San Francisco. Since then, they have expanded from coast to coast in dozens of high population cities such as Washington D.C., Denver, Austin and, as of just a few months ago, Knoxville.  
Despite the popularity and convenience of the scooters, however, there has been much debate as to whether they should be allowed to stay on campus. Reports of misuse of the products are particularly high on college campuses, and a question has been posed with regards to student well being: Is it safe for electric scooters to be a part of the UT community?  
There are two brands of electric scooter, Spin and VeoRide, currently available in Knoxville. Both brands max out on speed at about 15mph, and you must be at least 18 years old and possess a valid driver's license to ride.  
Spin originally launched before VeoRide in the march of 2019, but the scooters were quickly pulled from the streets due to a software bug which allowed users to ride in designated "No Ride Zones." They were re-released along with VeoRide on May 1st of this year and have since had no issues with the geo-fencing, which keeps the scooters in their ride zones. Customer support is available to all riders, but there have been questions as to whether or not these precautions are enough to keep citizens and students safe.  
Knoxville Electric Scooters
Just a few hours away, Nashville is facing public backlash after 26-year-old Brady Gaulke was killed in a road accident while riding an electric scooter. Nashville saw more than 40 scooter-related incidents in April alone, and many have viewed these rising numbers as a sign to pull the scooters from the streets.  
There have been similar reports of electric scooter incidents in Knoxville, although most are minor. Southeast Regional Manager of VeoRide Andrew Miles provides advice for customers on how to stay safe during scooter use.  
"Treat it like you were driving your own car," Miles said. "VeoRide develops its products with safety in mind first and foremost."  
Both VeoRide and Spin provide safety information on their websites and in their apps, where they encourage riders to never ride on sidewalks and always wear a helmet, although it is not a Tennessee state law to do so. 
Jeff Maples of the University of Tennessee's Police Department stated that the biggest issue he has encountered is close calls with pedestrians on sidewalks. 
"[Scooters] have had no major impact on campus safety," Maples said. 
Maples encourages students to remember to ride the scooters only on the roads, and to park them in bike racks or against buildings whenever possible to ensure pedestrian safety.  
Transportation is more convenient than ever. With resources such as Uber, Lyft, and now Spin and VeoRide, users have cheap and diverse options beyond that of traditional means such as public transportation or personal vehicles. The question of safety with these new services is a popular one. Especially in cities like Knoxville, where the student population is significant, many have wondered if it is wise to allow potentially dangerous products such as the electrical scooters to remain available. 
However, the potential danger lies within the misuse of the product, and for that reason UT students are urged to follow all safety regulations, and to be cautious if they choose to ride any of the scooters. Although disguised by their accessibility and affordability, the Spin and VeoRide products are not recreational and should be used responsibly to ensure student safety and satisfaction.