Mozart. Beethoven. Bach. Vivaldi. They're all masters of harmony and composition, able to weave a beautiful tapestry by harnessing the strengths of each instruments' sounds. However, it would not be an overstatement to say that Petro's makes the work of such masters sound like tinny rumblings.
Comparing a symphony to fast food might seem like apples and oranges, but the same was once said about Fritos and chili, probably. Everything changed with the 1982 World's Fair, when the first Petros were served. The combination of chili, corn chips, sour cream, cheese, and chives shook the landscape of chili dishes forever.
Petro's Grand Opening - Market Square
Nov. 21 was a particularly special day for Petro's, as the company opened their eighth franchise location this morning in Market Square.
The energy was electric as the chili was being dished out, and the eager customers filled the new restaurant. Many first timers came in, bringing with them much praise for the signature Petro dish.
"My momma made pretty basic chili. Good, but it wasn't anything like this. I'll definitely be bringing my wife here. I'm hooked," said local Abraham Michaels.
For the uninitiated, it is worth noting here that a Petro consists of cheese, tomatoes, and sour cream piled on top of chili and a bottom layer of Fritos. Jalapenos and olives can be added, but they are optional.
What makes a Petro so special is how the ingredients come together to create a flavor like nothing else in a veritable comfort food symphony.
"It warms my heart as well as my stomach," Michaels said.
For chili consumers of other persuasions, Petro's offers more than the one dish, as well. Chili dogs, chili-covered baked potatoes, and a myriad of chili toppings are but a few of the options that round out the menu.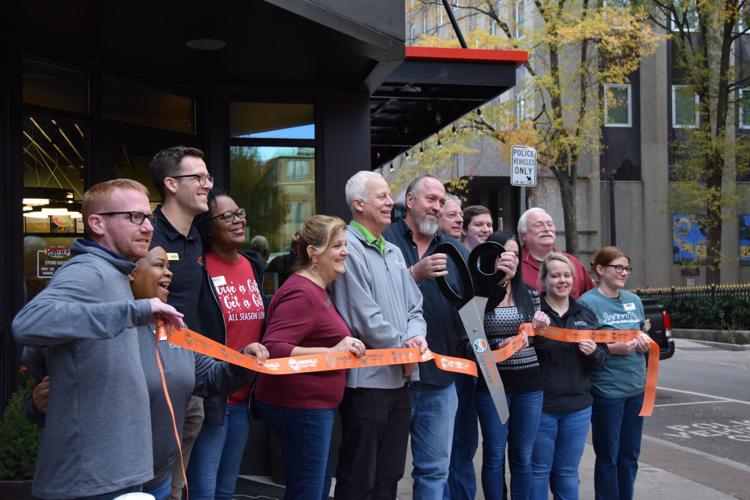 Petro's is more than just a fast food restaurant, though. It is a Knoxville specialty, beloved by locals and relished by travelers. The Petro was born here, and it thrives here. That's what makes its opening in Market Square so significant, Petro's founder Dale Widmer explained.
"We're especially excited about this location because we're back to our humble roots, just down the street from the Sun Sphere, where we started," Widmer said.
The grand opening of the new Petro's location was special because it meant that Petro's was finally coming full circle, but also because it meant that downtown Knoxville has a new destination for all manners of chili dishes.
As winter looms, Petro's will provide a constant source of warmth, fulfillment, and chili for anyone near Market Square. For more information, check out the Petro's website.