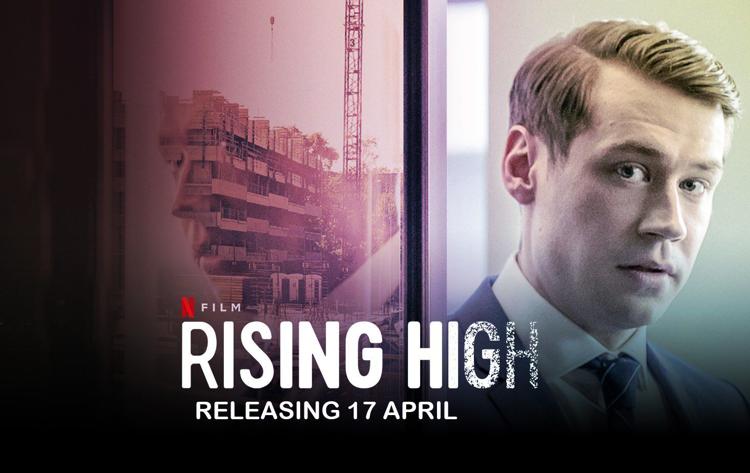 "Rising High," one of Netflix's newest films, premiered last week. It's a story of rise and fall, as the protagonist is forced to face his mistakes amidst pressure from the government.  
The film follows Viktor Steiner and Gerry who team up to illegally dominate the real estate market in Berlin. At the start of the movie, Viktor is being interviewed by a journalist, so the film is set in multiple sets of flashbacks.  
We see Viktor at every stage of life, from his childhood to struggling adolescent years, from the beginning of his illegal money-making activities to his interview chronicling his past. It's clear that the way he was raised contributed to his personality later in life, and these flashbacks are helpful in understanding Viktor as a character.  
The film is set in Berlin, so its original language is German, but English voiceover and English subtitles are available to viewers.
After watching the trailer and reading descriptions of the film, I expected "Rising High" to feel like "The Wolf of Wall Street," which tells the real-life story of Jordan Belfort, who used penny stocks to illegally control the stock market. 
Of course, "The Wolf of Wall Street" is a Scorsese film which achieved huge success and is a favorite film of mine. Unfortunately, Viktor Steiner is not the newest Jordan Belfort.  
"Rising High" has no sense of momentum. It's difficult to be invested in this film, because it's difficult to feel the tumultuous nature that we expect from movies like this. When we see drugs, prostitutes and partying, we expect a vibrant picture of success: intense highs and lows.  
Instead, we're given a movie that feels forced. Viktor Steiner's character seems like he can't decide whether we should pity him or not, because he has little empathy or real ambition, and uses drugs unnecessarily. 
In "The Wolf of Wall Street," it's easy to see how all aspects of the film fit together. For example, Belfort's drug addictions are crucial to the ways in which he does business and his own opinions of himself. In "Rising High," these different aspects seem scrambled, and what we think will make sense at the end never seems to get resolved. 
The two films have much in common: themes of drugs and money, as well as a charming but morally corrupt protagonist. Unfortunately, "Rising High" falls short of expectations and lacks the excitement of films of its same content. 
Overall, "Rising High" is nothing new. Without the movement it needs to be enticing, it seems like a shallow film. It's a story we've seen before, but that doesn't mean it isn't worth watching. If crime, money and a sense of out-of-control spiral interest you, this might be a movie to watch, despite its shortcomings.