Knoxville may be a busy city, but it is simple to find a little taste of East Tennessee culture right downtown at the Market Square Farmers' Market.
Market Square in Downtown Knoxville hosts the lively Farmers' Market where fresh and local produce and crafts are readily available for purchase. The market is open on Wednesdays from 11 am to 2 pm and Saturdays from 9 am to 2 pm.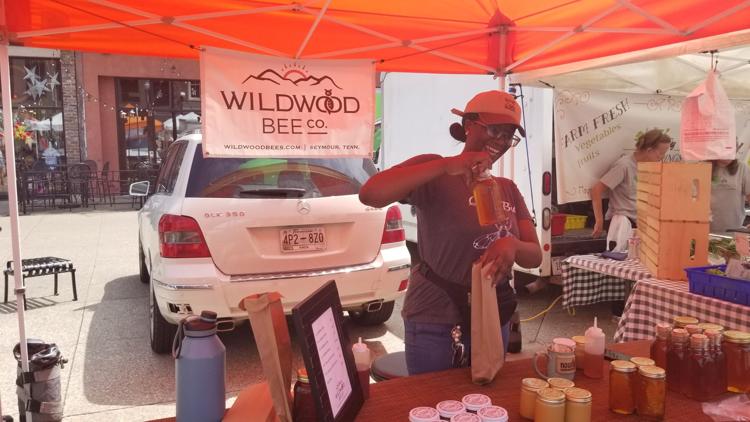 The market features rows and rows of farm fresh crops and crafts, along with a few food trucks and usually a steady flow of music from local artists. Mackenna Cooper, a future Vol, recalls her visit.
"I love being able to sample the fresh produce," Cooper said, "my favorite part would have to be the large variety of locally grown produce available right in one place."
The bustling Farmers' Market allows will operate rain or shine due to the tent-covered booths and persistent vendors.
"Everybody come shop," Allyson Virden, a worker Olde Virden's Tennessee Pepper Company, said. Virden offers a variety of chili pepper flavors perfect for topping off pizza, but it is versatile enough for a variety of dishes such as spaghetti and gumbo. The spices range from Super Verde to Red Hot.
Besides vegetables and fruits, other good like local goat cheese is available as well. The varying flavors are regular, blueberry, and honey to name a few. The taste is unique and the flavor is strong but not overbearing. The Ocoee Creamery booth gives samples of every flavor available along with a brief history of their goats and their farm located in Maryville, which uses sustainable agriculture and all natural cheese making.There are also samples of locally grown grapes, savory honey and fresh bread available if you need a taste before committing to your purchase.
Local business shopping is made easy in this conveniently located area. The Farmers' Market is much more than just farm fresh veggies, as it includes wares such as jewelry and pottery from local craftsmen. The vendors of the EL's SilverWear booth offer a unique take on silverware by making it into wearable fashion.
Another booth, Taylor's Pottery, provides stunning pottery artwork that is perfect for a home or dorm room. All pottery is created by Rikki Taylor, who graduated from UT and has over forty years of experience to which she credits her pottery style. Many of her own pottery pieces are on display in the Smithsonian Museum. Her shop is one of the many vibrant booths you can visit at the Farmers' Market.
Whether there is a specific item you are searching for or you're just looking to browse around, this Farmers' Market is something special in the heart of Downtown Knoxville.