New development along Knoxville's South Waterfront has made life south of the river ever more appealing to students looking to find off-campus housing. Now, a free KAT trolley line will help connect the area to downtown.
Beginning from the stop on Main Street, the trolley will follow a circuit south along Gay Street, west on Blount Avenue and north up the Henley Street Bridge to Main.
The Red Line will now run Monday to Saturday, with trolleys operating from 7 a.m. to 8 p.m. Monday through Thursday, 7 a.m. to 10 p.m. on Fridays and 9 a.m. to 10 p.m. on Saturdays. Trolleys are estimated to arrive at designated stops every seven minutes.
Riders wanting to know the real-time ETA can text the stop number to 22827 for a response.
Because it is brand new, the line is not permanently funded yet. KAT's Chief Planning & Public Information Officer Belinda Woodiel-Brill said that the line's continuance depends on a couple factors.
"The Red Line was funded as a pilot project for one year," said Woodiel-Brill. "The determination on whether or not to continue that beyond the year will be based both on ridership, as well as the priorities of the new administration — since a new mayor takes office in January."
For now, the line has been given a $300,000 budget from the city to operate for the year.
This new line comes at a time when investment in South Waterfront and redevelopment of the South Waterfront is at an all-time high. In addition to 303 Flats and the new Regal headquarters building, construction of at least two more apartment complexes have been announced recently.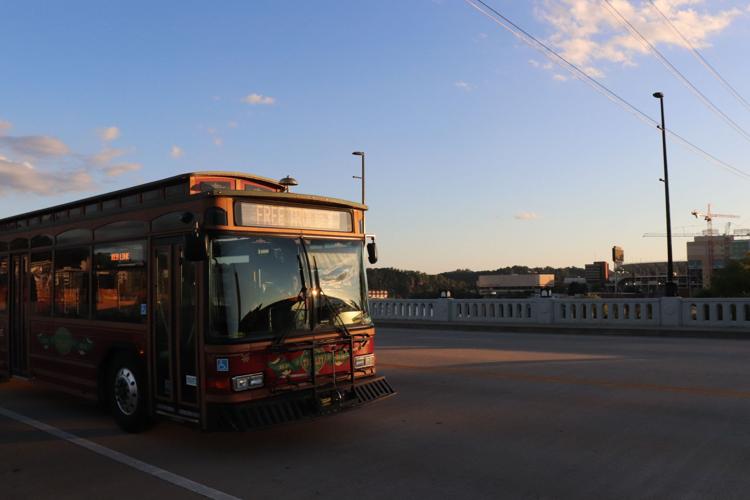 Dominion Development Group will break ground this spring on a $15 million apartment complex called City South, located on the corner of Sevier Avenue and Davenport Road next to Honeybee Coffee. It is estimated to be completed next summer.
Foggy Bottom Flats, opening behind Landing House on Foggy Bottom Street, has already broken ground. The two-building complex will include 14 townhouse-style units, each with a garage at ground level.
Private investments like these are accompanied by public improvements to the Waterfront as well.
Contractors have signaled interest in completing the city's riverwalk project (connecting Suttree Landing Park to Island Home Park), and the city's Department of Redevelopment has begun the Sevier Avenue Streetscapes Project.
The updates will include bike lanes, on-street parking, lighting and improved sidewalks. There are also plans for a roundabout at the intersection of Sevier Avenue, Foggy Bottom Street and Island Home Avenue.
These developments had a strong influence on the decision to roll out the new trolley line according to Woodiel-Brill.
"The Red Line was actually a budget request from the City of Knoxville's Office of Redevelopment," said Woodiel-Brill. "Essentially, we had heard from the Regal Entertainment organization about a desire to connect with the rest of downtown. ... Plus, apartments going online along Blount were also interested in quick connections across the river."
Mrs. Dawn Michelle Foster, the director of the Office of Redevelopment, said that the new trolley line is a result of public and private teamwork.
"The new Red Line trolley service which started on Aug. 19 is a great partnership between the City, Knoxville Area Transit, the Downtown Knoxville Alliance and private businesses to link their residents and office staff to the downtown area. Although this is a pilot program, it had a great start based on the eagerness of riders on day one," Foster said.
More information on the trolley system can be found at https://www.katbus.com/178/Free-Trolley.