Knoxville-native Jed Wyatt used music once again to swoon "The Bachelorette" Hannah Brown, receiving the first group date rose of the 15th season.
Brown invited Wyatt, along with Grant, Luke S., Mike, Jonathan, John Paul Jones, Dylan and Luke P. on a trip to a theater for a "Mr. Right Pageant," hosted by Chris Harrison and with guests Alaska and Alyssa Edwards, both drag queens known for "Ru Paul's Drag Race," and "America's Next Top Model" judge Miss J, and Brown as judges.
Each contestant walked the runway in a provided speedo, putting their personality front and center to impress Brown. "The Mr. Right Pageant has two categories," Wyatt said. "I feel completely ready for the talent, but the runway walk. I don't know, we'll see."
"Go get 'em cowboy!" Brown exclaimed as Wyatt walked the stage, shooting finger guns after. Harrison noticed the judges' reactions, saying, "I'm gonna give the judges 20 seconds to calm down."
After a very "The Bachelorette" style swimsuit portion, each guy performed a talent, including unicycling for John Paul Jones, trumpet playing from Luke S. and juggling from Jonathan.
"These guys can go up here and do whatever they want, but I think being Mr. Right for Hannah would be just being somebody that you can be yourself with," Wyatt said before his performance. "This is a competition, but it's also about having a great connection with Hannah."
"For me to get to show who I am on the first day makes me really freaking happy," Wyatt added.
And his rendition of "I'll be your Mr. Right, girl," with a pretty perfect falsetto, won over Brown, and called game over for the other guys.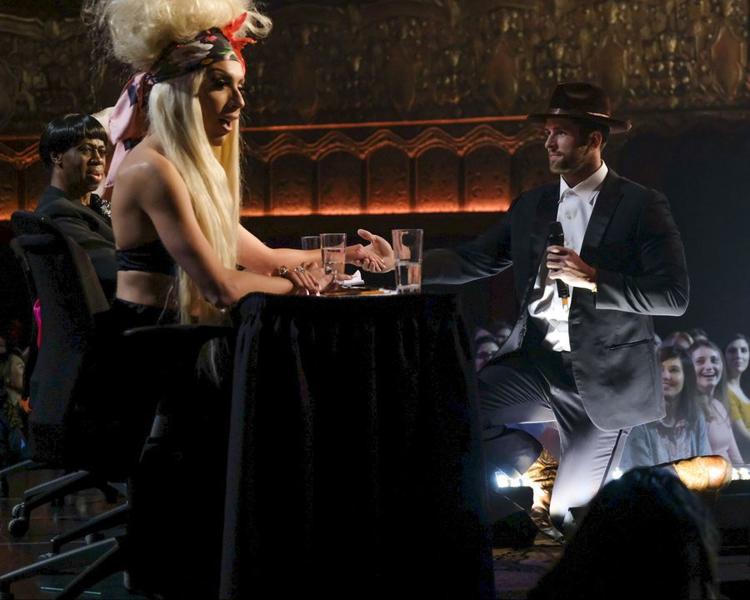 "Jed came out with the guitar; it was all over," Grant said. "Can't do better than that."
But, Luke P. wasn't phased, as he performed his talent: a love poem to Brown.
"I've already given you a piece of my heart, but I hope in the future I can give you all of it. And Hannah, I can't believe I'm saying this right now, this is pretty crazy because it's so soon, but I can't hide it," Luke P. said. "Hannah, I'm genuinely starting to fall in love with you."
Brown fell for it, naming Luke P. "Mr. Right" as the pageant winner, but Wyatt wasn't phased.
"I'd be lying if I said I wasn't let down by that, but there's an afterparty," Wyatt said. "There's gonna be opportunities to talk with Hannah more and I'm just excited to see where that takes us because there is a rose up for grabs. That means more than a sash."
Wyatt and the other bachelors weren't convinced Luke P. was being completely truthful in using the sacred L-word so early. "I guess just for me personally, there's just no way it can happen that fast," Wyatt said.
Wyatt soon got a one-on-one to wrap up his charming performance of the night, telling Brown he had fun and enjoyed the experience.
"I really like anyone who can be themselves. It was one of the coolest experiences I've ever had," Wyatt said. "I wouldn't trade it for anything. I think I smiled the entire time."
Brown agreed that his smile didn't leave, while complimenting his overall performance at the Mr. Right pageant.
"You looked dang good in your speedo and then your talent was amazing," Brown told Wyatt. "So, just to see how this southern charm about you and then you're open to all these different people and experiences. It was super attractive."
Wyatt received the first group date rose soon after their one-on-one, making Wyatt the first bachelor saved by a rose in the second episode.
"Man, it's the best feeling in the world. I needed this, you know," Wyatt said. "I didn't win the Mr. Right pageant, but I think I won the night."
"I was really fun with Jed all day," Brown said. "He really does calm me in a way and I like that."
Luke P. is looking to cruise in the fast lane
Wyatt wasn't the only one unsure of Luke P.'s love for Brown. Brown herself questioned the L-word usage in a one-on-one after the group arrived at the afterparty following the pageant.
"It's so fast. How do you know? It just scares me because it's a big deal to say," Brown said. "My thing is that words are so important me and I want to make sure that everything you say is so sure."
Luke P. assured Brown that he had feelings for her prior to "The Bachelorette," and his feelings have grown fast. He then proceeded to return to the guys to tell them it's his personality. "If I want something, I'm going to get it."
Luke P. continued to make his territory known, stealing Brown every chance he got. While in the mansion prior to the second rose ceremony of the season, Luke P. stole Brown away for a massage, that Wyatt soon walked in on to find Luke P. without a shirt.
Brown, obviously embarrassed, assured Wyatt that it was not what it looked like, but Wyatt was sure to laugh it off to make Brown feel better.
"I was a little rattled at first, but with everything the way it kinda went down, I had to kind of laugh it off and Hannah, she appreciated that a lot," Wyatt said. "You could tell that it bothered her and maybe embarrassed her a bit. But going around being jealous or worried it's never paid off one time in my life."
Luke P. wasn't done, though. After receiving a rose at the final ceremony of the night, most of the guys went to their respective rooms, but Luke P. said goodnight before heading to a room where Brown was talking to the production team about her post-rose ceremony feelings.
Brown, caught off guard, hugged Luke P., who then had Brown sit on his lap while he told her he was 100% falling in love with her, telling her to not worry and to trust him. The show closed with the pair kissing, in a taboo encounter unseen on most of the 14 seasons proceeding this one.
Cam isn't here to make friends
Cam, staying true to his saying of "ABC: Always Be Cam," made sure Brown knew he was serious, after not receiving an invitation to the one-on-one or either group date. Cam walked in on the one-on-one's following the second group date, squandering time for some of the bachelors invited on the date.
"I think we're on this date because Hannah chose us to get to know us and by coming in like that not only disrespects us, but disrespects Hannah," Garrett said.
Brown was flattered, however, accepting the flowers he presented.
"Thank you for coming out tonight and making me know that you're thinking about me," Brown said. "And it was a good surprise."
Many of the bachelors confronted Cam after he left the group date afterparty he crashed, but Cam said "anybody could have done what (he) did."
Cam continued his "Always Be Cam" motto, cutting yet another one-on-one short at the mansion. He stole away Brown from Kevin, inviting him to join them on a rose petal heart where he presented Brown with chicken nuggets in front of Kevin.
But, Cam's not on "The Bachelorette" to make friends, as he reiterated to many of the other bachelors.
So, who's left?
Along with Wyatt, Luke P. and Cam, Tyler C., Garrett, Devin, Connor S., Dylan, Luke S., Mike, Peter, Kevin, Jonathan, Joey, Mateo and John Paul Jones received roses. Tyler C. received his on his one-on-one date and Dustin on the second group date.
"Tonight was a total roller coaster of emotions. Highs and lows. But that's life," Brown said. "It is hard to tell someone that it's not meant to be."
The Bachelorette returns next Monday at 8 p.m. on ABC.