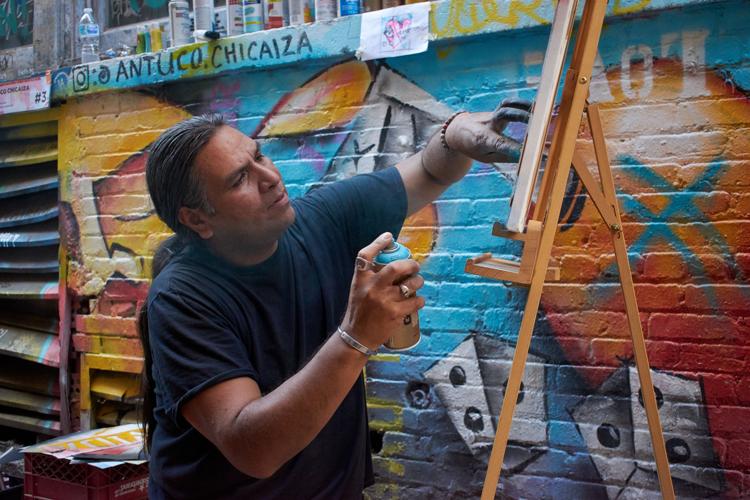 Strong Alley is one of Downtown Knoxville's most colorful features, and tonight it got even brighter. 
Sixteen local artists set up shop in the landmark in the afternoon, with rows of large canvases beside the alley's trademark murals. It was the second annual Art Slam: a live art competition, with the resulting paintings auctioned off to support outdoor murals in Knoxville. 
The competitors' paintings ranged wildly. On one end of the alley stood a portrait of local restaurateur and philanthropist Yassin Terou. On the other end stood an abstract spray-painted landscape in pink.
Competitor Megan Lingerselt, a Knoxville artist, set up her canvas beside her own Strong Alley mural: a huge machine-like still-life, featuring a lathe gleaming in muted rainbow colors. 
Her Art Slam painting is a mechanical portrait of a vintage engine. She said her paintings of dismantled machinery come from a sense of curiosity. 
"It's not necessarily that I'm trying to fix things, I just take things apart and try to discover what's inside. And a lot of the time it's more interesting than looking at it from the outside," Lingerseit said.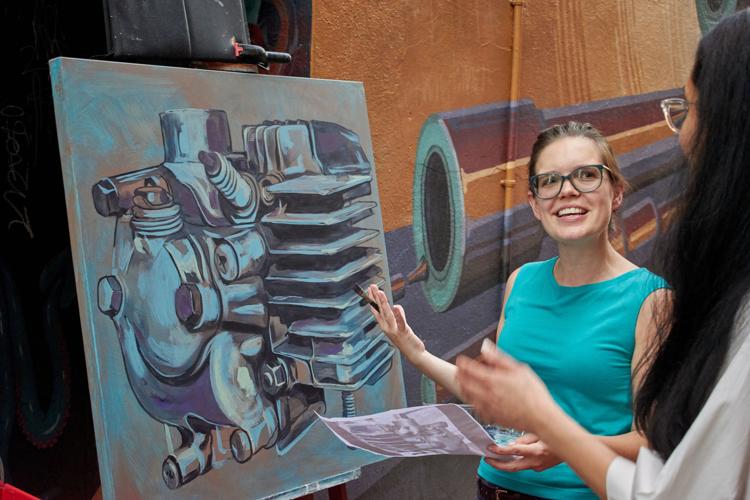 For Lingerselt, the Art Slam's live, timed format brings a new, stressful performance element to visual art. However, for an artist who has created large-scale murals in public, she said, the format is surprisingly familiar. 
"I've never done live painting, so the timed format of this is a little stressful,  I was just talking to one of the other artists about how many showers we took today," Lingerselt said. "But then again, mural painting is a sort of live painting -- when I'm working on a wall, people are always coming by. And that's part of what's so great about public art. You're always interacting with people instead of being alone in your studio."
Competitor W. James Taylor, a North Knoxville native who created a bright winter treescape, has participated in both Art Slam events. He said both the spectators and the artists make the event memorable. 
"The different kinds of people, the artists in it, and the art they create, I like that. And the atmosphere is really cool," Taylor said.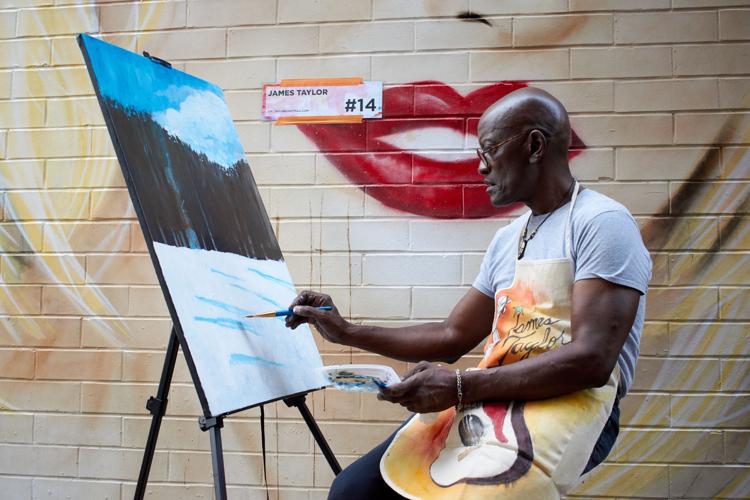 Most of Taylor's work includes bold colors and patterns, which serve as examinations of his childhood in the tumultuous 1960s. He exhibited his recent collection, Vicissitudes, in the art galleries of UT's Student Union this summer. 
Taylor said outdoor art does something museum art can't always do: it appears throughout a community, making art public.
"It's important, because I think the public needs to be surrounded by art. It's a good thing for the whole community," Taylor said.
Art Slam is an event from Dogwood Arts, a Knoxville nonprofit responsible for many of the city's outdoor art: the Chalk Walk, the Krutch Park Sculpture Garden and more. The Art Slam paintings' proceeds go to the nonprofit's Art in Public Places Mural Program, which funds outdoor mural "galleries" like Strong Alley and Fairmont Flats.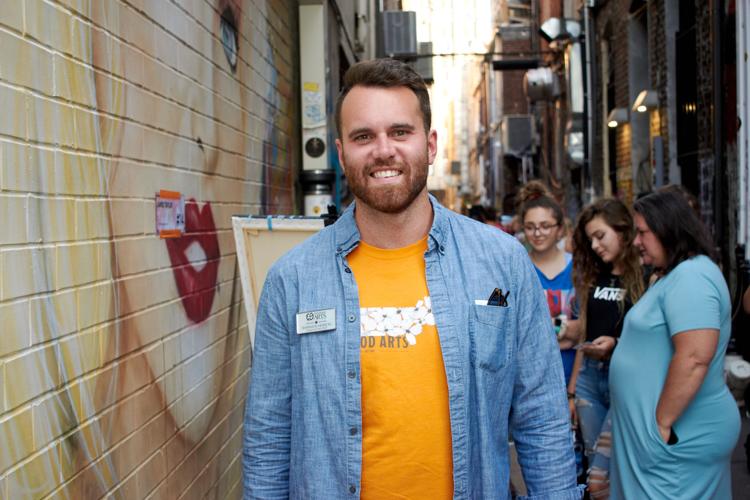 For Shannon Herron, marketing and creative manager at Dogwood Arts, the event gives spectators a chance to see the artistic process live, whether it's traditional portraiture, mixed-media work or something completely abstract.
"It's all across the map. We have people gluing different pieces to their artwork, we have people doing figurative or abstract work, really a little bit of everything," Herron said.