I spent the freshman year of high school living in Japan. During the 10 months I lived there, I became a regular at many local ramen shops and sushi parlors. When I moved back to the States, I missed the friends I made and the experiences we shared, but not nearly as much I missed the transfixing taste of ramen and quality seafood.
So when I heard there was a seafood restaurant serving poke bowls and ramen opening on the strip, I cleared my schedule faster than I'm proud to admit.
As I walked through the door, I was immediately impressed with the cleanliness of the building. Everything from the floors to the tables were shining and smelled faintly of lemon. Working with seafood requires discipline and working with ramen requires an infamous amount of patience, so seeing my reflection in the title was a great sign.
The menu encourages you to build your own meal, be it poke bowls or ramen. If you want a poke bowl, you may choose one of the six specials or customize your experience by building a bowl out of a base of rice or salad, nine protein options and many various ingredients including jalapeños and crab.
The ramen comes in five varieties that contain a variety of broths and styles of noodles. You can choose from six different sources of proteins from veggies to dumplings. All ramen dishes and proteins are also available as spicy if that's more your style. In the appetizers category, we have two salads and a bowl of edamame which are all great light or vegetarian options.
Finally, we have various flavors of ice cream-filled mochi filling out the dessert menu. Overall, the menu really only offers three items (poke bowls, salads and ramen) but each item can be customized to fit many tastes and, potentially, a few dietary restrictions.
I ordered the udon ramen with a few chicken dumplings and a little extra spice. Udon noodles are much thicker than typical ramen noodles (envision a milkshake straw but thicker and well, noodle) and are fairly infamous as they are really difficult to make and preserve.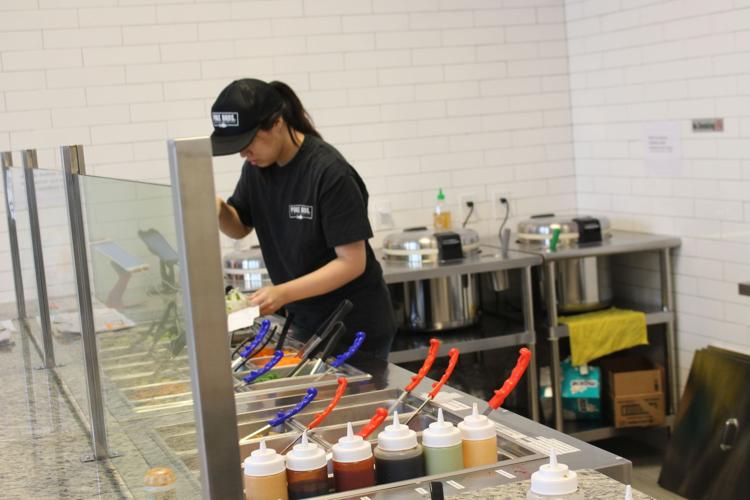 After a short wait, I was presented with a beautiful steaming bowl of ramen and a sturdy pair of chopsticks. The arrangement of the ingredients was also picturesque to the point where I almost felt guilty as I was shoveling noodles into my mouth.
As someone who has admittedly harsh standards for ramen and other savory foods, I had to remind myself more than once to slow down and not to slurp/inhale the entire bowl. From the notorious noodles to the soft boiled eggs, to the plump dumplings — everything was cooked to perfection. There was something so soothing and satisfying about the entire experience that I was truly tempted to order a second bowl to go.
I was going to call it a day as I was full and very happy to have found something so authentic and familiar, but I glanced at the menu, saw mochi and found myself at the counter once again.
Mochi is essentially a sweet rice cake with the consistency of a very very soft licorice — but filled with ice cream or sweet red bean paste. It sounds a bit odd, but it is one of the few things that will satisfy my sweet tooth.
I ordered the Belgian chocolate, Thai tea and red bean flavors just for variety's sake. Each flavor was a new experience, from the hint of bitter green tea to a smooth and balanced punch of sweet from the red bean flavor. If you like more complex sweets or ice cream in general, you'll likely love the one of the eight flavors of mochi for sale!
All varieties of ramen cost nine dollars and a poke bowl will cost around eleven dollars on average, which is very reasonable considering the high number and quality of ingredients, and that a single bowl can fill a fully grown man for hours.
Poke Bros is located a short walk from campus on Cumberland Ave. and is open every day from 11am to 9pm.
In closing, Poke Bros is a high quality, authentic experience for anyone who enjoys seafood or ramen.