Closing your eyes, you hear the chime of a gong in the distance, the trickling of water down a fountain's facade, the smell of fresh linen lingers in the air and a soft foam yoga mat cushions the sole of your feet.
Everyone around you breathes in deeply, exhaling into the next position. Very quietly, the patter of tiny paws on the wooden floor next to you brings you back to the present. Finally opening your eyes, right there in your lap is a small, fluffy kitten with wide green eyes staring back at you. 
A rising trend has come scurrying in on all fours into yoga studios and animal shelters across the nation: animal yoga.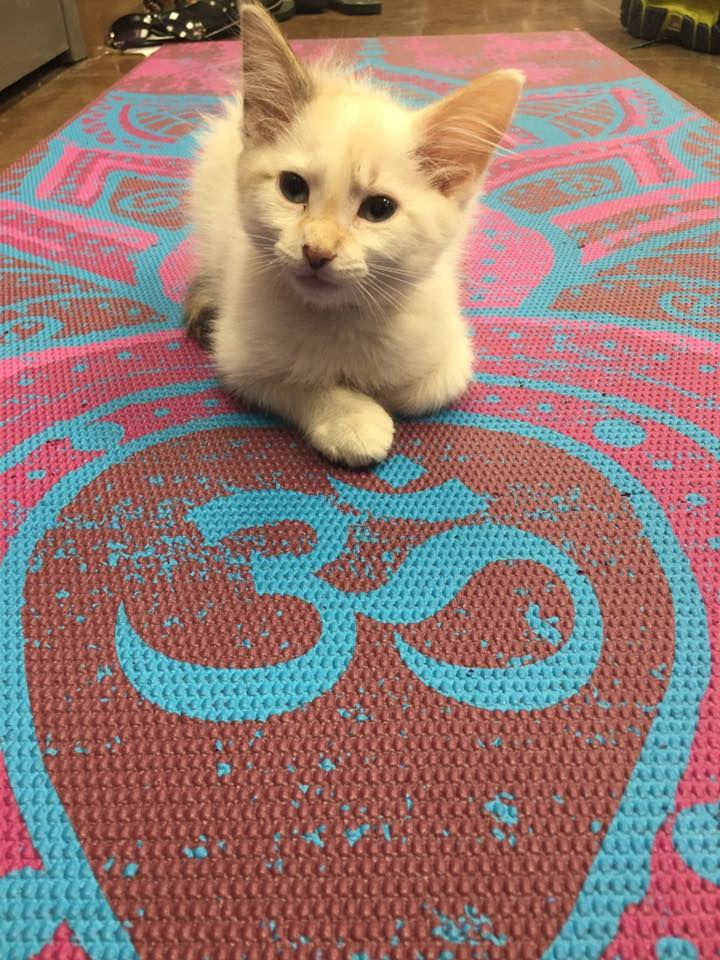 Many studios around the country have opened their doors to not only people, but to furry creatures like kittens, puppies, goats and even horses. Plenty of celebrities are trying the trend and seemingly enjoying it, like 'Game of Thrones' star Sophie Turner, who tried goat yoga through British Vogue.
Knoxville yoga studios and pet shelters are following suit, with many offering different types of animal yoga classes throughout the summer months.
Chelcie Bowman, program manager at the Humane Society of the Tennessee Valley, said that the Humane Society decided to bring back its yoga classes with shelter animals as a way to re-engage with the community.
"Many places have done animal yoga sessions," Bowman said. "Our previous education coordinator had a volunteer who taught yoga, so we thought 'what better way to utilize our volunteer and engage the public than to do yoga with animals.'"
Beyond just having an excuse to post a cute Instagram selfie in a yoga pose with a cure animal, there are several benefits for both people and animals.
Yoga has been proven to have several health benefits for people, helping to relieve stress and ground people to the present. Adding animals seems to have amplified those effects.
Patty Dougherty, yoga instructor at Breezeway Yoga Studio and co-owner of Balanced You Studio in Bearden, said that including animals into a yoga class helps people focus on the present moment.
Dougherty also agreed with her friend Mebbie Jackson, acutonics practitioner and yoga instructor at Breezeway, in that yoga with animals brings a playful element to an already stress relieving environment and helps practitioners to "feel open to exploring the beauty of imperfection."
"We share electrons all the time and so when you have these other little living beings around you while you're moving your own body's energy so appropriately it really enhances the practice," Dougherty said."Having other beings that are humans with you, plants, water, there's all kinds of wonderful ways to enhance the practice the healing benefits of moving the energy."
Some other benefits for both people and animals from animal yoga, Dougherty said include smoother heart rates, longer and deeper breaths, reduced stress levels, a more joyful attitude and positive energy
Breezeway does several animal yoga classes with baby goats, who are provided through an instructor at Breezeway, and kittens provided by their partner Young-Williams Animal Center.
Hannah Overton, visual coordinator at Young-Williams Animal Center, said that the center started kitten yoga a few years ago which helps bring awareness about kitten season and the amount of kittens that the shelter gets every year. Kitten season, according to the Michelson Found Animals Foundation, is the time of year when the weather gets warmer in April and May when many female cats give birth.
The kitten yoga classes sell out very quickly and provide an opportunity for the kittens to find homes, as many of the kittens in the yoga classes are almost ready or already ready to be adopted.
"Already yoga is very good for your mind and your body. It not only stretches your body, but it also just promotes mindfulness and meditation which is a good exercise for your brain and can make you a happier, healthier person overall," Overton said. "Studies have also shown that interacting with animals can have similar effects.
"So, you're getting a double dose of that and the classes that I've gone to, everyone's smiling and laughing and maybe not everyone is doing the poses perfectly because they may have a kitten crawling under them or on top of them" Overton added. "But they're having fun and they're having a good time and they're happy."
And the benefits flow the other way as Overton explained that it gives the kittens a chance to run, play and socialize, which helps prepare them for adoption.
Bowman also agreed that it helps animals learn to open up to people and prepare them for life outside of the shelter.
"The animals benefit from the socialization and exposure to new environments," Bowman said. "It helps them open up to more people and learn to trust other people than just the kennel staff or their foster."
While baby animals can be energetic and unpredictable-- winding up under feet and causing practitioners to lose their balance or sometimes relieving themselves on the mat-- Overton said simply taking caution and being aware can help reduce any mishaps.
For Overton, animal yoga has been a positive experience that really warms the heart.
"It is a double dose of exercise for your mind ... because you do have the mindfulness part of it and the meditation part of it and the exercise part of it," Overton said. "So you are releasing endorphins and all those good things, but also, you are interacting with very cute kittens and I think that's always a good combination and can definitely warm your heart quite a bit."