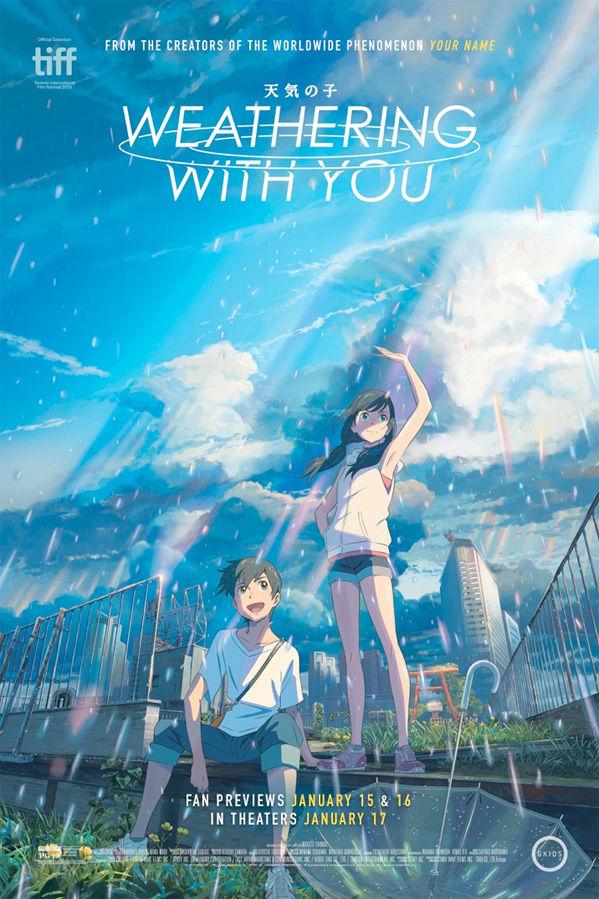 "Who cares if we can't see any sunshine? I want you more than any blue sky."
What would you sacrifice for someone you love? In "Weathering with You," writer/director Makoto Shinkai explore this question through the lens of the mythical "sunshine girl."
After the immense success of 2016's "Your Name," Shinkai had the world at his fingertips. He recruited the best in Japanese animation to try to make  "Weathering with You" as good as its predecessor.
 Three years later, the film released to critical and commercial in Japan. It took a few months, but the film has finally gotten an English release. Fans all over the United States flooded into movie theaters to see "Weathering with You," with the hope that it would live up to "Your Name."
Now that the film is out, we finally know the answer to that question: in some ways, yes, and in others, no.
After running away from home, 16-year-old Hodaka Morishima moves to Tokyo, hoping to find a new life for himself. Things are initially rough for Hodaka, until he meets Hina Amano, a young girl who can control the weather by praying. The two begin to form a bond unlike they have never experienced before as Hina's power brings unforeseen consequences into their lives.
Let's get this right out of the way; "Weathering with You" doesn't hold a candle to "Your Name." This isn't to say that the film is bad; it's actually quite fantastic. Comparing it to "Your Name," however, will ultimately lead to disappointment.
The best thing that the film has going for it is its stellar animation. Production company CoMix Wave Films makes some of the most beautiful scenes I have ever seen in film, let alone animation. Every second of the film is jaw dropping, especially those featuring water.
The music in "Weathering with You" is also outstanding. Radwimps is one of the most talented artists working in Japan right now, so its no surprise that they fill the film's soundtrack with catchy, fun and moving songs. Even the tracks without lyrics will get stuck in your head; the band simply knows how to grab your attention and emotions with music.
Shinkai is a master at crafting lovable characters. In just under two hours I feel like I know these characters and understand them better than many shows with hundreds of episodes, which is quite an accomplishment.
As I am not a native Japanese speaker, I can't really comment on the film's performances. From what I could tell, however, it was voice acted quite well.
The story is where the film falters. While the set-up is fantastic, the payoff felt a little lackluster, with the relationship between the two main characters lacking the emotional weight that it needed. While I appreciated their relationships, I simply wasn't as impacted by it as the film wanted me to be.
"Weathering with You" wraps up in a way that will lead to much debate between viewers. In a bold move, Shinkai doesn't wrap things up the film up in the way that most would assume. While I didn't necessarily like the ending, I appreciate it and applaud Shinkai for not letting the film become another generic romance.
Overall, "Weathering with You" is a film that no fan of anime, animation or Japanese culture should miss. While it doesn't quite stand up to "Your Name," it still packs quite the punch with its animation, music and characters. Although the story didn't exactly go where I thought it should, it makes bold choices that will inspire discussion for years to come.
4/5 Stars