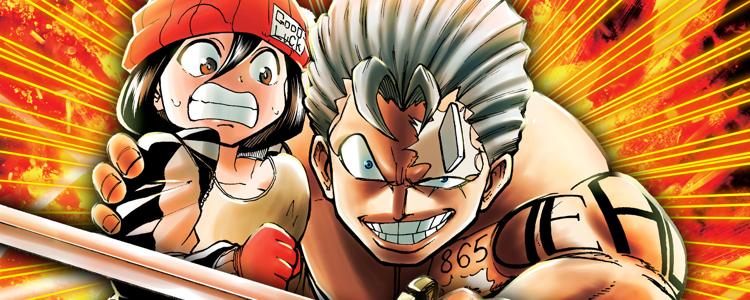 The new issue of Shonen Jump was released Jan. 19, and with it came a rather interesting debut chapter for a new serialization called "Undead Unluck." This series is the first of three new series that will be joining the Weekly Shonen Jump line up in the first quarter of the year, and from what I can tell could have a rather successful run.
"Undead Unluck," by Yoshifumi Tozuka, is a manga about a partnership between a young girl who is beyond unlucky, and a man who simply cannot die. While this was merely the first chapter of the series, it actually has a number of qualities that signal potential success to me.
The first thing that stood out to me was the color spread that followed the first page, which was also in full color. It presented the main characters, who I'll refer to as Undead and Unluck, and perfectly highlighted what their relationship to one another would be, as well as their most prominent character traits.
Beyond that, the quality of the color spread was phenomenal, with clean, meaningful line art, and beautiful coloring. Furthermore, the style that Tozuka employs is very digestible with attractive, memorable character design. Good character design is vital to the success or sink of a series, and I think that Tozuka nailed this one.
But beyond the color spread, the entire chapter was clean and of above average art. In that department alone, "Undead Unluck," far exceeds what I've seen in some of the new manga that came out back in 2019, and I could easily see this series replacing something like "Chainsaw Man."
To compare it to another series that was released last year, in the first chapter alone "Undead Unluck" far exceeded the likes of "Samurai 8," the new series by the legendary Masashi Kishimoto, author and artist of "Naruto." When reading "Undead Unluck," I actually had fun and felt entertained, something I can't say about reading "Samurai 8" for the first two months of its run.
The characters in "Undead Unluck" are vibrant, full of energy and charisma, and they really do mesh well together. Furthermore, there is a clear goal and storyline that the reader can see, an endpoint that the reader wants to see achieved. Having a clearly defined goal gives consumers a reason to read the story beyond the circumstances of the current story arc.
The final standout thing about this debut chapter that give me high hopes for it is that it clearly established an antagonistic force that the characters will struggle against. Tozuka kept enough mystery around them to keep the readers intrigued, and also gave enough expositive information about the world that the reader can begin to explore it and talk about it with some form of clarity. The mere existence of these antagonists and the way they talk to each other creates many layers of unstated background information that readers can dig into.
Overall, "Undead Unluck" seems to be promising in every aspect and surpasses the quality of some prominent serializations the magazine made last year. I'm really excited to see how it compares to its contemporaries that will be released in the coming weeks. Definitely give it a read!
10/10