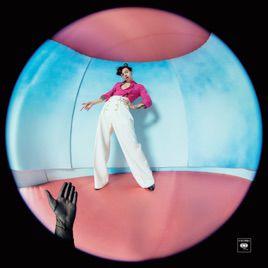 The much-anticipated second album from Harry Styles, "Fine Line," has dropped.
Ranging from upbeat tunes of encouragement to incredibly heart-wrenching songs about love and loss, he truly has a lot to say.
"Treat People With Kindness"
While fans fully expected this album to be about "sex and being sad," as Styles has mentioned in several interviews, there were a couple songs that surprised. "Treat People With Kindness" is one of them.
The song title has been a phrase Styles has used since the release of his debut album, even putting the words on some of his merchandise. However, it was not until his second album that we were able to hear a song about the famous expression.
"TPWK" immediately begins with the lyrics, "Maybe we can find a place to feel good and we can treat people with kindness, find a place to feel good" sung by a chorus of voices. If this does not set the mood for the song, I don't know what would.
This may be the most feel-good, dance-around-your-room song of the record. Styles sings about finally feeling comfortable in his own skin and wanting to just spread a little kindness in the world. He isn't afraid to admit that sometimes he may not always know everything – and he is ready to "just keep on dancing."
"Falling"
On a completely different note than "TPWK," "Falling" will definitely break your heart.
Styles sings about a former lover, but also sings to and about himself regarding the relationship. He ponders over whether he even likes himself as a person after the things he has done.
"What am I now? What if I'm someone I don't want around?" Styles asks himself in the chorus.
"Falling" is truly beautiful, upsetting and haunting all at the same time. He has his heart on his sleeve and lets everyone know exactly how he is feeling. He even offers the quip that he is "well aware" that he "writes too many songs" about the woman he is singing about.
Whoever the woman is that Harry is referring to must truly be a force to be reckoned with, as it is rumored that the entire album is about her. In another song on the album, "Cherry," he places one of her voicemails at the end, spoken in French. Styles must have been head-over-heels for her.
"Sunflower, Vol. 6"
Arguably the most different on the album, "Sunflower, Vol. 6" is fantastically catchy while singing about his absolute love for a certain woman.
He actually calls the woman his "sunflower," and in the chorus he says that he could not want her any more than he already does – it must be a lot – and he sweetly coos that he wants to "kiss in the kitchen like it's a dance floor."
Harry's even got "her face hung up in the gallery," which seems to be the highest honor.
Going in and out of different melodies and ending the song with a series of interesting mouth-made noises, this song really stood out among the others production-wise. It's also just very fun to listen to.
"Fine Line"
An album review of "Fine Line" would not be complete without ending with the same song as the record does, and is also named after.
Coming in at a whopping six minutes and 20 seconds, "Fine Line" is just one of those songs you want to listen to while riding around in your car with the windows down.
It is a last love letter to his ex-girlfriend in which he says that they will be a fine line, and they will be alright.
Once the song hits four minutes and 40 seconds, his voice and the music together create an indescribable emotion for the listener. The build-up to this point in the song makes it even better when you finally reach it, and of course it is wonderful until the very end.
Final Thoughts
Harry Styles has done it again. He continues to amaze listeners worldwide with his unique style and marvelous voice.
Don't just take my word for it, though. The songs mentioned are not the only ones on the album, and trust me when I say the others are just as magnificent as those listed. Give "Fine Line" a listen, and thank me later.