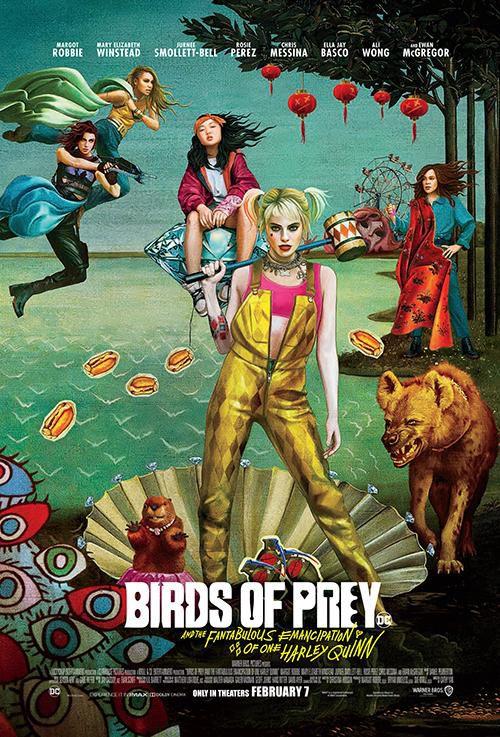 The DC Expanded Universe has gotten a bad rap, which I believe is underserved. Critical and financial flops like "Batman v. Superman," "Suicide Squad" and "Justice League" were incredibly messy and confused. However, Warner Brothers was effectively batting four for seven with fun and well-made films like "Man of Steel," "Wonder Woman," "Aquaman" and "Shazam."
Now with the release of Cathy Yan's energetic "Birds of Prey," DC's batting five for eight. 
After the events of "Suicide Squad," Harley Quinn has broken up with the Joker and seeks to create her own identity. Unfortunately, most of Gotham's crime world wants her dead. These unfortunate circumstances lead her to team up with four other Gotham anti-heroines as they all try to survive.
"Birds of Prey" is like its main heroine, energetic and manic. The plot is non-linear, which makes story feel disjointed and sporadic. However, it's clearly disjointed due to artistic choice, rather than through bad writing. In my eye, that choice enhanced the viewing experience by hammering in the characters' personalities.
Plus, it never goes so far that's the plot's hard to follow, especially with great use of memorable aesthetics for each time period.
Much like DC's other critical successes, "Birds of Prey" is visually striking. In a world where so many superhero movies use dull and muted color palettes, "Birds of Prey"isn't afraid to glow. This is mostly due to skilled use of special effects and color correction.
Performances ranged from good to great. Though I personally am no fan of manic 100-word a minute dialogue delivery, Margot Robbie's performance as Harley Quinn still stole the show. Her energy and charisma drive the story forward. She carries the whole film on her back, and she didn't stumble once.
Ewan McGreggor's Roman Sionis/Black Mask was also a treat. Black Mask isn't a villain you can sympathize for or agree with. He's a vindictive, entitled, immature and arrogant man whose value comes from how much you want to see him get his comeuppance. As such, McGreggor chose to play up the character's hamminess. This turns what would otherwise be a disturbing villain into a fun performance of a decidedly unfun character.
There is plenty wrong with the movie, though. I enjoyed the film's non-linear aspect, but some may find it confusing and unnecessary. Rapid pacing and liberal use of jump cuts occasionally takes the film from energetic-yet-understandable to confusing, incoherent noise.
"Birds of Prey" also never takes its time or lets things settle, which is both a positive and negative.
It's positive because, frankly, there's never been a superhero movie this energetic."Deadpool," "Aquaman" and "Guardians of the Galaxy" may exemplify lighthearted cape flicks, but none hold a candle to the spirited pace of "Birds of Prey." The speed is fun and unique but can also lead to boredom. 
Going at a constantly rapid pace and going at a constantly slow pace are equally constant and monotone. Variety is the spice of life, and despite all the drugs "Birds of Prey"is short on spice.
When DCEU movies fail, they fail spectacularly in the same way. Similarly, when they succeed, they succeed with flying colors in their own unique fashion.
"Birds of Prey (or the Fantabulous Emancipation of one Harley Quinn)" is no exception. I enjoyed the film throughout, though had to block some of the noise at times so I could better concentrate on the whole picture. I recommend the film to anyone, but I need to be in the right mindset to see it again.
7/10