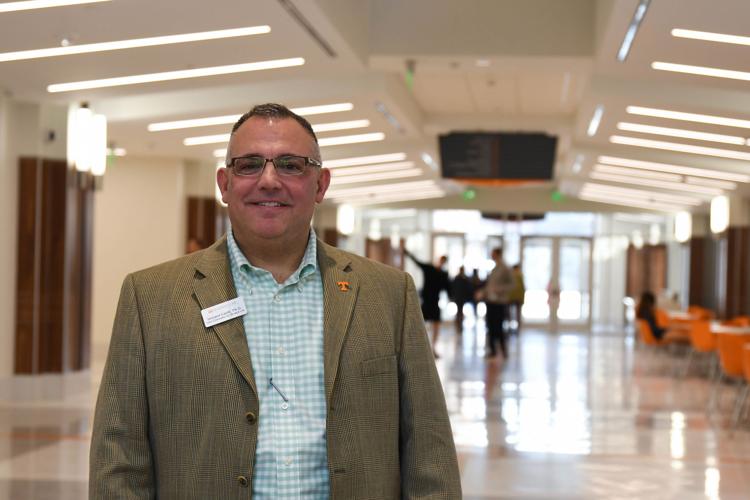 This year, UT says goodbye to another one of its own.
Vincent Carilli, the now former vice chancellor for student life, announced his retirement in December of last year. This Wednesday, UT celebrated his career with a farewell reception in the Student Union Ballroom.
Guests slowly trickled into the ballroom around 4 p.m. and quickly started to chat about work, life and their relationships with Carilli.
However, the reception officially began when Chancellor Donde Plowman gave a speech about the former vice chancellor. Plowman thanked Carilli for his contributions to the University of Tennessee.
Plowman especially admired Carilli's work on the new Student Union, which Carilli oversaw the construction of. Plowman hopes that UT students can imitate the ideals that the Student Union represents.
"(The Student Union) is a testimony to the importance we give to student life and the importance (Carilli) gave to student life," Plowman said. "Every day when I'm here in the union, it's so beautiful. My hope is that we as a campus can live up to what this building says we are, because it says that we're beautiful, caring and have stature."
Over the course of his six year tenure at UT, Carilli oversaw the construction of the new Student Union, the creation of six new residence halls and the addition of multiple changes to the Student Code of Conduct.
Carilli also worked closely with students, trying to meet their needs and create new ways for them to enjoy campus life.
Maddie Stephens, the student communications coordinator with the Office of Communications and Marketing, was an undergraduate when she first met Carilli. Ever since then, she enjoyed working with and for him. Stephens described Carilli as a driven, forward-thinking and student-focused leader.
"He's one of those go-getters. Always on the move, always looking to improve things on-campus," Stephens said. "I was really struck by his work ethic and how available he made himself to us when I first met him. Any time SGA had a concern … he always found time for us and found time to hear the student perspective."
Stephens also hopes that Carilli's eventual successor will carry on his legacy.
"I think we're really going to miss him," Stephens said. "It's really important to have great leadership in that role of being a student advocate. We really want to make sure that we find someone as dedicated as he was."
Carilli spent most of the reception meeting with friends, saying farewells and catching up with colleagues. However, he did give a brief speech thanking UT administration and students for their help and trust throughout his career.
In a one-on-one interview with the "Daily Beacon," Carilli said that he's going to miss his work colleagues the most once he retires.
"I think we will always be remembered for the physical facilities, but at the end of the day facilities are just facilities," Carilli said. "It's really about the people, the team I was able to assemble, the leadership division of student life, the rank and file members who were here and wishing me well. That's what I'm proud of."
After retirement, Carilli plans to spend more time with his family and friends.