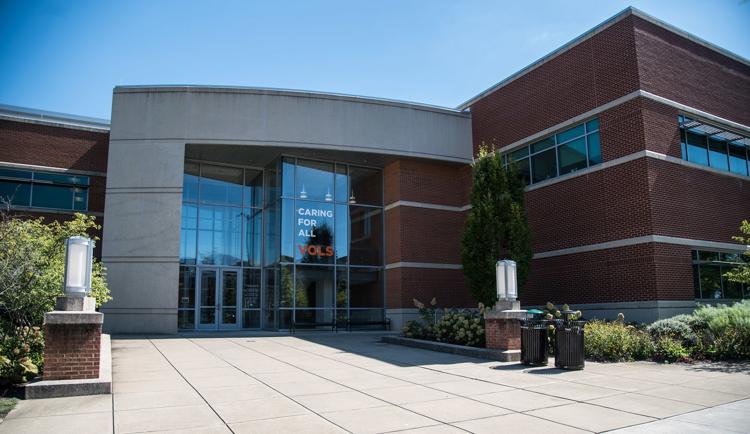 On Wednesday afternoon, from a room dotted with visible cans of disinfectant spray, UT hosted a Facebook LIVE discussion to address community comments and concerns about the outbreak of COVID-19.
The event was led by interviewer Maddie Stephens, a public relations specialist with the Office of Communications and Marketing. Questions were fielded from viewers via the comments section of the video.
Stephens began the discussion by acknowledging the difficulty of the UT community's current situation, with in-person classes and events suspended throughout the remainder of the spring semester and May's commencement ceremonies cancelled.
She emphasized that UT faculty and staff are here for all Vols and their families during this trying time.
"I just want to recognize all of the emotions that you are feeling — all the frustrations, disappointments. … Know that you're not alone through this," Stephens said.
The first guest on the livestream was Dr. Spencer Gregg, director of the Student Health Center and also currently UT's incident commander. He has been leading much of UT's medical discussion surrounding coronavirus.
In response to viewers' questions, Gregg explained that social distancing is an extremely important practice at this point in time. Social distancing involves making an effort to limit one's interaction with others in order to stop the spread of COVID-19. This involves avoiding public transit, staying six feet away from other people when interaction is necessary and avoiding congregate settings in general.
Gregg explained that social distancing serves as a preventative measure. It is important to practice this if possible, because many people may be carrying the virus but not yet showing symptoms, he stated.
"The truth is, when you first get infected with infection, you may not manifest overwhelming symptoms right off the bat, so it may not be clear that you have an infection to start," Gregg said.
He added that UT's decision to suspend in-person classes through the end of the semester supports the policy of social distancing, because it would be extremely difficult to practice social distancing on a highly populated college campus such as UT.
In response to a question about what to do when people believe that the virus is a hoax, Gregg advised checking out John Hopkins University's webpage with statistics on the virus.
"I don't think that you could look at that site and feel like that this is a hoax," Gregg said.
Students who are experiencing symptoms of COVID-19 should contact their health provider. Additionally, the Student Health Center and Counseling Center will be open after spring break with limited appointment availability. Students should call the health center prior to coming in for an appointment in order to be properly directed. Areas designated for sick and healthy patients will be arranged within the center.
He also explained that the UT Emergency Operation Center is constantly working to update UT's coronavirus information website with policy changes and the latest knowledge from the Centers for Disease Control and Prevention, while also sharing these new developments in terms of their impact on UT.
Next, Frank Cuevas, interim vice chancellor for student life, joined Stephens on the livestream. Viewers submitted several questions about the move out process for students who live on campus, and Cuevas broke down the current procedures.
Emails were sent out to 7,000 on-campus residents with personalized information about moving out. Students should check their email and continue to do so in the coming weeks for more information about the subject.
Students are able to freely come and move out their belongings through March 22. However, they are strongly encouraged to schedule an appointment. Appointments will be available in three hour time slots from 7 a.m. to 10 p.m. Students will be able to bring one guest to aid them in moving out during these appointments. All students in residence halls must be moved out by April 10, except in the case of an exemption.
If a student is unable to come to campus to move out their belongings by April 10, UT will arrange to pack and ship their smaller belongings to their homes. Larger belongings, such as TVs and couches, may be stored.
Students living in fraternity and sorority houses are required to move out by April 4. Those with extenuating circumstances should contact their house director.
Cuevas explained that he understands the difficulty of the expedited moving process; he himself has a college student studying out of state and is currently working through this process as a parent at another university.
He encouraged those with further questions to contact university housing.
Additionally, Cuevas explained that UT will be issuing certain reimbursements to students.
"We will be issuing reimbursements for, obviously, dining and housing," Cuevas said. "As we're working through the process, we'll be communicating with students very quickly."
Students with on-campus jobs will be able to continue working and should contact their direct supervisors for information about the changing nature of their jobs. Cuevas encouraged employers to be creative with options for student jobs and incorporate virtual work whenever possible.
"We want to make sure that our students continue to have a job and continue to get paid," Cuevas said.
Cuevas instructed students to continue checking their emails for general updates from UT, as well as for information from professors about classes that may be difficult to transfer online, such as labs.
At this time, no decision has been made about whether or not summer classes will continue as planned.
As for graduation, Cuevas emphasized that UT is working quickly toward creating an alternative plan. He expressed his understanding for the disappointment that students are currently feeling.
"We understand this is not how students wanted to end their spring semester — especially our graduating students, to end their time on Rocky Top," Cuevas.
Stephens, a recent UT graduate herself, shared similar sentiments.
"We all deserve to be celebrated and being able to graduate is such a big moment. We have not forgotten about you all," Stephens said. "Yes, May's cancelled, but we're working on some other options for sure."
Those with further questions are encouraged to contact UT's Emergency Call Center at 865-656-7233. The center is open on weekdays from 8 a.m. to 5 p.m.
Students in need of support are encouraged to contact the Office of the Dean of Students.