For a lot of those that are new to the University of Tennessee campus, finding your way around a campus of rich football culture can be hard. There are many traditions, legends and more that can be hard to understand if you're not familiar with the campus, so here is a list of UT's most well-known traditions.
Torchbearer and Torch Night
If you have ever been down to Circle Park, you may have noticed that it is centered around one large, prominent statue known as the Torchbearer.
The Torchbearer is a symbol of pride, education and empathy for those in attendance at UT, as the motto engraved on it reads "one that beareth a torch standeth in shadow to give light to others." This is in reference to current students lighting the path for the education of the next generation.
Freshman students usually attend a ceremony called Torch Night, where the new Volunteers learn about this motto, what stands for and how they can learn to make an impact at this university.
Torch Night has been a tradition since 1925, and this meaningful event does not seem that it will be leaving anytime soon.
Vol Walk
Two hours before kickoff on game day, there is only one place you can find any UT student anticipating the game: Vol Walk.
The Vol Walk is basically a combination of a pep rally, parade and tailgate in order to raise spirits for the football game. It runs from the Torchbearer statue in Circle Park down to Gate 21 of Neyland Stadium.
The Pride of Southland Marching Band is always in attendance in order to pump up the crowd, as well as the football players, coaches and more. If you're lucky, you might even get to snap a photo with a popular player.
Although the Vol Walk is only a recent tradition as it started in 1990, the event is still loved by many for its loyalty, spirit and inspiration.
Rocky Top
At any UT football game, tailgate or even just a walk around campus, people are constantly blaring one specific song by the name of Rocky Top.
Rocky Top is a legendary song on this campus, as it has served as UT's go-to song for the marching band since 1972. It even became a Tennessee state song as a result in 1982.
Although it was only written in a few minutes, that has not hindered the success of the song. In 1967, its writers had been working on writing many slow tempo songs, and they were bored of it, so they decided to use some time to create faster, happier song. Since then, it has become a symbol of excitement and a symbol of UT for many.
Superstition: Don't step on the seal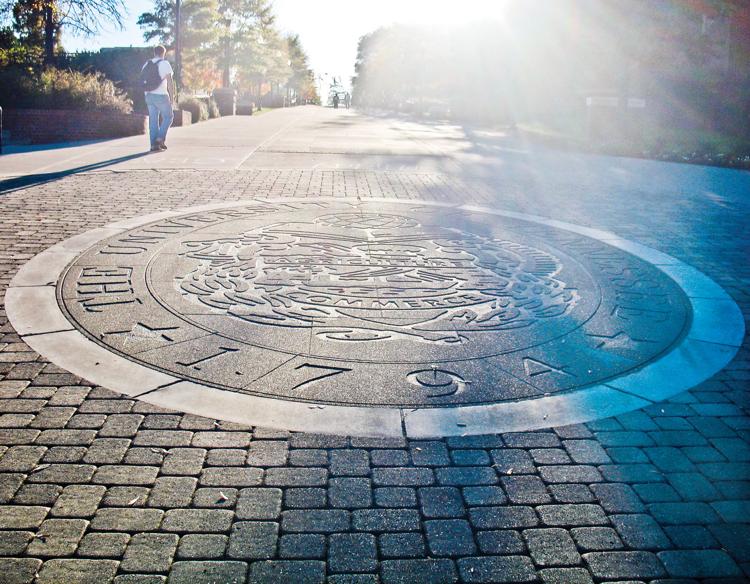 The seal: a round, presidential seal embedded into the walkways of UT's campus. If you get the chance to see one on a busy school day, you may notice something strange; no student will ever set foot on the seal.
A superstition around UT reads that if any student happens to step on the seal, they will not graduate within four years. Although this is a scary notion for some, yet expected for some others — it is still hard to catch a glimpse of someone stepping on one.