When contractor A.B. Long convinced UT to salvage a large, grey rock that his team uncovered during a campus construction project, it's likely no one imagined that the boulder would become the symbol of Volunteer pride that it is today.
In 1966, during UT's Urban Renewal Project, a small portion of what is now known as "the Rock" could be seen sticking out of the bumpy, uneven lawn of what was at the time Calvary Baptist Church. Long was charged with completing the task of smoothing the lawn for further beautification efforts, and while doing so, he and his team discovered the sheer size of the Rock.
Startled by its large dimensions, Long made a case for UT to keep the rock, and he won.
Former longtime UT faculty member and historian Betsey Creekmore has an extensive, encyclopedic knowledge of UT and its history. She recently created the Volopedia, an online encyclopedia about UT.
Creekmore also knew A.B. Long, and she explained his desire to keep the Rock on campus.
"It was such a magnificent rock — it really is a magnificent rock — that they said, let's leave the rock there," Creekmore said.
Just years later, students began painting the boulder with a variety of messages, just as is done today. The Rock quickly became a place to share powerful displays, as the Air Force ROTC painted images of planes to discuss the Vietnam War.
Decades later in 2007, geology professor Bill Dunne set out to discover what exactly the Rock is composed of. The project was prompted by a Pellissippi State professor's inquiry about UT's iconic slab of rock.
Based on the grey color of the rock, Dunne was positive that it was composed either of limestone or dolomite.
"In its crudest sense it was a grey rock, so the question was: What kind of grey rock was it?" Dunne said.
Dunne used a geology hammer to chip at a place in the Rock, and he then poured 5% dilute hydrocholoric acid onto the the sample. Because the Rock did not fizz, Dunne was able to determine that it was composed of Knoxville dolomite.
Dolomite is a sedimentary rock, as most rocks in East Tennessee are. Dunne was able to determine that the majority of rocks in this region, including the Rock, are around 450 to 500 million years old.
Two years after Dunne's experiment, in 2009, the Rock was moved across the street to its present location in front of the Natalie Haslam Music Building in order to leave more space for what would soon be the Student Health Center.
Over the past few decades, the Rock has served as the expressive center of campus. Students flock to the Rock to share information about events, express emotions, celebrate the Volunteer spirit and display entertaining images.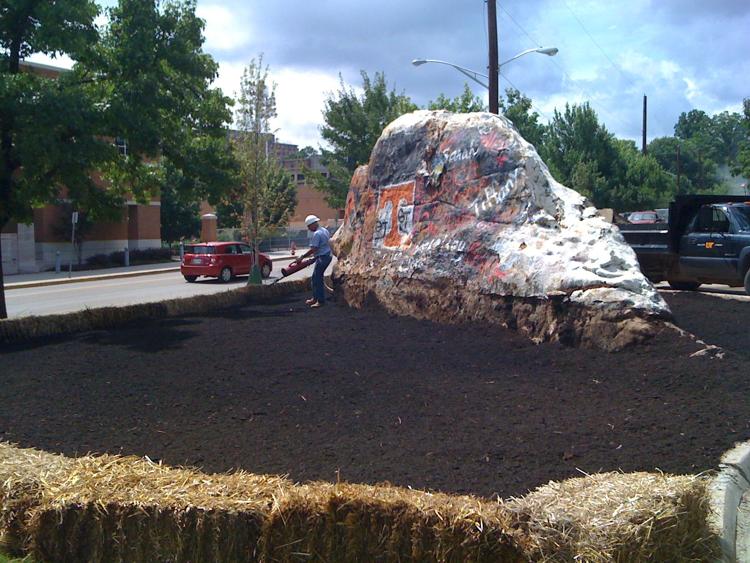 Throughout the years, some students, such as 2017 graduate Payton Miller, have even taken on the role of Rock artists, painting the boulder with immense detail.
However, in recent years, the Rock's reputation has been tarnished. The boulder has been defaced with anti-semitic hate speech three times in the past year and a half.
Creekmore expressed her disappointment about the hate at the Rock.
"It's really one of the wonderful things about the University of Tennessee, that there is this rock that anybody can go write, do whatever they wish to, whatever message they wish to send to the community can be put on that rock," Creekmore said. "Only lately has it become an area in which people tend to express views that are truly not in keeping with the institutional values."
With each hate incident, students and administration responded by painting over the images, often with a message that directly addressed the hate, to demonstrate that such words have no place on the Volunteer campus.
Dunne explained that the iconic Rock in and of itself isn't unique; it's quite like any other boulder in East Tennessee.
"To be honest, it's a pretty standard piece of grey dolomite," Dunne said. "If you actually go look at it on the parts that aren't painted, it's not the sort of Rock that people are going to go, 'oh, I want to cut a slab of that and make it my kitchen top.'"
However, decades of Vols have demonstrated that the boulder, despite its ordinary composition, is no longer just a typical rock. It is a symbolic representation of the Volunteer spirit, and it has inspired tradition that has maintained itself for decades and likely will remain for decades to come.