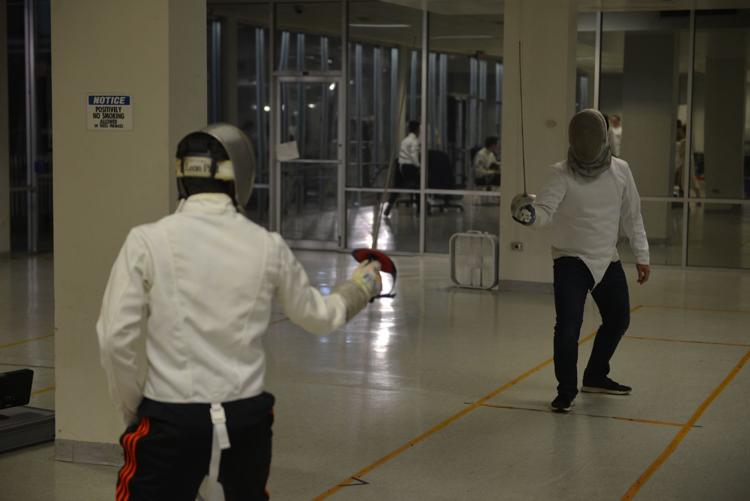 Three nights a week, on the second floor of the Student Aquatic Center, one of the oldest clubs on campus prepares for battle. And this year, with the largest membership in club history, the Fencing Club is working hard towards victory.
Though the fencers' season started late this year, it promises to be one of the most successful the club has ever seen. In addition to hosting a home tournament in October, UT Fencing brought home eight medals in the first three events of the season. 
Three team members — Austin Loggins, Joshua Lim and Connor Shelander — have even qualified for the Junior Olympic Championships, which will take place Feb. 14 to 17 in Columbus, Ohio.
Head coach and UT alumnus William Curtis attributes the promise of this year's team to its cohesion across the unique boundaries of the sport, foilists befriending epeeists and sabre-wielders chatting with foilists.
"This is the first time I've not really seen them develop cliques around their individual weapons or personal interests," Curtis said. "They're a very united group."
Curtis believes there is a good chance that one of the three Junior Olympic qualifiers will make it to round two of the competition, which has never happened before, and that several UT fencers will receive medals at club nationals later in the year.
Another possible reason for the successes of the almost entirely student-run club, Curtis says, is its atmosphere of active encouragement.
"There's never a time when they're competing when there's not someone behind them supporting them," Curtis said. "The support structure in this organization has just been astounding."
Even towards the end of their practices, which last until 10 p.m., the tired fencers are quick to lift each other up and offer mutual support when needed.
Kat Creveling, a junior who serves as president of the Fencing Club, says the environment of support helped her qualify for Junior Olympics her freshman year even though she had no previous fencing experience.
"It's an individual sport, but your team is there to lift you up," Creveling said. "It's almost an ''Ohana' kind of thing. ''Ohana' means family. Fencing team means support."
Creveling's story mirrors that of the vast majority of the fencers on the team who started the sport as a freshman in college. It is a sport for everyone, she says, fencer and non-fencer and even athletic and non-athletic.
"I always tell people, I'm like, I couldn't do anything and now I'm here," Creveling said. "You can do it. If I can do it, you can do it, I promise."
Joining the Fencing Club is simple; according to Curtis, all that a student must do to become part of the team is show up. But coming out to support the team at their home tournaments, like the one that will be hosted in TRECS on Feb. 8 and 9, is even easier and means a lot to the team.
And after all the work they are putting in to achieve a historic season, they may just have earned their fellow students' support.