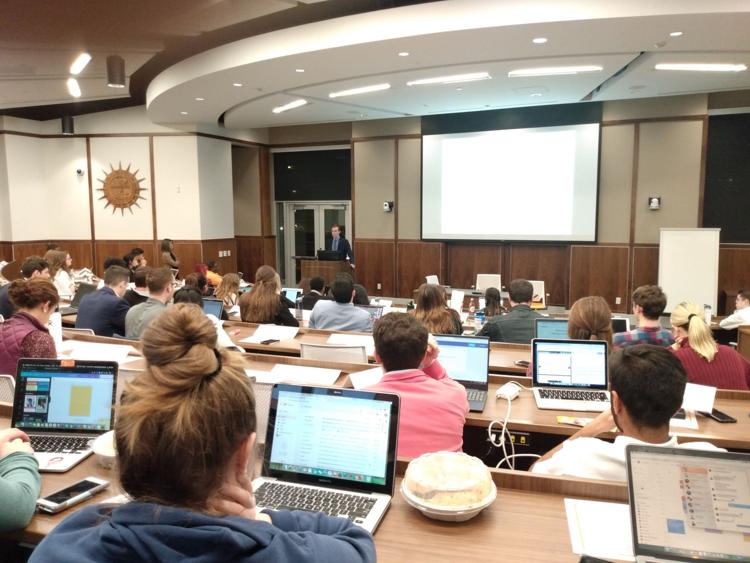 Student Government Association debates over the upcoming April election have already begun, and it's not even February yet.
SGA met last night for an Open Town Hall discussion, where senators and other student government members could make any concerns known to the entire senate body with a public audience present.
The night began routinely with project updates, such as Pedestrian Walkway expansions and the recently introduced Agriculture Express Bus Line.
However, the senate spent most of the town hall debating changes to SGA election policy.
With SGA election season coming up, the senate wanted to review recent changes to the SGA Election Packet — the set of rules SGA candidates need to follow throughout campaign season.
However, the election commission postponed the discussion about the election packet to a further date. This left some senators dissatisfied, as the currently proposed packet features multiple, large-scale changes.
Most prominently, the new regulations allow for increased campaign budgets. In the proposed packet, each SGA campaign would have a $5,000 limit on its budget. That's a $2,000 increase from last year.
Furthermore, the new regulations allow for greater contributions from non-student third parties, such as alumni and other donors.
Some senators, like Off-Campus Representative Owen Flomberg, were critical of how these changes were pushed through the vetting process with little transparency or senatorial oversight.
"None of these proposed changes were run through any Senate body. I find it troubling that, when our duly-appointed election commissioner and other election committee member were appointed by this body, we asked them if they had any plans for changing our packet significantly, and they did not provide any answers," Flomberg said.
After Flomberg spoke, Nicole Painter, SGA Chief of Staff and election commissioner, declined to address senators' questions about the increased budget or concerns about it.
Some senators pointed out that the group will discuss the full packet at a later time and insisted that everyone hold their criticisms.
Nick Mucci, the co-director for UT Academic Affairs in SGA, shared his opinion on the situation and the backlash towards the packet.
"We will have the opportunity to give our say on the packet, but what we cannot do is put our election commissioner up and put her on trial when we will have the opportunity to ask those questions next week," Mucci said. "Frankly, I think it's ridiculous that we're being so hostile."
However, senators continued to call the new regulations into question throughout the meeting.
Mustafa Salameh, a senator for the College of Arts and Sciences, criticized the increased budget for its unfairness towards other student groups.
"Over the last three years we've had three campaigns, so that's $15,000 being put into SGA elections when we don't even have funding for other organizations," Salameh said. "That places us as an elitist group that can spend $15,000 on an election while other student organizations don't have this money."
Salameh also criticized reducing SGA's Student Services Director to an appointed position. According to Salameh, the Student Services Director should remain an elected position.
"I think that's unfair to the Student Services branch," Mustafa Salameh said. "[The Senate's] only 60 students. They are at least 100, maybe 200. It's unfair for it to not be elected."
The meeting adjourned at 7 p.m. The senate will meet at a later time to further debate and vote on the Election Packet.
This article has been updated to reflect corrected information.