The Senate race to replace Sen. Bob Corker (R-TN)'s 8th Tennessee Congressional District seat heated up last night during the last round of debate.
U.S. House Representative Marsha Blackburn (R-TN 7th District) and former Tennessee Governor Phil Bredesen (D-TN) addressed some major issues in-between arguing Wednesday evening at the Howard H. Baker Jr. Center for Public Policy.
The first topic centered on the recent confirmation of Supreme Court Justice Brett Kavanaugh.
"I wanted to take my time with this because I think the obligation of a Senator is to consider all the facts (…)," Bredesen said. "I did not think those (accusations) rose to the occasion of disqualification from the Supreme Court."
Blackburn said she believed Tennesseans wanted Kavanaugh to be confirmed.
"But the point is, you need to be certain that judges who are constitutionalist judges like Judge Kavanaugh are going to be there," Blackburn said. "And if (Bredesen) had his way and Hillary was going to be president, he would not have had these judges."
The candidates debated the Affordable Care Act (ACA) and cost of its provisions.
"I was not a supporter of the ACA, to be honest, when it first came out," Bredesen said. "I believe that once it became law of the land, it was our obligation to move forward and support it. And it has done a number of good things."
Blackburn told moderators that the healthcare marketplace needs to be opened to allow individuals to cross state lines in order to compare health insurance plans.
"Tennesseans do not want government-controlled healthcare," Blackburn said. "Tennesseans want to be able to make their healthcare decisions with their physicians and that is something that I support."
Blackburn and Bredesen differed on their stances with respect to the high rate of gun violence in the country.
"Let's protect people in our public spaces so let's make certain that we harden our schools, that we use new technologies (in) the schools," Blackburn said. "But that we (also) protect the second amendment."
Bredesen said bans on bumpstocks were a good idea; however, banning assault weapons seemed impractical.
"I think the cat is out of the bag as it were with the assault weapons," Bredesen said. "There are somewhere between 10 (million) and 20 million in the country today."
The debate transitioned to illegal immigration and the separation of families entering the border.
"I do not believe (separating children from their families) was an effective tool," Bredesen said. "I think it was child abuse; I think it was a stain on our country's reputation."
Bredesen mentioned that during his term as governor, Tennessee "was one of the first states to send (…) national guard troops to (…) the Arizona border" in 2007.
"No one wants to see families separated," Blackburn said. "(But) Tennesseans want to see that wall (along the U.S.-Mexican border) built because open border policies will make (…) every state a border state."
Blackburn added that the zero-tolerance border policy has decreased the amount of drugs and human trafficking across U.S.-Mexico lines.
The candidates were asked about the current administration's recently imposed tariffs and the newest draft of the North American Free Trade Agreement (NAFTA).
"I certainly support (NAFTA)," Bredesen said. "The important thing, though, is it's not addressing any of the steel and aluminum tariffs; they are vastly more influential on the economy of our state than the dairy and other things are."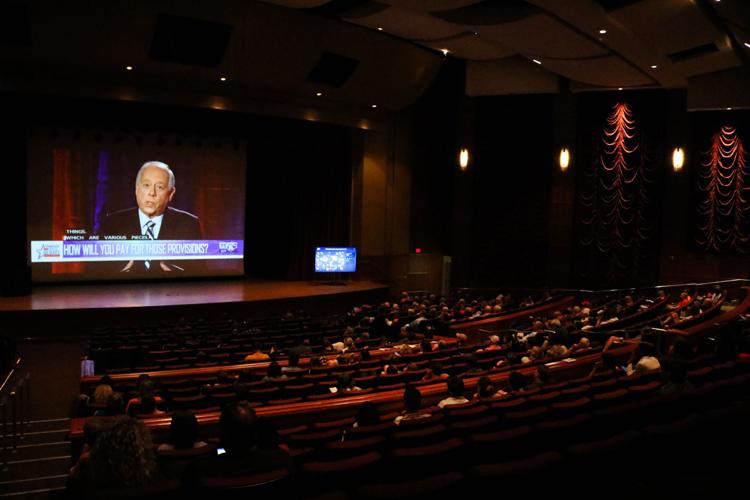 Although glad that tariffs had opened trade negotiations with China, Blackburn agreed that tariffs were not the solution.
"I am not a fan of tariffs—never have been," Blackburn said. "I am for free and fair trade and when you talk to our farmers here, they will tell you that they want trade, not aid."
In her closing statement, Blackburn reiterated what she would take with her to office.
"You've seen two very different visions of how Tennesseans would be represented tonight," Blackburn said. "I want to take Tennessee values to Washington, D.C. to represent you. (Bredesen) will support the Clinton agenda, the Washington Democrats."
Bredesen said the election is "very simple."
"If you like Washington the way it is today and the partisanship and the lines in the sand, I'm not your guy," Bredesen said. "If you want to start moving things forward and changing things (…) I think that's my record and I'd love to represent Tennesseans again."